It's almost a running joke that every few years THQ Nordic will find a way to re-release Titan Quest on mobile. Well, get ready for what is technically the fifth iteration of this title over the years when Titan Quest: Ultimate Edition arrives on November 28th. But what is Titan Quest: Ultimate Edition? How is it different than Titan Quest: Legendary Edition or Titan Quest HD? I'm going to attempt to answer that and more, but first a quick history lesson. Back in 2016 DotEmu released a damn impressive mobile port of Titan Quest, a Diablo-like that was first released on PC back in 2006 and had garnered quite a dedicated following. This was by far the closest mobile players had gotten to having Diablo on their phones, and that first mobile port was really impressive, as we noted in our review from that time, despite being a very vanilla version of the game that didn't include any of the expansions.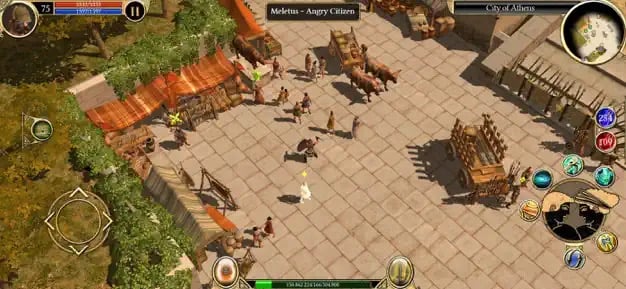 Fast forward a couple of years and the IP owner THQ Nordic decides to self publish Titan Quest on mobile, or perhaps their deal with DotEmu had run its course, or whatever the case may have been. The result was that the Titan Quest posted under DotEmu's account on the App Store was removed, and replaced by a new app posted under THQ Nordic's App Store account. Since it was a new app, previous owners would need to repurchase it lest they be stuck with the now deprecated DotEmu version. That sucks, but that sort of thing happens in the world of digital content, so it was a somewhat easier pill to swallow. I guess. But then about 6 months later that THQ Nordic version was also pulled, and then the game was again republished under the Handy Games App Store account, a subsidiary studio of THQ Nordic. So if you bought the DotEmu version, then you bought the THQ Nordic version, now you were needing to buy the exact same game a third time if you didn't want to get stuck with one that was no longer being actively maintained.
I wrote about how frustrating that situation was back in 2018, but then a few years later I almost blew my top when yet another version of Titan Quest was released in the App Store, Titan Quest: Legendary Edition. What the heck!? Well, as it turned out, things weren't quite as confusing as they first appeared. Legendary Edition was just a version that came packed with the three expansion packs that people had been hoping for ever since the original 2016 DotEmu release: Immortal Throne, Ragnarok, and Atlantis. What's more is that the previously released Titan Quest HD was also updated to allow the purchase of these expansion packs as separate IAPs, and both games were updated with all the same sort of technical fixes and improvements. Basically they were identical except one came with a higher price and DLC included, and the other was a lower price and allowed you to purchase the DLC a la carte. Not a bad thing really, if not a little confusing. I even gave it the Game of the Week!
Well, now that you are equipped with all of this unnecessary knowledge of Titan Quest's history on mobile, you can probably guess what Titan Quest: Ultimate Edition is all about. We learned back in August that the fourth major expansion, Eternal Embers, which launched on PC back in 2021, would be coming to the mobile version of Titan Quest soon, and that it would be an IAP for both Titan Quest HD and Titan Quest: Legendary Edition. Well, Titan Quest: Ultimate Edition simply bundles that new expansion, as well as the previous expansions, into one single package that you pay for upfront. So if you haven't bought any form of Titan Quest on mobile before, and you know you'll want all the content that's available for it, you can plunk down $25 for Ultimate Edition. If you already own one of the previous version of Titan Quest, you can purchase the Eternal Embers expansion by itself for $4.99.
Any combination of the base game + expansions will add up to $25, and all three games should feature the exact same content and features, so it doesn't really matter which path you choose and Titan Quest: Ultimate Edition is simply another path you can take. Did we need this? Probably not! Is it somewhat confusing? Sure! Is it really that big of a deal when Titan Quest is still one of if not THE best ARPGs you can play on mobile? Certainly not a big deal to me! So pick your poison when Titan Quest: Ultimate Edition, which you can pre-order right now, hits the App Store in a couple of weeks on November 28th, and more than likely the other Titan Quests should be seeing the Eternal Embers DLC arrive around that time too.