Hello gentle readers, and welcome to the SwitchArcade Round-Up for November 9th, 2023. I'm back! After a harrowing (largely boring) ten days in the hospital, I've returned home and will hopefully not have to go back there for a long while. I mean, other than my follow-up appointment next week. You know what I mean. If there's any take away from all of this, it's that if your body is screaming at you to knock it off and go see a doctor, knock it off and go see a doctor. Muscling through is for idiots. Idiots like me. Anyway, we have a bunch of new releases to look at today, and the usual lists of new and outgoing sales. Let's get back in the swing!
New Releases
Catan – Console Edition ($19.99)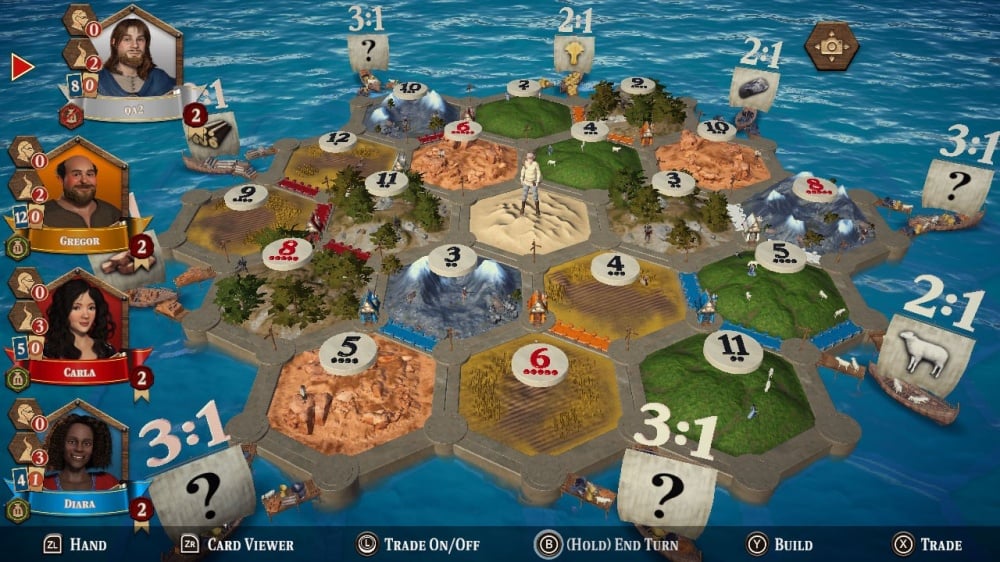 Well, it's Catan. You probably know Catan. It's one of the more popular board games around. This is a digital version of Catan that allows you to play with others locally or online. It has cross-play support, thankfully. If you can't find anyone to play with, you can also go up against the AI. If you feel like expanding on the original game, there's DLC for that. Probably more to come, too! It seems like a competent version of the board game, and that's all that's really going to matter for most. No troublesome set-up or clean-up required. No, this is not the first time we've had Catan on Switch.
Berzerk: Recharged ($9.99)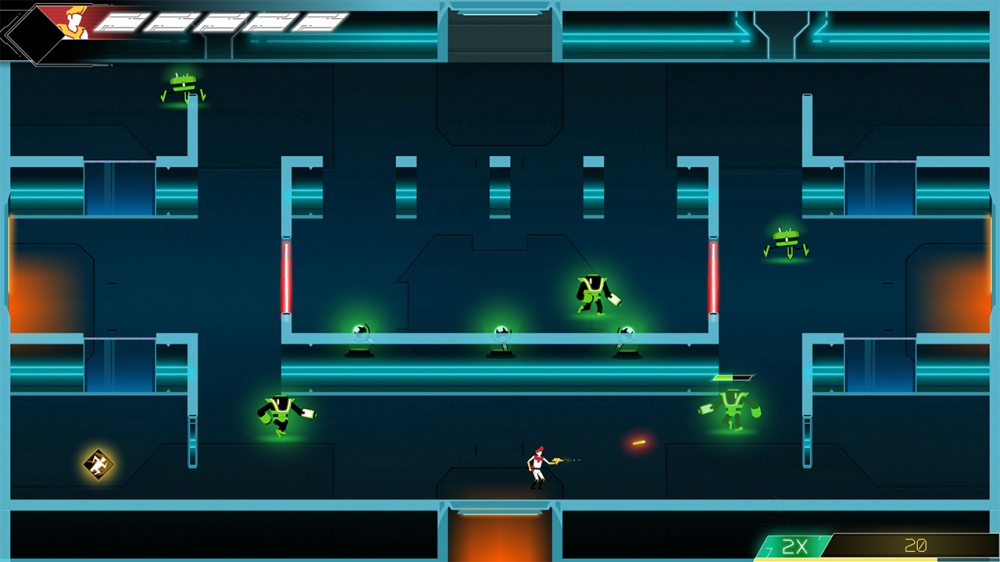 Atari's been picking up a lot of developers, IPs, and such of late. The latest Recharged game shows some of the fruits of those acquisitions, reimagining Stern's 1980 classic Berzerk. That was a top-down shooter that saw you trying to navigate rooms filled with dangerous robots including one particularly stubborn fellow named Evil Otto. This looks a bit different from many of the Recharged games we've seen so far, but that's not necessarily a bad thing. I'll be doing a review of this one soon.
Spells & Secrets ($29.99)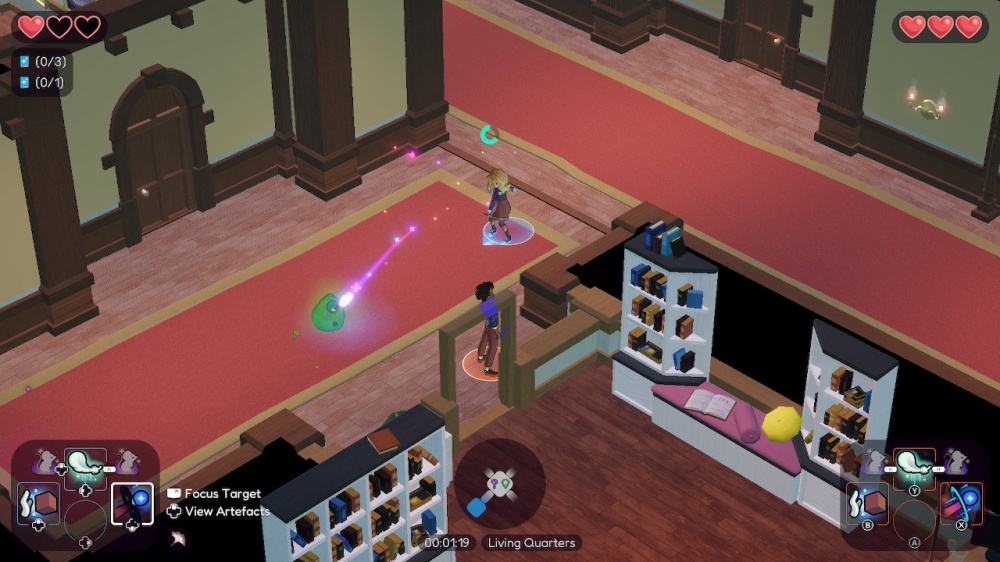 At first I thought this was going to be a riff on a certain popular game about a wizard academy, and I suppose in some sense it is, but not in the bad kind of way that lands a game in the Bin Bunch. This is actually using a roguelite structure, so that's already one big difference. You play as a first-year student on their first day of school, when something bizarre happens. You're left to rescue your classmates by exploring the ever-shifting grounds and corridors of the magic school, using your magic to solve puzzles and fend off the creatures that accost you. You can take on the challenge alone or pull in a friend or family member for some two-player co-op. I haven't been able to play this one yet, but it looks decent enough if you're not burnt out on roguelites.
Virche Evermore -ErroR: Salvation- ($49.99)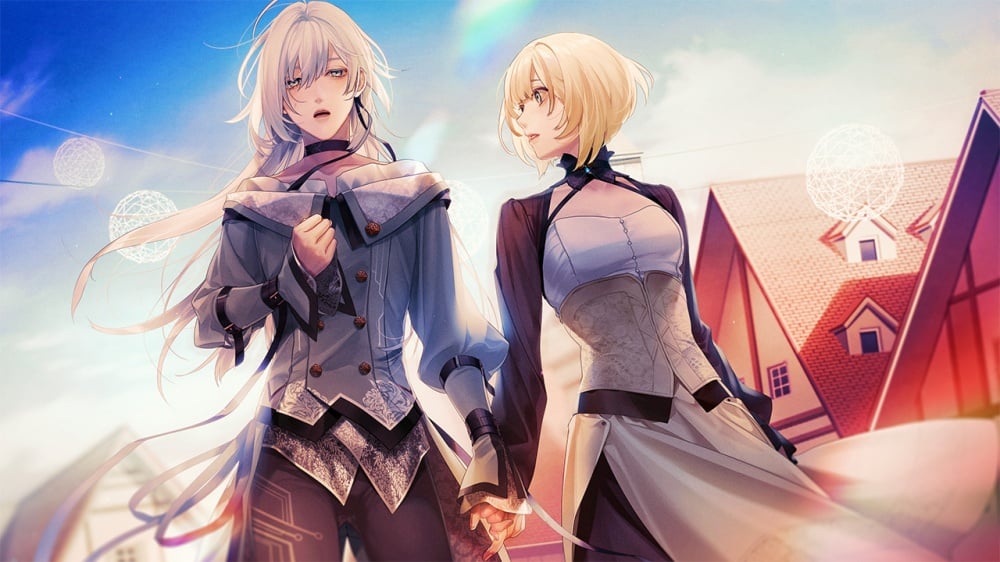 When it comes to visual novels, I always appreciate a good premise, and this one is definitely cool. In a small island country where due to a curse everyone dies at age 23, a young woman named Death finds herself ready to end her own life. You see, anyone who gets involved with her seems to die before they even reach 23 years of age, and she's got more than a few regrets as a result. As she considers ending her life, a man calling himself the Watchman of Death arrives to take her on a journey that will reveal the truth behind the island and perhaps even herself. Neat. I don't know if there is smooching in this or not, but neat. Our pal Mikhail is working on a review of this one.
Risk of Rain Returns ($14.99)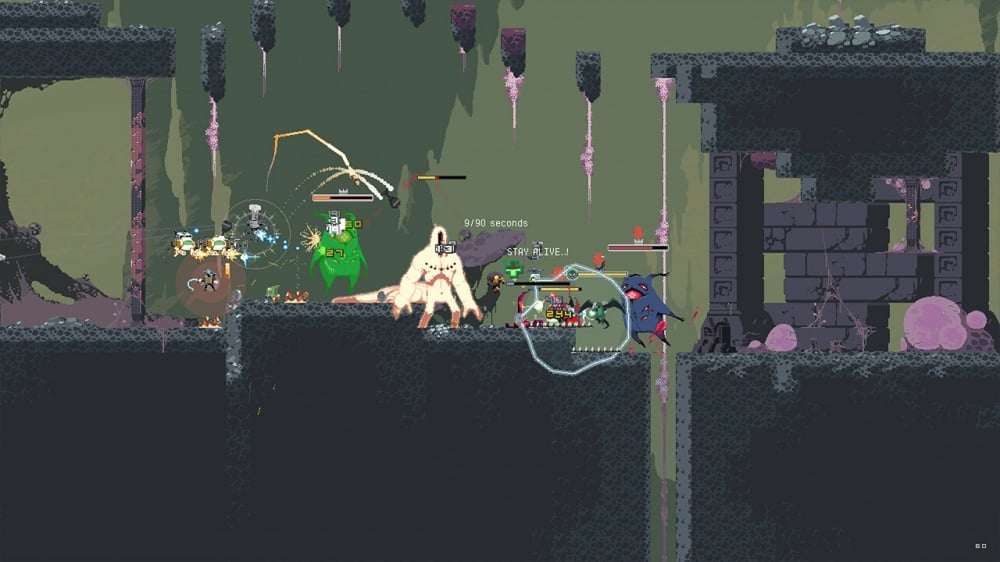 I'm not a Risk of Rain player, so do forgive me if I make any mistakes. I believe this is a remake of the original game, one that addresses a lot of player feedback and adds in some new features and content. Up to four players can take on this action roguelite together, via either local multiplayer or online play. There are new characters to play, the inclusion of skill-swapping from Risk of Rain 2, and more. Is it enough to take another dip into the game? I suspect for many of you, the answer will be a firm yes. There's also some DLC for Risk of Rain 2 to talk about, but I'll throw it over to the more learned Mikhail to explain that to you.
Risk of Rain 2 Survivors of the Void ($14.99)
Over the last week I've been enjoying Risk of Rain Returns on Steam Deck, but I've been patiently waiting since last year for the Risk of Rain 2 DLC to hit consoles. That finally happened today with the Risk of Rain 2 Survivors of the Void expansion. This expansion brings in two survivors, a new game mode, and more alongside a big free update for all players. Gearbox claims this update will allow for faster bug fixes and performance improvements. I'm hoping to dig into this on Switch soon, but I loved it on Steam Deck. -Mikhail Madnani
Flooded ($12.99)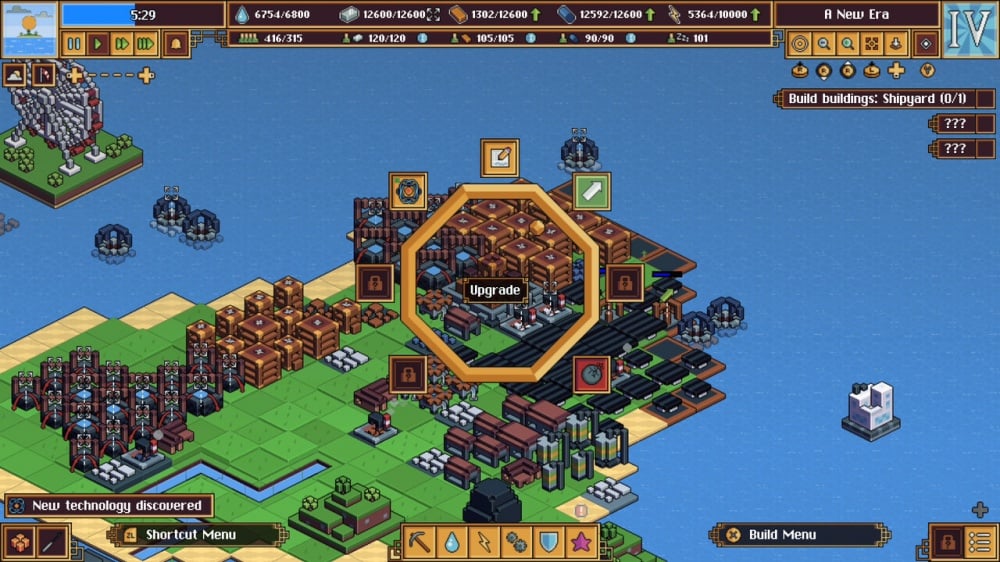 In most city builders, the space you have expands as you play. Flooded takes a different approach. The area you're building in gets smaller as time goes on due to flooding, and you have to find increasingly efficient ways to use your dwindling resources. There are a few different modes to enjoy here, which should hopefully help the game continue to feel fresh past its unusual premise.
What The Duck ($19.99)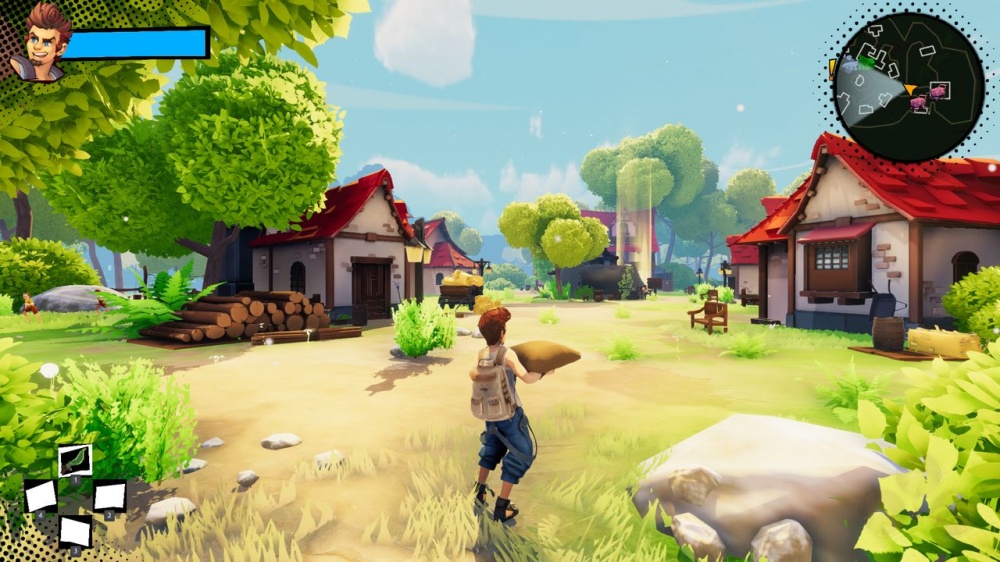 This is a vibrant-looking action-adventure game about a hero who finally gets a chance to summon a mighty spirit animal and somehow pulls a duck. It might seem like fowl play, but the two take to each other like a duck to water before too long. It has all the things you usually see in games of this sort these days, like crafting and resource gathering. The crafting takes the form of a rhythm game because, sure, why not? It has a good sense of humor and the duck is definitely cute, but is the game really all it's quacked up to be? I'll have to give this one a closer look.
Super Double Dragon ($6.99)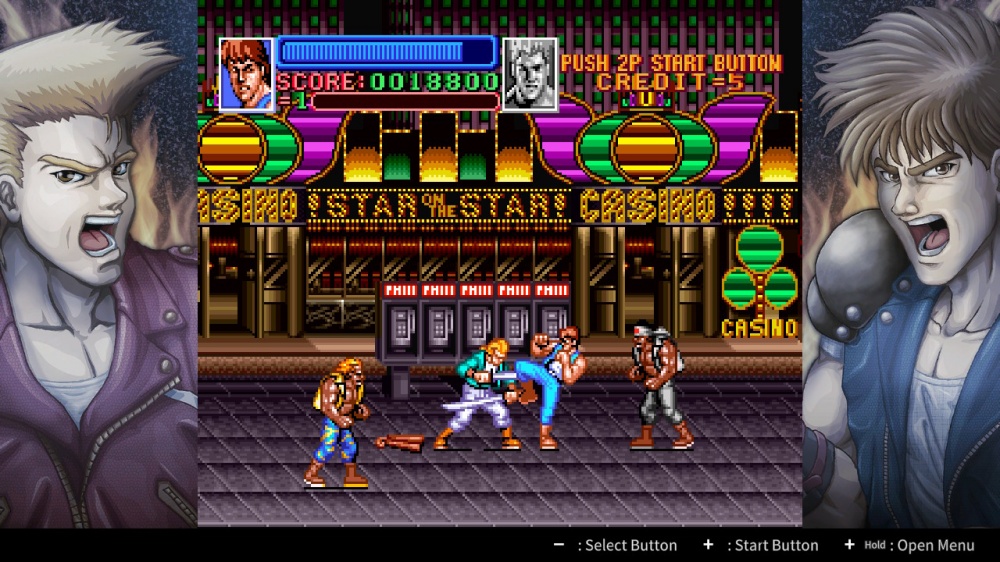 Technos Japan didn't live terribly far into the 1990s, and it ended up that the last Double Dragon game it worked on was this Super NES installment. The North American release was rushed out the door to make the 1992 holiday season, with a slightly more complete Japanese version coming not long after. I'm pretty sure this emulated release is a translated version of the Japanese one, but I can't say with certainty. As someone who loved the first couple of arcade Double Dragons and the 8-bit entries, I never quite got on with this game the way I'd hoped. It's very, very slow. But give it a little time and you might just find yourself appreciating its methodical approach to street brawling.
Double Dragon Advance ($6.99)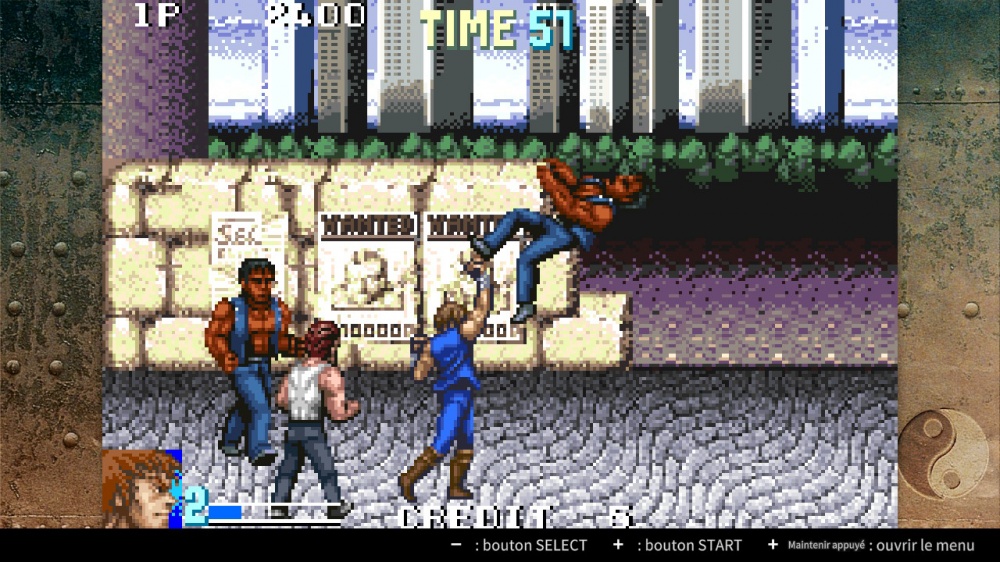 Double Dragon was a huge hit in arcades in 1987. It got ported to around a billion home platforms, and most of those were hits within their ecosystems as well. But in this writer's opinion, the best version of the first game came more than fifteen years after the fact. Double Dragon Advance came to the Game Boy Advance in 2003, and it does a great job of being true to the distinct spirit of the original arcade game while fixing a lot of its shortcomings and adding some cool new stuff on top. Since it came out in the early 00s, it even adds Agent Smith-style enemies to fight. I know kung fu? This is a great beat-em-up, a steal at seven bucks.
Arcade Archives Shao-Lin's Road ($7.99)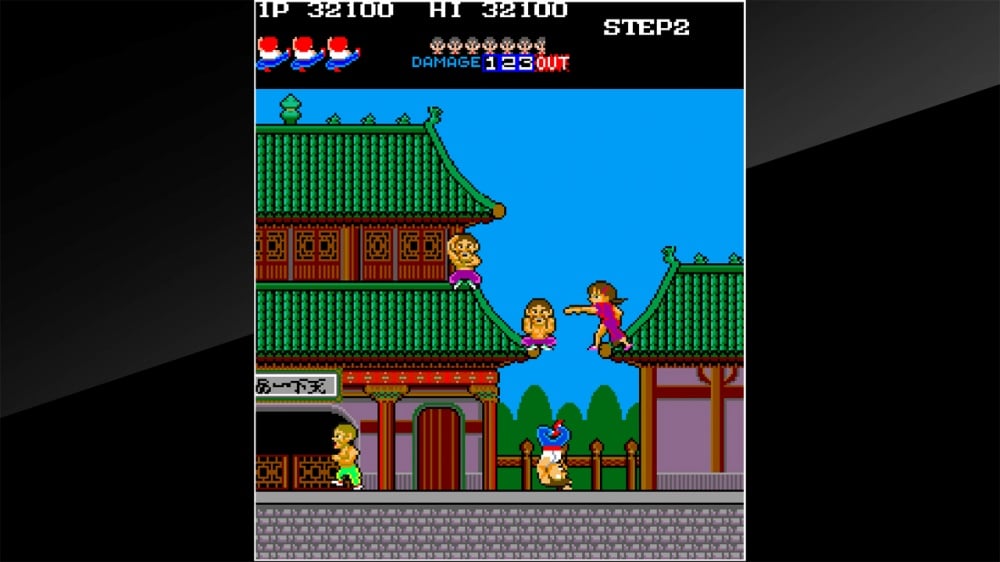 Konami's catalog is mostly well-known, but there are degrees to that fame. Shao-Lin's Road is an early beat-em-up action game, hailing from 1985. You might know it under the name Kicker, and if so you might also remember it being pitched as a successor to Yie Ar Kung Fu. It wasn't, but hey, close enough. It also had some home computer ports that might tickle the memories of some of you. Anyway, here it is. It certainly shows its age in a variety of ways, but if you have nostalgia for it you'll be fine. Hamster's done its usual fine job here.
Seven Spirits ($9.99)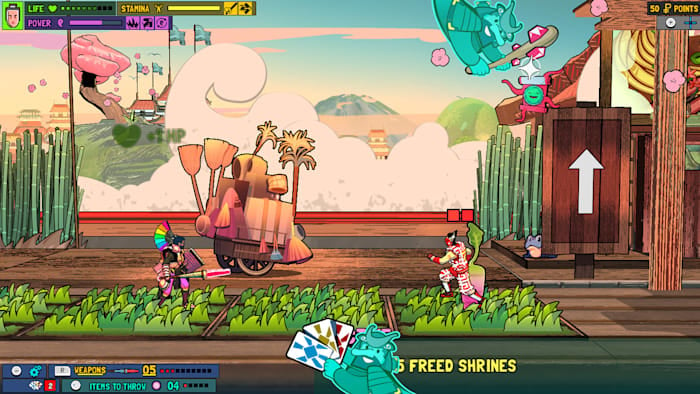 Here's another roguelite action-platformer, this one giving you your choice of four different warriors as they seek to free the spirits from the evil forces that have imprisoned them. Levels are procedurally generated, and you can unlock various perks and upgrades as you go. It's hard to muster much enthusiasm for this, but I suppose I'll at least say that the art style looks pretty good? Otherwise, I'm having trouble seeing how this separates itself from a very, very busy pack.
Cobalt Core ($19.99)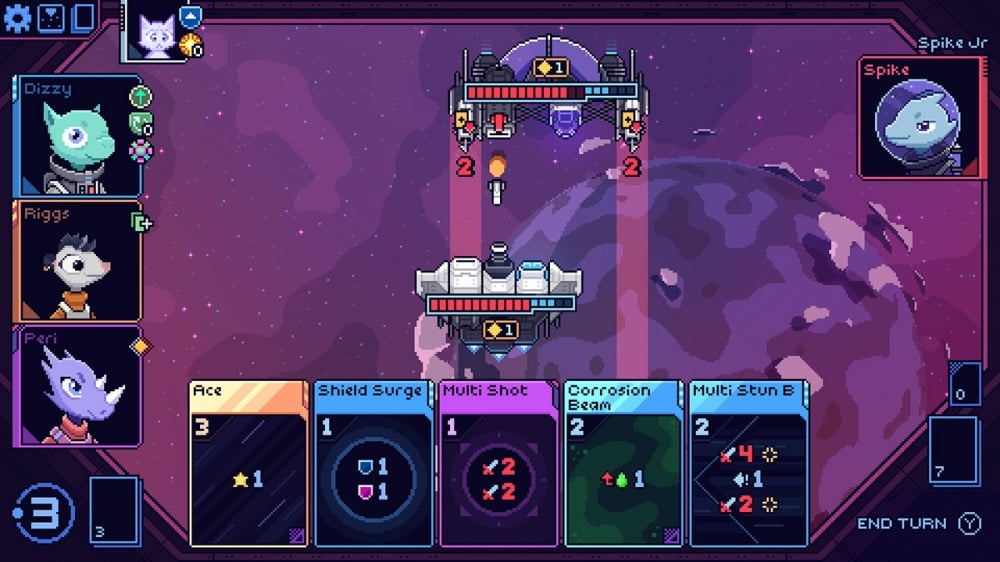 The whole roguelite deckbuilder genre is getting to be a very crowded one, and I'd imagine some of you out there are feeling like your boots are filled and then some. If that is you, I'm not sure if Cobalt Core is going to change your mind or not. Its sci-fi spin is certainly an uncommon one, relatively speaking, and the quality is certainly here. The overall style of the game is also very charming. At the same time, it's not really doing anything game-changing. If you're not burn out on games of this sort, give it a closer look.
Sanabi ($14.99)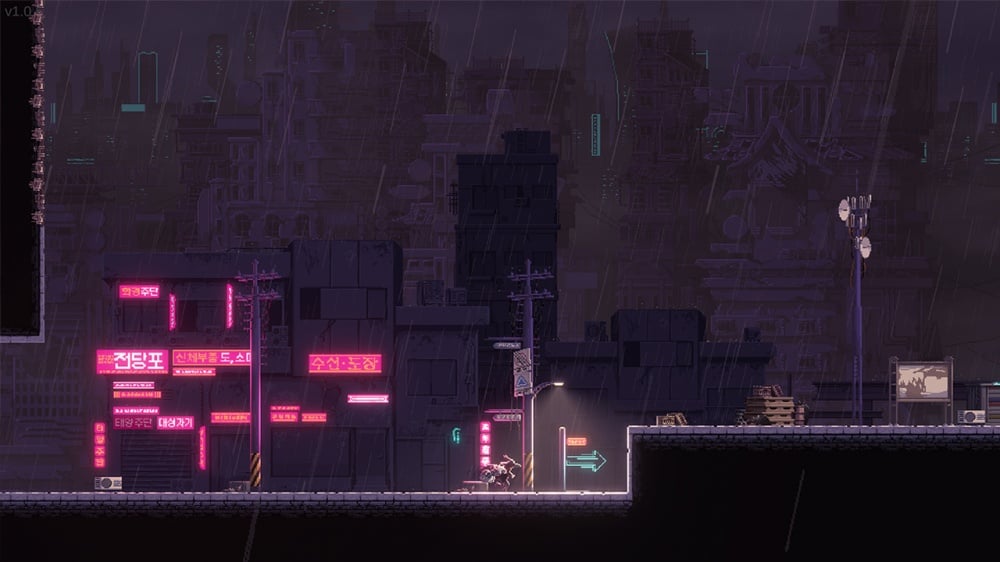 This is a side-scrolling action-platformer where you play as a character with a bionic arm you can use to swing around and attack enemies. Wait, did that say b-b-b-bionic arm? Like Bionic Commando? Alright, you have my interest. In action, the game reminds me a lot of Katana Zero. Things move fast and once you learn how to, you're basically zipping from enemy to enemy, ending their lives. Not the lengthiest of affairs, but it makes the most of the time it lasts. I think our pal Mikhail is working on a review of this one.
Bem Feito ($14.99)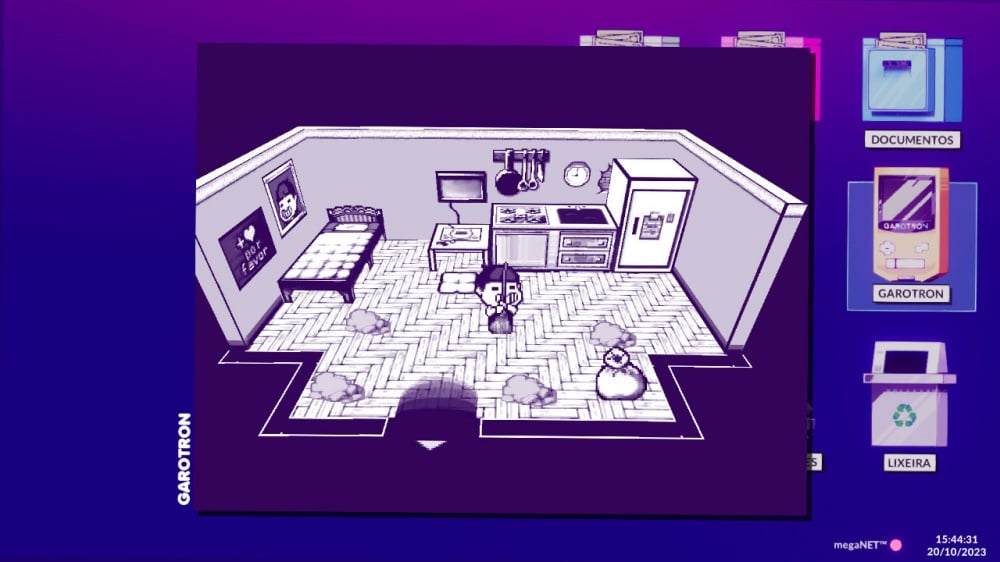 Hmm, there's something going on with this one. On the surface, it seems like a cute simulation game presented as a game within the game, accessible via an in-game OS. But it also has a mature rating, touting blood and gore plus violence. So yes, one of those twisty affairs no doubt. I'll be doing a review of this one soon, so I'll let you know if it's worth the trip.
Excessive Trim ($4.99)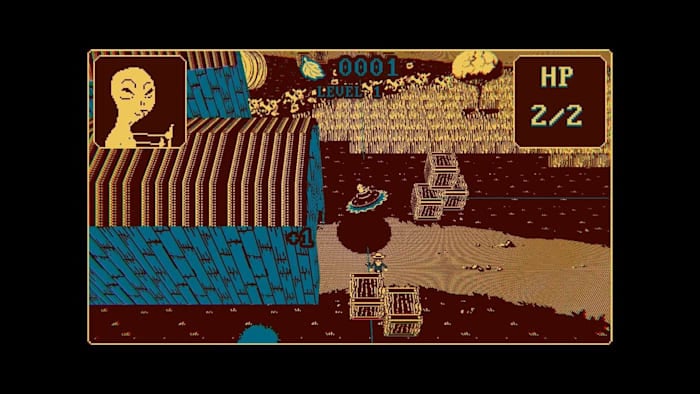 Yeah, okay. This one is odd. It's a vertically scrolling game where you play as a pothead alien who's trying to collect some leaves by terrorizing farmers and their fields, among other targets. You can buy upgrades as you go. The premise and unusual look are doing some heavy lifting here. I'll have to play the game myself to find out if there's something cool here.
The Bin Bunch
War Zone Soldier: Battle Royale Shooter ($9.99)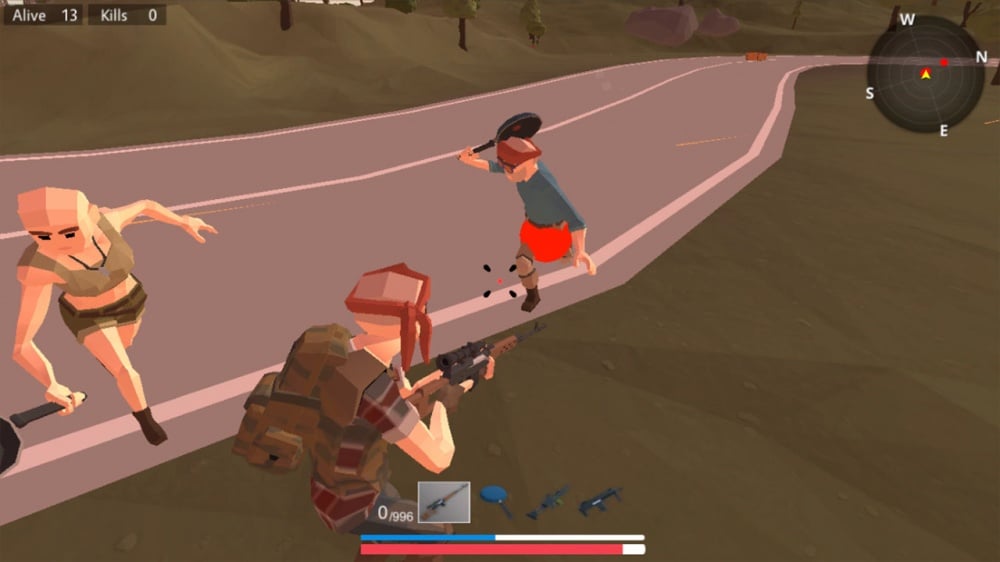 Prison Break: Jail Escape Simulator ($9.99)
Dragon Wings ($14.99)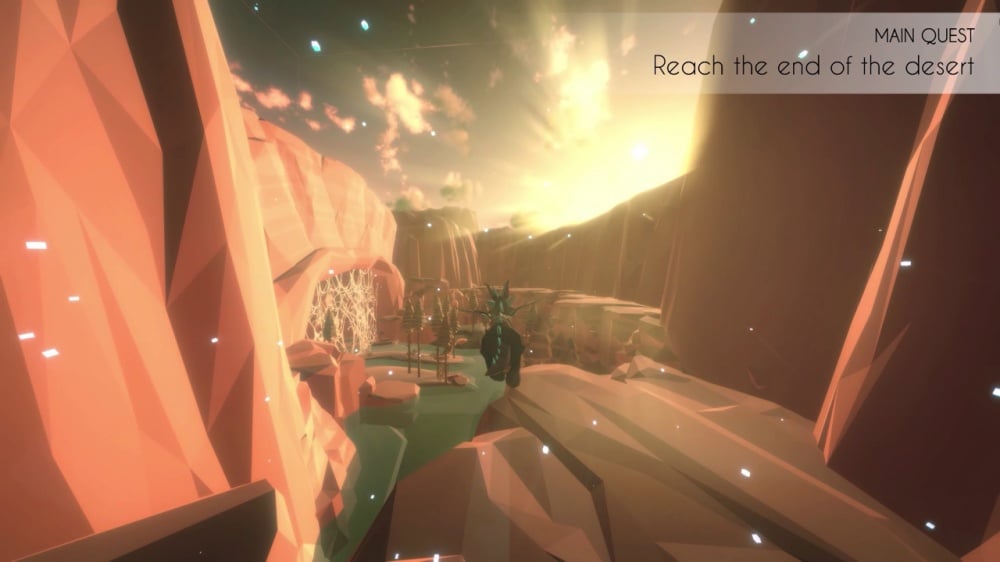 Erogods: Olympus ($7.30)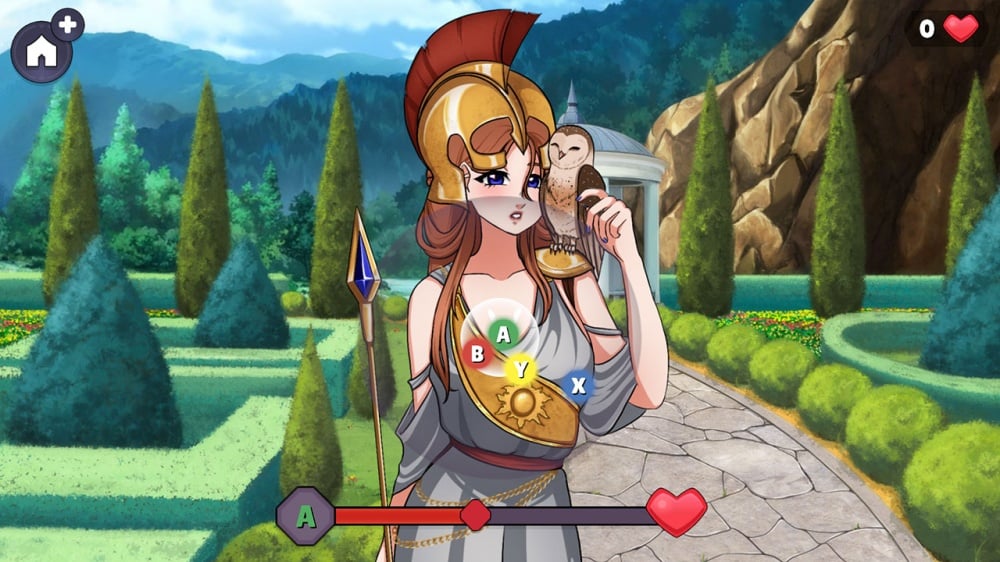 Adventure Word: Around the World ($14.99)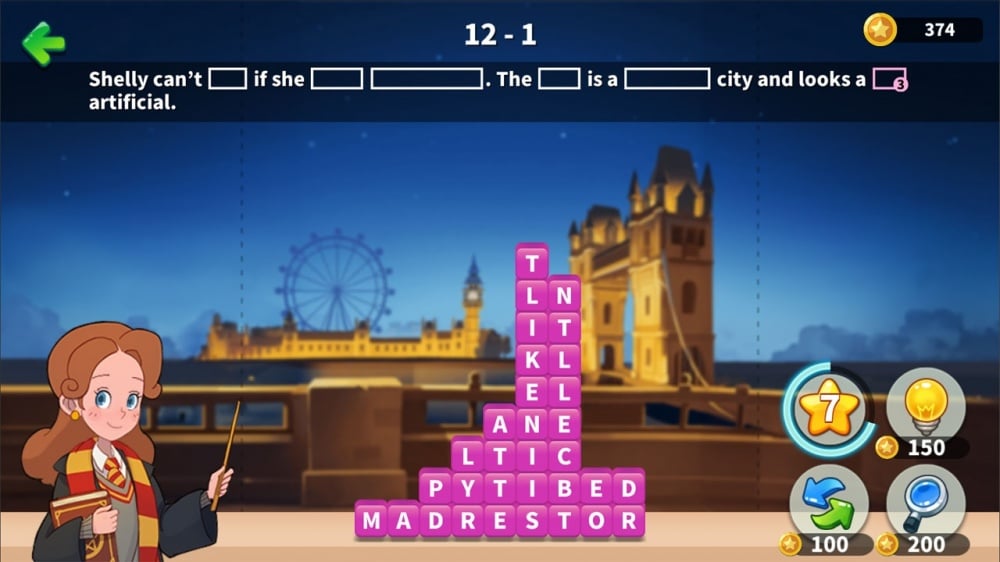 Sales
(North American eShop, US Prices)
Lots of interesting games in that inbox, so let me pick a few. Lord Winklebottom Investigates is good silly fun, CounterAttack: Uprising is a solid shooter, Blasphemous 2 doesn't need my introduction but I'll give it anyway, and Monster Sanctuary is at a new low price. Over in the outbox, there isn't a whole lot of action going on. I'll let you check it yourselves, but fair warning that it's not anywhere near complete due to my lengthy absence from work.
Select New Sales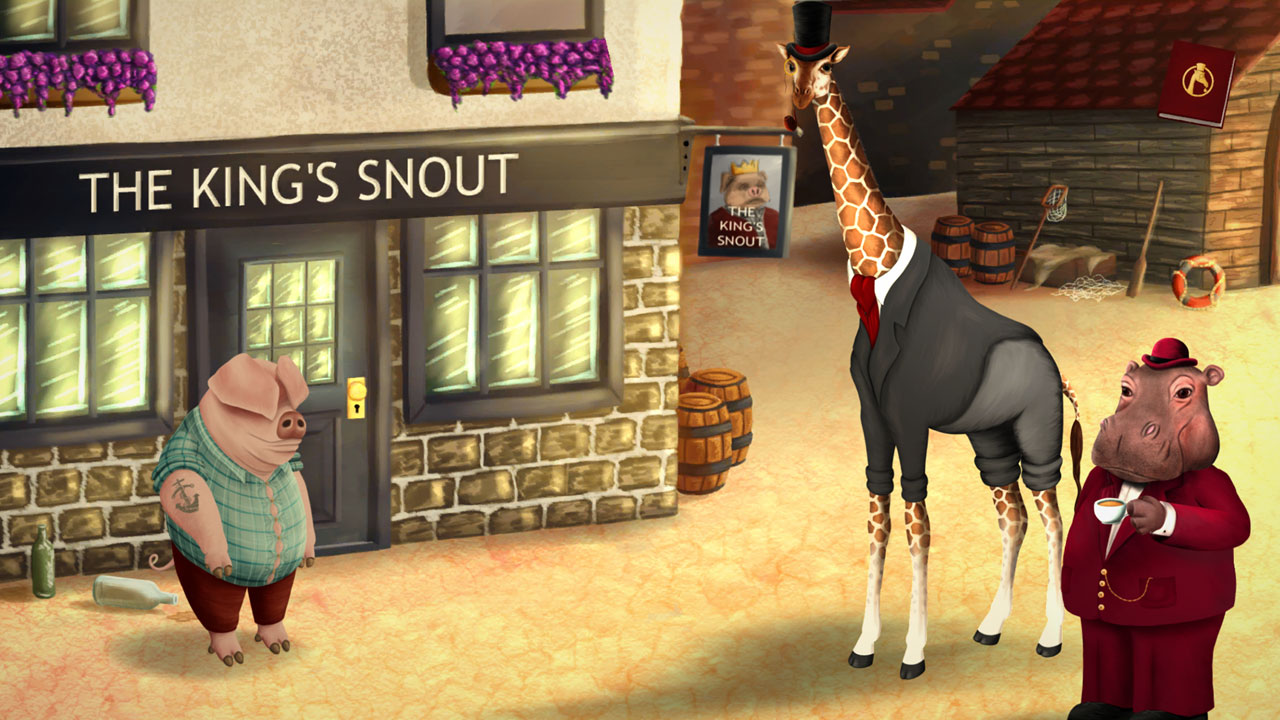 Lord Winklebottom Investigates ($12.34 from $18.99 until 11/11)
The Library of Babel ($9.49 from $18.99 until 11/13)
CounterAttack: Uprising ($11.24 from $14.99 until 11/14)
Regency Solitaire ($3.59 from $11.99 until 11/16)
Digimon World: Next Order ($29.99 from $59.99 until 11/17)
Digimon Survive ($23.99 from $59.99 until 11/17)
Digimon Story Cyber Sleuth ($9.99 from $49.99 until 11/17)
Chronicles of 2 Heroes ($8.79 from $19.99 until 11/20)
Summum Aeterna ($15.99 from $19.99 until 11/20)
Namco Museum ($4.79 from $29.99 until 11/20)
SD Gundam Battle Alliance ($23.99 from $59.99 until 11/20)
Klonoa Phantasy Reverie Series ($11.99 from $39.99 until 11/20)
We Love Katamari Reroll + RR SE ($27.99 from $39.99 until 11/20)
Captain Tsubasa RoNC Ultimate ($29.59 from $79.99 until 11/20)
Redemption Reapers ($24.99 from $49.99 until 11/22)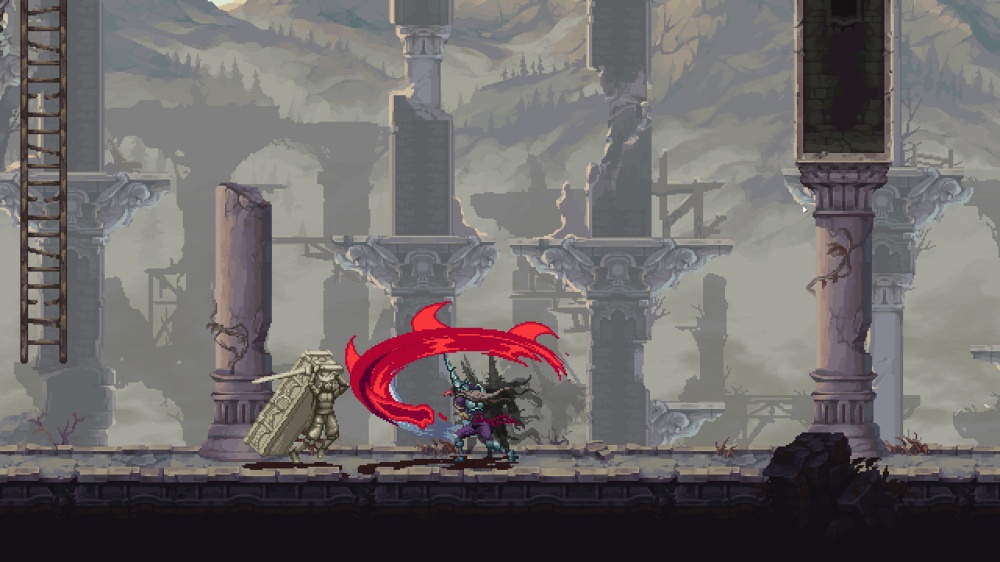 Blasphemous 2 ($20.09 from $29.99 until 11/23)
Robolt ($2.99 from $4.99 until 11/24)
Color Pals ($3.24 from $4.99 until 11/24)
Neko Rescue Tale ($2.99 from $4.99 until 11/24)
Dreamworks Trolls Remix Rescue ($34.99 from $49.99 until 11/24)
Pickleball Smash ($27.99 from $39.99 until 11/24)
NASCAR Arcade Rush ($34.99 from $49.99 until 11/24)
Skull Island: Rise of Kong ($27.99 from $39.99 until 11/24)
Street Outlaws 2: Winner Takes All ($7.49 from $49.99 until 11/24)
GI Joe: Operation Blackout ($7.99 from $39.99 until 11/24)
Bramble: The Mountain King ($17.99 from $29.99 until 11/24)
Worms WMD ($5.99 from $29.99 until 11/26)
Sentry City ($3.49 from $4.99 until 11/26)
The Escapists 2 ($4.99 from $19.99 until 11/26)
My Time at Portia ($2.99 from $29.99 until 11/26)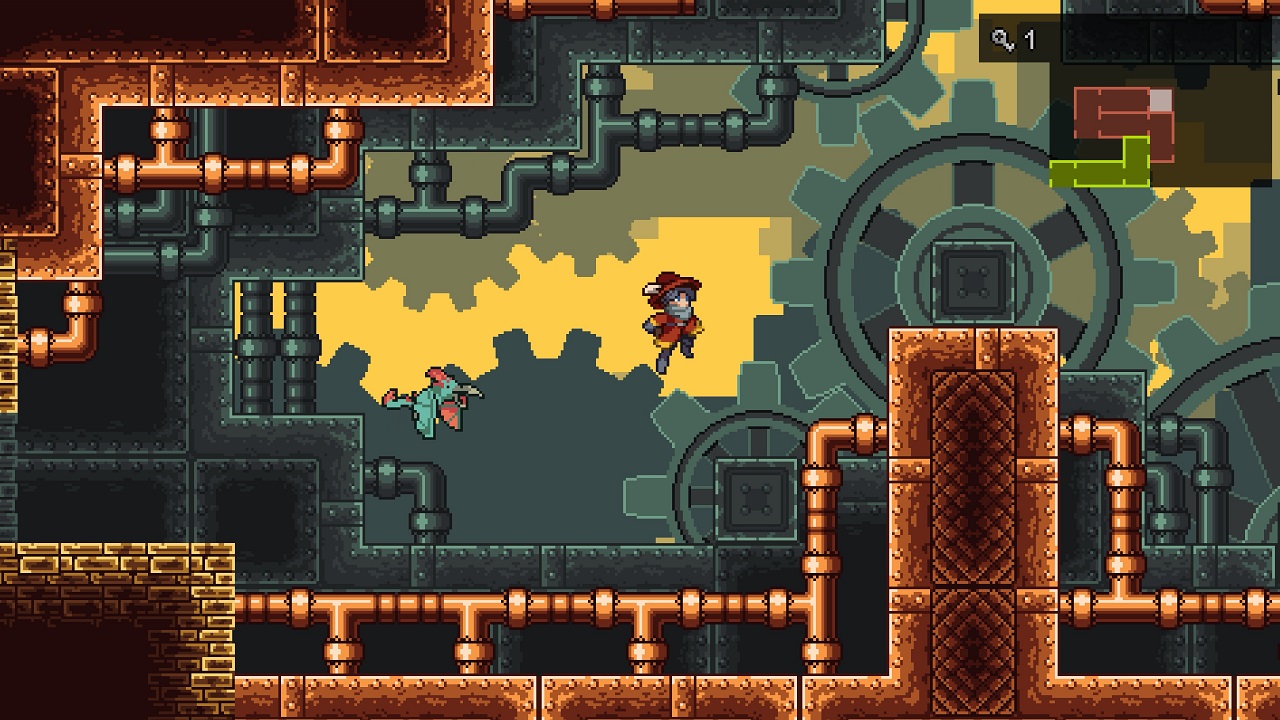 Monster Sanctuary ($4.99 from $19.99 until 11/26)
Port Royale 4 ($19.99 from $49.99 until 11/27)
Hot Tentacles Shooter ($2.49 from $4.99 until 11/27)
Harem Girl Isabella ($1.99 from $2.99 until 11/27)
Sakura MMO 3 ($4.99 from $9.99 until 11/27)
Panic Porcupine ($1.99 from $7.99 until 11/28)
LIMBO ($1.99 from $9.99 until 11/28)
INSIDE ($1.99 from $19.99 until 11/28)
Modern Combat Blackout ($1.99 from $7.99 until 11/28)
Sales Ending Tomorrow, Friday, November 10th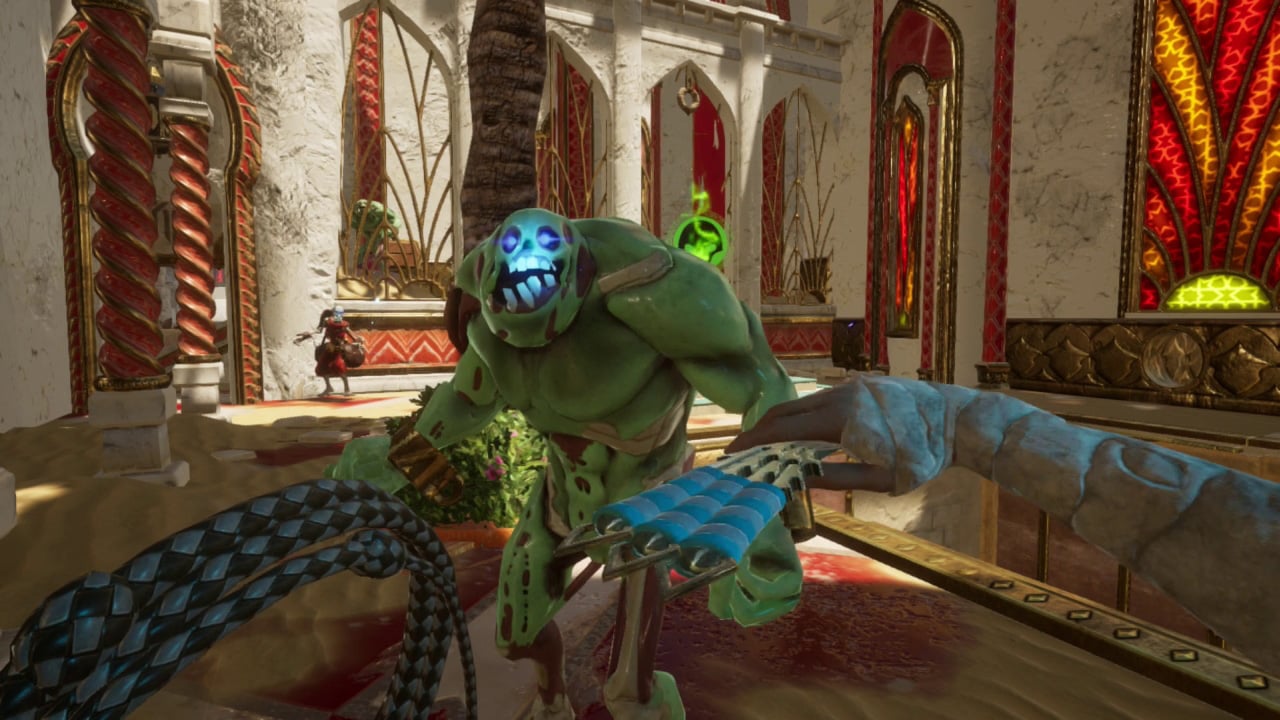 City of Brass ($1.99 from $19.99 until 11/10)
Grim Fandango Remastered ($3.74 from $14.99 until 11/10)
Hello Kitty & Friends Happiness Parade ($16.99 from $19.99 until 11/10)
Moe Waifu H ($2.99 from $4.99 until 11/10)
NeonPowerUp! ($3.99 from $4.99 until 11/10)
Otoko Cross: Pretty Boys Klondike Solitaire ($3.49 from $6.99 until 11/10)
Rice Bowl Restaurant ($7.49 from $14.99 until 11/10)
Sacred Zodongga Defense ($7.49 from $14.99 until 11/10)
Satay Shop Tycoon ($7.49 from $14.99 until 11/10)
Seven Pirates H ($27.99 from $39.99 until 11/10)
That's all for today, friends. I'll be back tomorrow with the remaining releases of the week, plus whatever sales and big news roll in during the day. I got a bit lucky this time and I should mostly make a full recovery, but if I had waited even twelve hours longer to head to the hospital we'd have a very different story happening right now. Again, go to the doctor if you're not feeling well. Cannot stress that enough. I hope you all have a fantastic Thursday, and as always, thanks for reading!