It has been over a year since I reviewed the last paid DLC for Dead Cells. Since then, Dead Cells on mobile has gotten multiple major free updates and recently got the superlative Return to Castlevania DLC. With Dead Cells ($8.99) Return to Castlevania out now on iOS and Android, I wanted to revisit the state of the game on mobile and how it compares to the PC and console versions. One more thing to keep in mind is Dead Cells+ on Apple Arcade offers all the game's paid DLC for free if you have an active subscription through the Apple Arcade release. This review feature only covers the premium release, but everything also applies to the Apple Arcade version.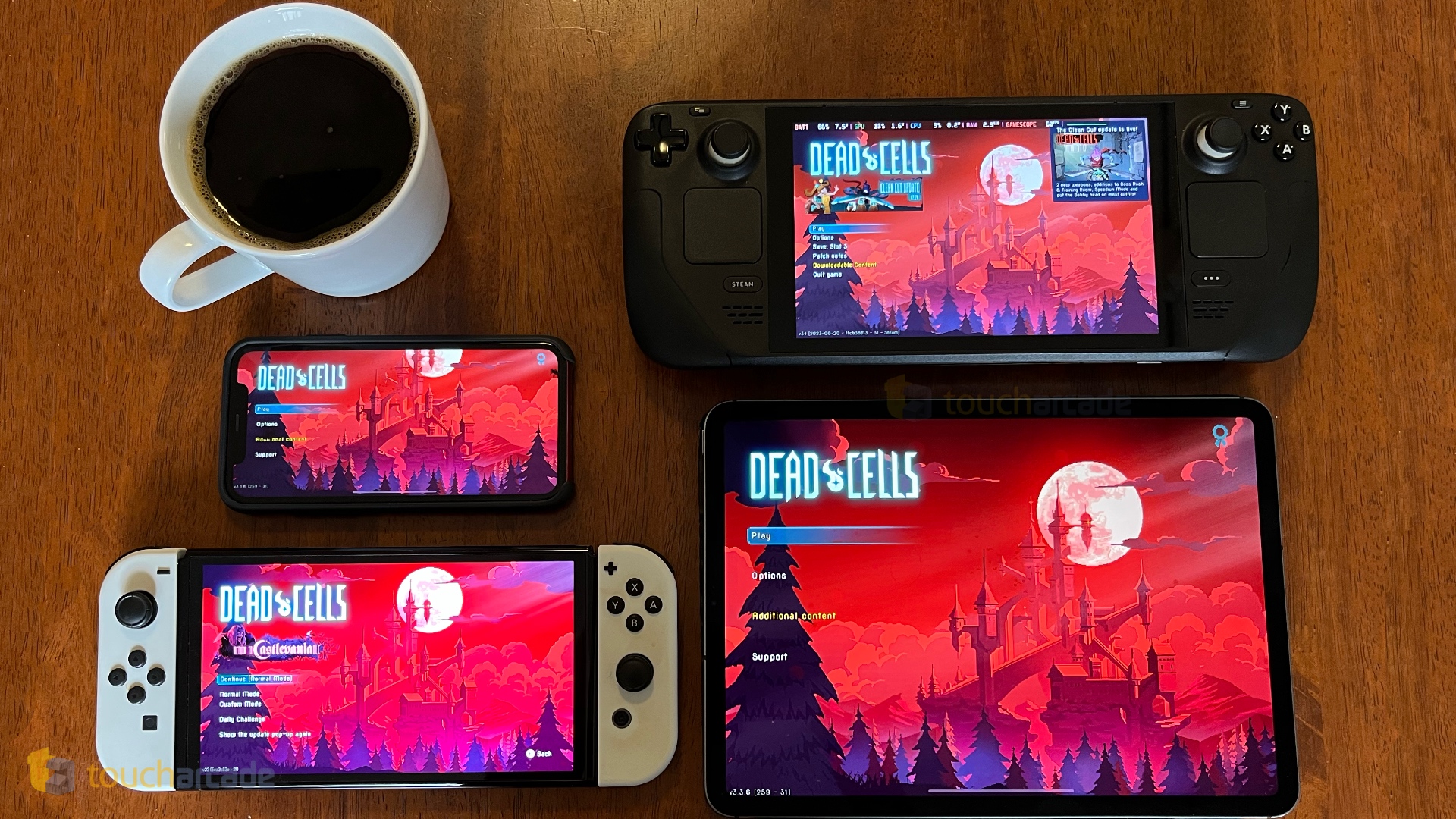 On mobile, Dead Cells is currently missing the Clean Cut Update, but has all prior updates and paid DLC available. We are closer than ever before at feature parity, and I hope we eventually get cross platform save syncing for mobile and PC at least. As with my other reviews of multiplatform games, I'm also going to compare the mobile release with the console and PC versions I have access to. With Dead Cells, I own the game on Xbox, Switch, PC, and iOS so will be discussing how it plays on Nintendo Switch (OLED model), Steam Deck, iPad Pro, iPhone 14 Plus, iPhone 11, and Xbox Series X.
The Dead Cells Return to Castlevania DLC, priced at $6.99 on mobile, brings in two new biomes (Dracula's Castle and the outskirts), 14 new weapons from Castlevania, 3 new bosses, 20 new outfits, a new story featuring Alucard and Richter Belmont, secrets, and more. This DLC even has a new soundtrack option you can enable which is superb featuring 51 original tracks from Castlevania and 12 songs from there reimagined to fit into Dead Cells. Despite the high (compared to prior DLC) asking price, the Dead Cells: Return to Castlevania DLC gets my highest possible recommendation if you enjoy Dead Cells. If you don't, this DLC will not change anything though. I do love how the story in this DLC perfectly fits into Dead Cells.
So far, every DLC pack for Dead Cells has been worth it with some over delivering in value. I've been just blindly buying them on Steam because the support Dead Cells gets is incredible. With Dead Cells Return to Castlevania, I'm still floored at how much care and attention went into bringing the world of Castlevania into Dead Cells. The bosses, new music tracks, visuals, and all the weapons make this superb. This might be one of my favorite DLC packs ever, and is essential for every Dead Cells owner.
I wasn't playing anything on holiday last week barring the new PowerWash Simulator DLC, but I did test out my new Final Fantasy XVI DualSense controller with Dead Cells on my iPad. In its current state, I'd say Dead Cells on Steam Deck remains my favorite way to play it, but the iOS version is definitely the next best option. While the Switch version isn't a mess like it was at launch, I'd still play Dead Cells on iOS over Switch. I'm looking forward to seeing how the new native PS5 version feels because I wasn't happy with how Dead Cells performance was on Xbox either.
If you've not played Dead Cells on mobile in over a year, you've missed out on huge updates like the Boss Rush Mode and Everyone is Here 2 updates. These updates added in an alternative game mode, characters from amazing indie games, new cosmetics, enhanced bosses, and a lot more. Both of these updates were also free continuing the trend of Dead Cells getting even better for every owner of the game.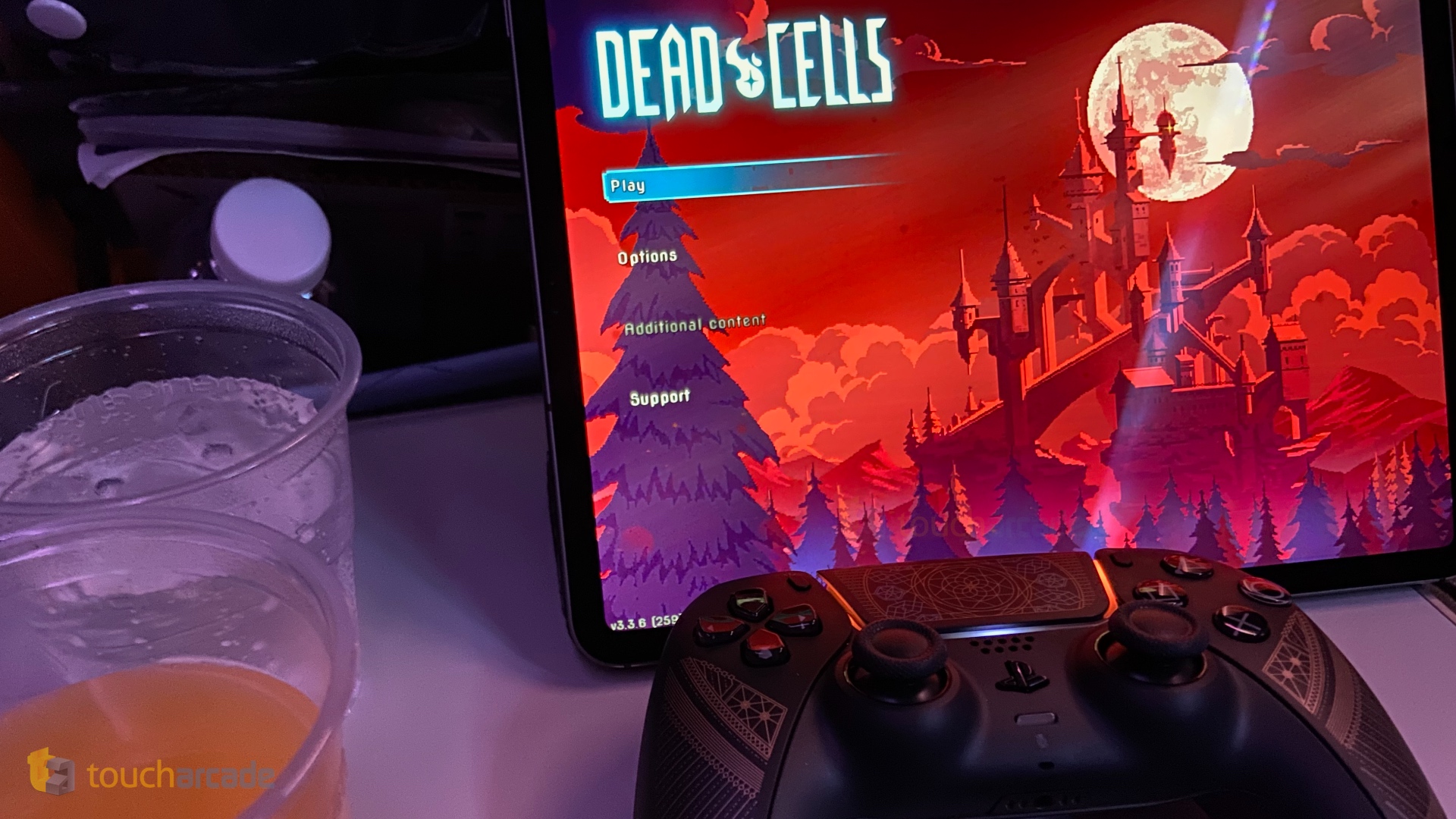 Dead Cells Return to Castlevania DLC was a perfect expansion on consoles and PC when it debuted, and it is still essential with its mobile release. Dead Cells on mobile is a superb version of the game, and I hope it eventually gets cross platform save syncing. That's really the only feature I want to see added. If you have Apple Arcade, you get Dead Cells and all prior DLC including the Return to Castlevania expansion in Dead Cells+ making it one of the best games on the service. If you like Dead Cells and Castlevania, why are you even reading reviews? Just buy the DLC and enjoy one of the best expansions we've seen for any game in a while.
Dead Cells Return to Castlevania DLC iOS review score: 5/5