Hello everyone, and welcome to the week! It's time once again for our look back at the noteworthy updates of the last seven days. It has been brought to my attention that I have not been rigorous in my duties of providing the obligatory free-to-play matching puzzle game update of late. I will be making that up today, I assure you. There might be a few other things in here, too. Of course, you can keep an eye out for updates yourself by participating in the TouchArcade forums. This weekly summary is just here to fill you in on the things you might have missed. Let's go for it!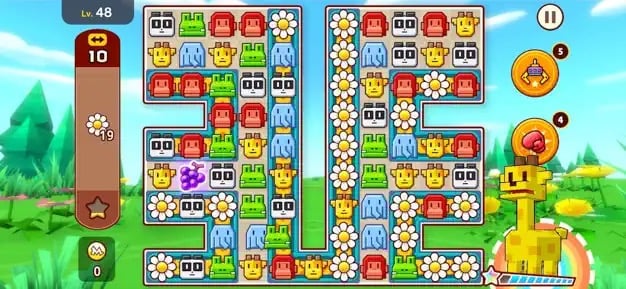 Zookeeper World, Well, let's start with a look at the latest update for Zookeeper World. It's a very ordinary one as this game goes, and that's saying something because it doesn't exactly ring the ol' cowbell most days. Anyway, you've got twelve new puzzle stages to play and they'll be kicking in next week. I mean, at its core what you would really want from this game is more stages, so I suppose that box is ticked off. No new wacky minigames this time.
Disney Magic Kingdoms, Free Both of the Disney games I tend to include in these round-ups had updates this week, and I included them both this time. At any rate, the headliner for this particular update is that you can now get more land for your park. If you play this game, you know that is a huge deal. Apart from that, WALL-E is back with both the Captain and M-O coming to the Kingdoms. This update also marks the beginning of Season 5, which should provide plenty of content for the next while.
Disney Heroes: Battle Mode, Free And let's get that other Disney game out of the way, shall we? It's another new character for Disney Heroes Battle Mode, and they've dipped into the Muppets line-up again. It's a good pull, too. Sweetums! I mean, look at Sweetums. A perfect warrior. Practically born for battle, and yet ever the jester. I love Sweetums. I feel like anything is better with some Sweetums added to it. Throw in some bug fixes and other improvements, and that's the sum of things this time.
Subway Surfers, Free The Subway Surfers gang are headed back to a real-world location this time, and it's Buenos Aires. Continue the Rivals story and you can unlock Bruno and his slick Future Wave Board. Join in the Season Hunt and you can get Rosa's new Ceibo Outfit. Complete challenges and collect Event Coins and you'll be rewarded with plenty of goodies including Super Runner Yutani. Seems like there's a lot going on in this game as usual, so good luck to anyone trying to get their hands on it all.
Diablo Immortal, Free Okay, time to feed the beast. I'm going to give this the coveted UMMSotW award for the week because nothing else is tickling my fancy, and Blood Knights are pretty cool. Oops, I spoiled the update contents there. So yes, a new Monstrous Class in the form of the Blood Knight is now live. There's also a new cosmetic set, Children of Inarius. So that's nice. This update also gives a heads-up that the Dead Pilgrimage events are wrapping up in a couple of weeks. So, you know, get on those if you want to.
Jetpack Joyride 2, Time to head around to the Apple Arcade area again to see what's going on. Oh, hey. Jetpack Joyride 2. Yes, that's fine. This latest version adds a new Boss Rush mode to the game where you have to defeat all of the major enemies, one after another. You'll also find a new Fake Scientist skin, a new Pinata jetpack, and a new Fake Scientist avatar. Things are rounded out with some balance tweaks, bug fixes, and performance improvements. That sounds like a decent little update.
Angry Birds Reloaded, Another update for the fine Apple Arcade game featuring everyone's favorite SEGA characters. In this one, you'll find fifteen new Inca-themed levels in the Swine and Dine tour, and the Space Eagle is now active and ready to be used. You can also collect the Space Eagle's feathers to add to your score. Man, remember Angry Birds Star Wars? That was a real banger. It feels like it was just yesterday when the Angry Birds were practically the face of mobile gaming. It's nice they're still around, but I do miss the more innovative years for this franchise.
Marvel Contest of Champions, Free You know, if I was being strict about this sort of thing, I'd have to give the coveted prize to this update this week. It assuredly has the most Spider-Mans. You see, one of the newest quests sees Silk trying to preserve relative peace with the help of a couple of Spideys in Ties That Bind, and that certainly piles up at least a couple of Peter Parkers. Also in this update: Mantis gets buffed, Alliance War gets tweaked, a new Combo Tracking feature has been implemented, some new Relics are available, and more. The only reason I'm not giving it an award is because I am capricious that way. Ha!
Homescapes, Free Okay, it's time to slide into those obligatory free-to-play matching puzzle game updates for the week. First up is Homescapes, which has a new adventure that sees Austin and William trekking up a mountain. If you can complete the expedition, you'll get a unique decoration. If you can't… presumably Austin eats William or something. There's also a Craft Fair where Austin is collecting photo fragments to fill out a family photo album. Finally, there's a new chapter in the storyline that sees Mycroft opening a fitness center. That Mycroft, always up to shenanigans.
Toon Blast, Free And here is a second obligatory free-to-play matching puzzle game update for the week, as a make-up for skipping it last time. Toon Blast! That means fifty new levels, of course. It always does. The theme this time around is Street Musicians. Head on out there and do some busking, I guess. I'm not going to lie, this is a pretty limp way to end the article, but that's just how things are going to be this week. Shaun's a tired boy.
That about wraps it up for last week's significant updates. I'm sure I've missed some, though, so please feel free to comment below and let everyone know if you think something should be mentioned. As usual, major updates will likely get their own news stories throughout this week, and I'll be back next Monday to summarize and fill in the blanks. Have a great week!