Hello, friends. I've done many a best ten list in my time here at TouchArcade, and I've dedicated several to the Arcade Archives line of classic arcade ports on the Nintendo Switch and PlayStation 4. But thanks to SNK and Hamster, iOS and Android users have quite a library of Arcade Archives games to choose from via their ACA NEOGEO line. We've got so many now, in fact, that it can be a little daunting if you're just wading in. That's where this list comes in. It's a handy guide to what we feel are the ten best games released thus far in the ACA NEOGEO line, presented in no particular order. The decision was made that each series could only take one spot, so if you enjoy a game in any particular series, by all means check out the others. Now, let's get to those games.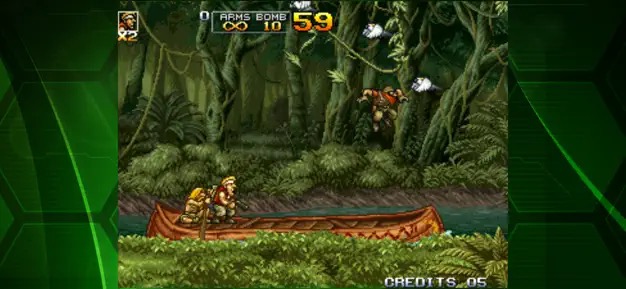 METAL SLUG 5 ACA NEOGEO, $3.99 With most of the more popular Metal Slug games having already been done on mobile by DotEmu years back, the ACA NEOGEO line was left with just two games to fill out the selection. Metal Slug 5 is the better of the two, coming in after SNK's previous owner had reclaimed the company from its less-than-courteous caretakers at Aruze. While it doesn't reach the dizzying heights of Metal Slug 3 or the tight, well-paced action of the first and second games, Metal Slug 5 is a great romp for run-and-gun fans and a pleasure for mobile players to dig into.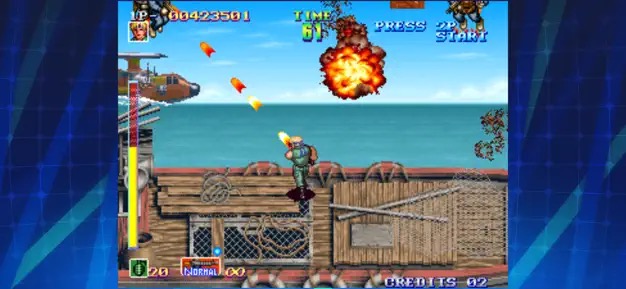 SHOCK TROOPERS ACA NEOGEO, $3.99 SNK was the creator of one of the most popular top-down run-and-gun action game franchises, Ikari Warriors. With that in mind, it's perhaps no surprise that the NEOGEO has at least a few great games in that category. For my money, the best of the lot is Shock Troopers. It looks good, plays well, and has a lot of content thanks to its branching paths and large cast of distinct characters. It also handles quite well with touch controls, in case you don't have an external controller handy.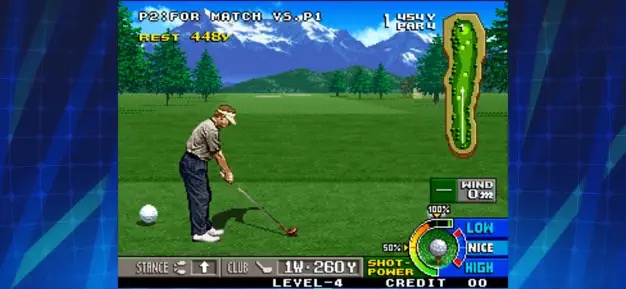 BIG TOURNAMENT GOLF ACA NEOGEO, $3.99 Once known as NEO Turf Masters, Big Tournament Golf is a bit of a legend in the field of arcade golf games. It rides the line perfectly between casual pick-and-play appeal and the kind of depth that keeps players coming back, and it does it all with a great sense of style. This game plays great on mobile, whether you're using touch controls or your controller of choice. Easily one of the most enduring NEOGEO games, particularly if you're looking for something that doesn't involve punching or shooting. I was going to say "doesn't include violence", but we all know how golf games can go.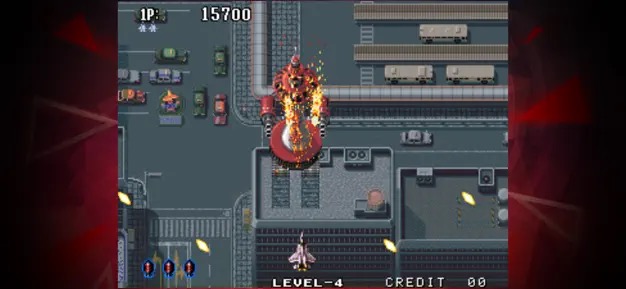 AERO FIGHTERS 2 ACA NEOGEO, $3.99 Given the long span of time and particular era the NEOGEO lived in, it's somewhat striking how few great shoot-em-ups it played host to. Aero Fighters 2 is one of the better ones, offering some highly enjoyable vertical shooting action that should please newcomers and veterans alike. It's wrapped up in a very silly story with some truly wacky characters, adding to the fun. More than most genres, traditional shoot-em-ups take to touch controls rather well. That means you can fully enjoy this on your mobile device without worry.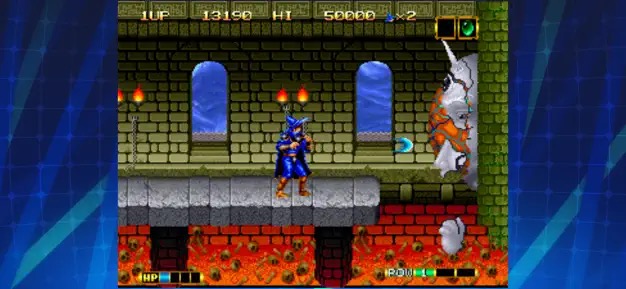 MAGICIAN LORD ACA NEOGEO, $3.99 One of the better early games on the NEOGEO was the side-scrolling action-platformer Magician Lord, and it's still a blast to play. Indeed, it's even better now that you don't have to drop real coins into that slot to keep playing, because this game is really tough. You can use your magic to transform into a variety of new forms, adding a lot of variety to the action as you make your way through the large and sometimes winding stages. It's better with a controller, but you can get by well enough with touch controls.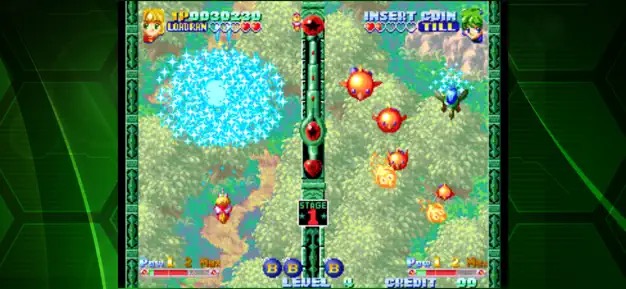 TWINKLE STAR SPRITES, $3.99 In the wake of Tetris and Puyo Puyo's success in arcades, publishers were scrambling to find new twists on competitive puzzle games. Twinkle Star Sprites is an interesting one, taking the broad structure of those puzzlers and substituting shoot-em-up mechanics in place of matching colors. Take out enemies effectively and you'll send more over to your opponent's side of the screen, hopefully crushing them and securing yourself the victory. There's no question this is better with two human players, but there's a fair bit of fun to be had on your own if you're inclined to.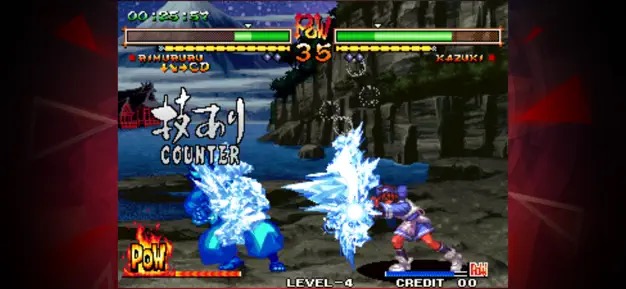 SAMURAI SHODOWN V SPECIAL, $3.99 Okay, we really need to talk about some fighting games now. It wouldn't be much of a list of NEOGEO games without them, right? While each entry in the series has its merits, I'm going to pick Samurai Shodown V Special for this list simply because it's a very good installment that a lot of people missed due to how late it released. Seriously, this game hit the same year the Nintendo DS and Sony PlayStation Portable came out. It fixes a lot of the issues with the standard Samurai Shodown V and offers up some colorful weapon-based combat that is flashy enough to enjoy even if you're up against CPU opponents.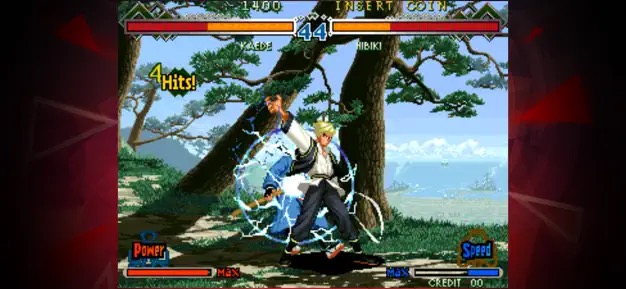 THE LAST BLADE 2 ACA NEOGEO, $3.99 Look, I don't know if The Last Blade 2 is the best fighting game on the NEOGEO, but it's definitely the best one that needs more attention. With deep mechanics, stunning backgrounds, great characters, and a truly distinct flavor, this game is tremendous fun to learn and play. While it can be a bit unwieldy trying to get multiplayer going in these mobile versions, consider this some solid practice the next time you stumble across a NEOGEO arcade cabinet and want to do a little hustling.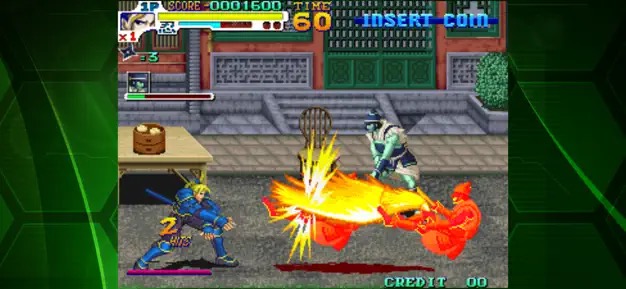 SENGOKU 3 ACA NEOGEO, $3.99 As with the shoot-em-up genre, it's a bit curious how the NEOGEO ended up not having terribly many good beat-em-ups given the years it was in operation. Of the bunch it has, I think Sengoku 3 is the top of the pile. It looks amazing, has a very interesting roster of playable characters, offers up some unique mechanics to add depth to the head-bashing, and has some interesting environments and enemies to encounter. It plays nicely with touch controls, and even if you just credit feed your way through it, you'll get your money's worth out of the ride.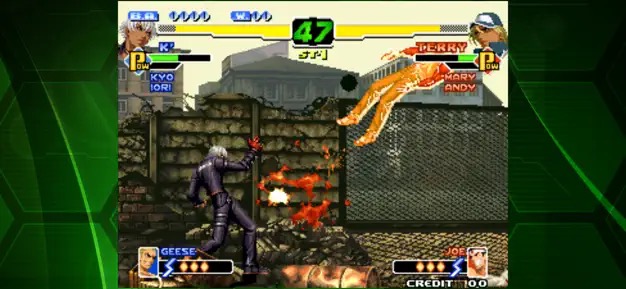 KOF 2000 ACA NEOGEO, $3.99 Okay, yes, we have to have a King of Fighters game. I hear you. Honestly, there are several entries in this series that I love. It's hard for me to pick the one I like the most. So I'll just toss a dart at my handy Kyo Kusanagi dartboard and… the winner is KOF 2000. This was the last entry in the series before SNK went bankrupt and was sold to Aruze, and you wouldn't know the company was in trouble by the quality on display here. The Striker System sees some improvements, with lots of fun cameos from SNK characters. The main playable roster is large and full of familiar faces and a few intriguing newcomers. Overall, a great fighter and one that is still a decent game to play on your own.
And that's the list! Of course, these are just our picks. Perhaps you have some favorites you would like to boost? Feel free to head down to the comments and let the world know. After all, we're all just looking for more good games to play. Thanks as always for reading!