When Terra Nil (Free) from Devolver Digital and Free Lives was revealed, the striking aesthetic and premise had my attention. Devolver is known to publish interesting games, even if I don't enjoy every release from them, but Terra Nil looked like it could be special. Having now played it across iPhone 11, iPhone 14 Plus, iPad Pro (2020) and on PC (laptop and Steam Deck) for this Terra Nil review, it has been interesting and somewhat disappointing seeing how it scales across hardware.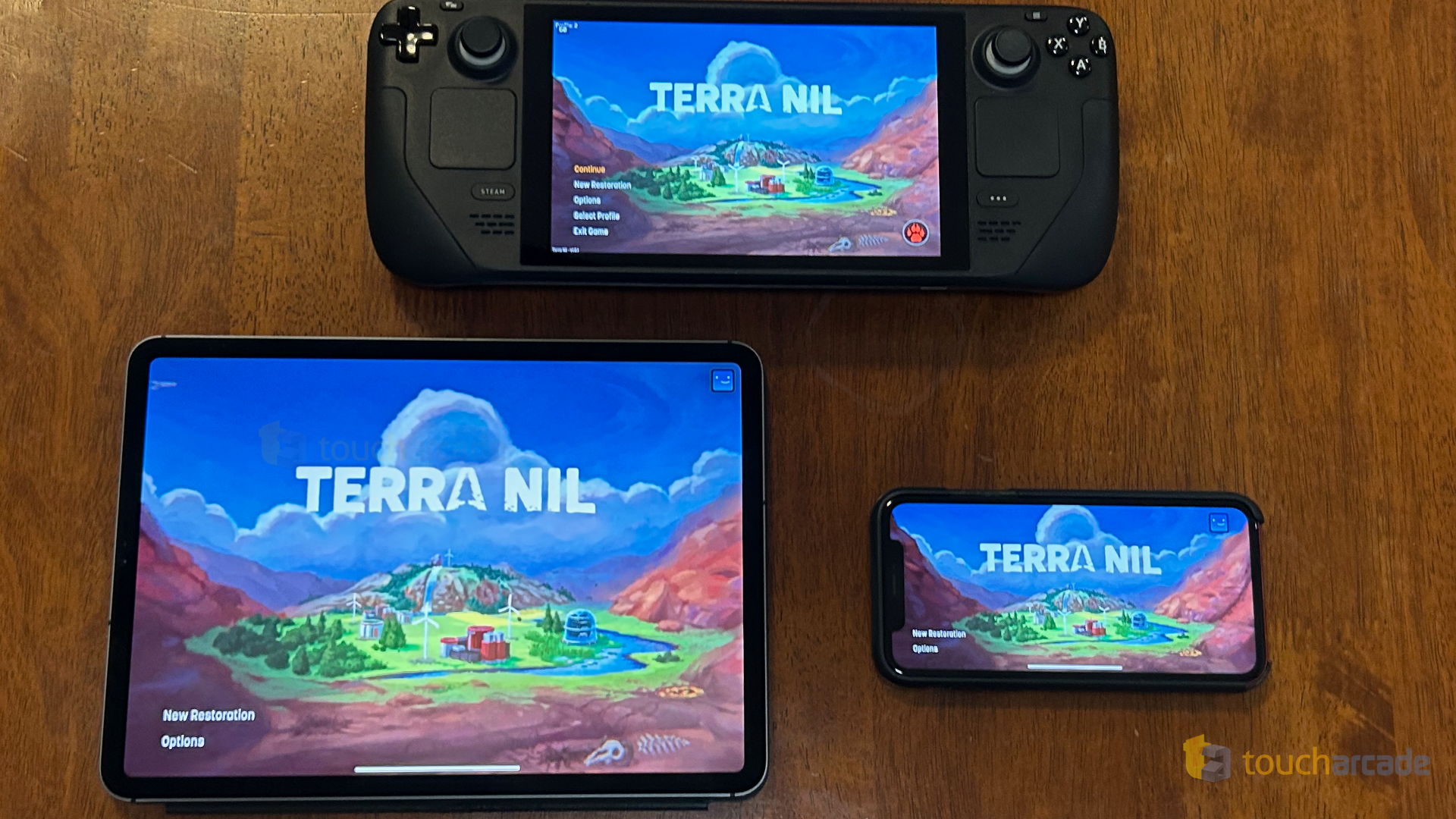 Terra Nil is a very zen-like experience, but one that can get frustrating. Your aim is purifying the soil, creating forests, flowers, and basically creating the best wilderness you can as you balance your resources. There's a blend of strategy games and puzzlers in Terra Nil, and the difficulty options allow tweaking the experience to your liking almost. I say almost because one specific mechanic involving recycling felt counter intuitive from how it was in the demo. Making me waste time excavating paths and ruining the gorgeous greenery setup I have isn't fun. After the initial frustration wore off, I planned better for my next attempt in Terra Nil. There definitely is a zen feeling playing it, but resource management and some decisions in later phases might turn some off.
With procedurally generated levels, there's a lot of replay value, but some might feel like the game shows its hand rather quick. The core gameplay loop clicking with you will mean you come back to this for a while even after the initial six hours you spend to see what it has to offer. While the visuals are gorgeous and I hope we get a physical release that has an artbook alongside the inevitable Switch version, Terra Nil shines with its audio design. I would definitely recommend playing it with a nice pair of headphones for the music and sound effects.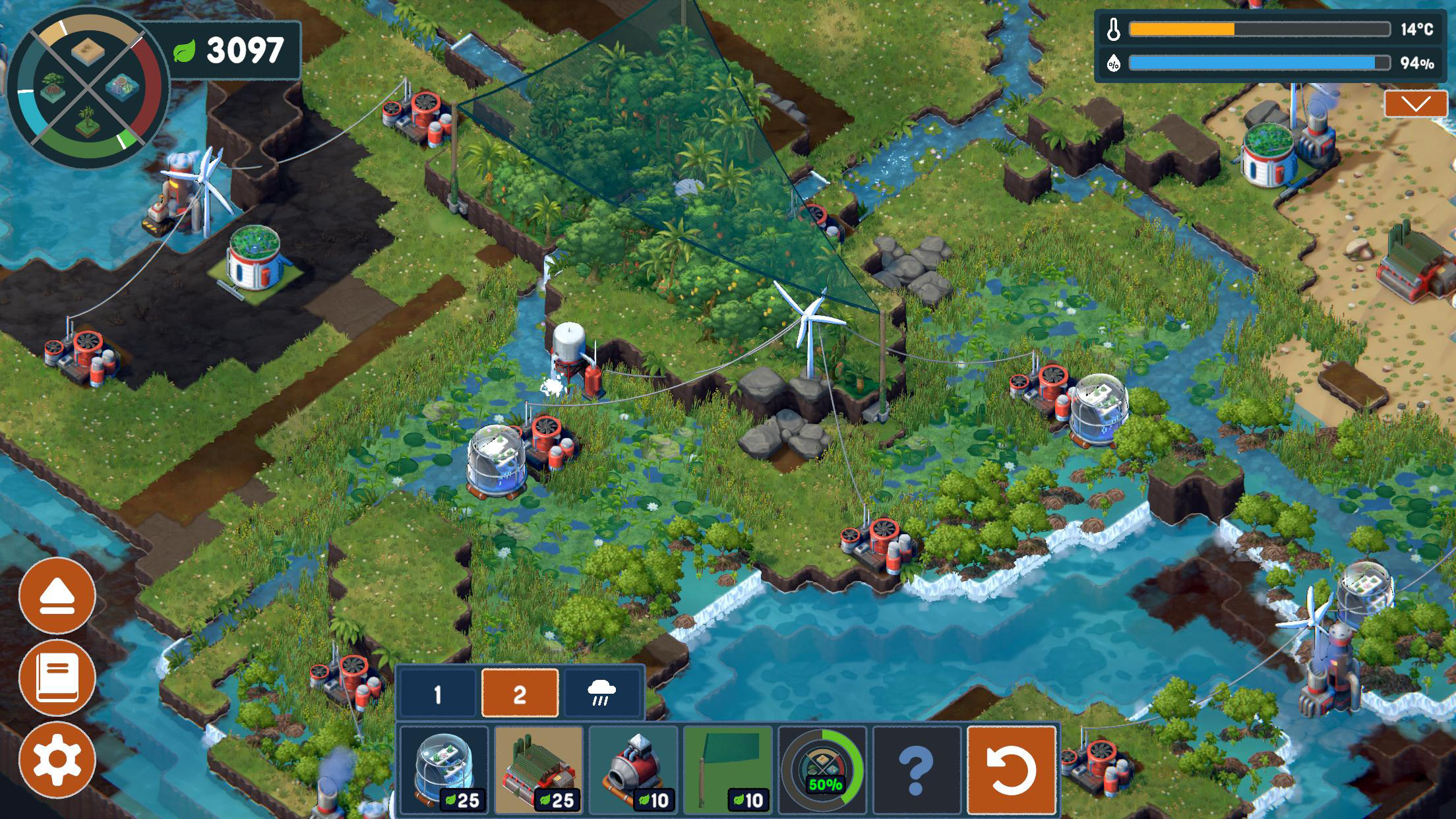 Having sampled the demo initially, I was sure it would control well on mobile. The final game gets almost everything right. There are some things that aren't intuitive. These require small touch targets on other menus. The UI scale option helps, but even setting it to the highest level isn't enough to fix two specific buttons. Overall, the team did a great job with the touch controls for Terra Nil on mobile.
In its current state, I've run into the same glitch on three different saves across devices. This involves scanning and the phase where you need to recycle. In one case, I managed fixing it by force closing the game and loading again, but the others required redoing the phase or map completely. Barring that, I've also noticed my iOS and iPadOS devices getting very warm playing Terra Nil. It isn't even running at 60fps or offering a high resolution option, and the battery drain needs to be addressed in a future update. There is no progress syncing as well right now even though I used the same Netflix profile and user on two devices.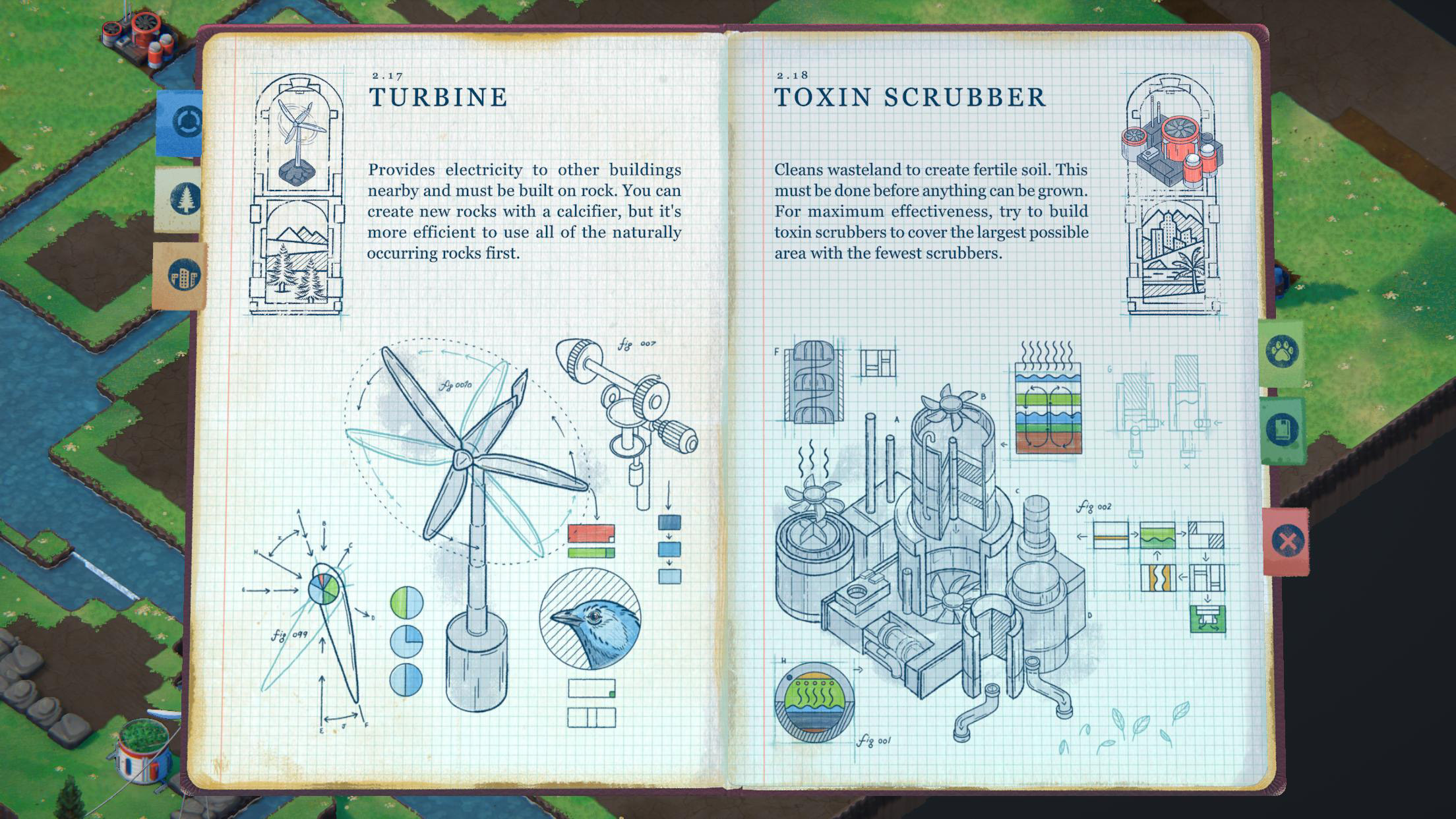 On Steam Deck, I've had a much better experience with Terra Nil when it comes to visuals and performance, but I prefer the interface on iPad. It feels perfect for a large touchscreen. It is worth noting that the game doesn't have official Steam Deck support yet, and I've been using a community layout which works quite well. There is proper touch support on Steam Deck like the iOS version as of this writing. The PC version supports higher frame rates even up to 120fps, but it barely holds that on Steam Deck when docked. It ran better on my laptop, but I wish the iOS version offered a 60fps option.
Visually, it is disappointing that Terra Nil is quite downgraded on two of my iOS devices. This is very noticeable on my iPad Pro (2020) going into later phases of the restoration. On the iPhone 14 Plus, Terra Nil looks and runs a lot better. I don't know if this runs at 60fps on any mobile device, but it wasn't even close to that on the three I used. The aesthetic and art direction are gorgeous, and I love the interface, but the technical downgrades that still result in battery drain hold Terra Nil back from being amazing on iOS.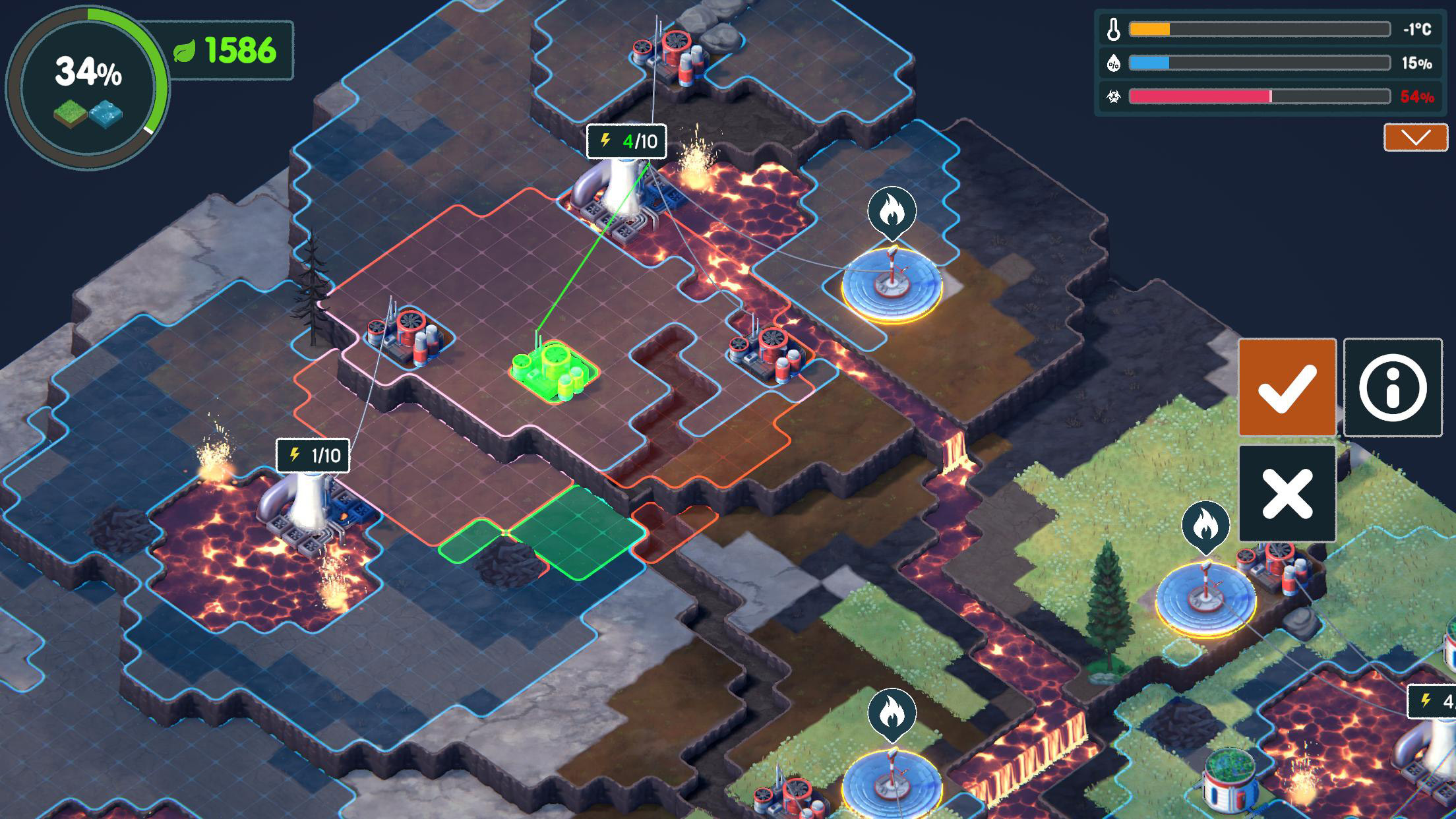 Terra Nil is currently available for $24.99 on Steam here and available to Netflix subscribers on iOS here and Android here. If there were no glitches, Terra Nil would be more than worth the asking price as long as you know what you're getting. If you aren't sure and have a Netflix subscription, I'd definitely recommend trying the game to see if you click with it.
Terra Nil isn't worth subscribing to Netflix to play, and I don't think a single game exists to push that yet, but it is an essential for anyone who has a subscription. This is exactly the kind of game I want to see Netflix publish on mobile. I just hope the current issues can be addressed soon in updates. I love the concept, and Terra Nil is a few patches away from being one of the best games Devolver Digital has released.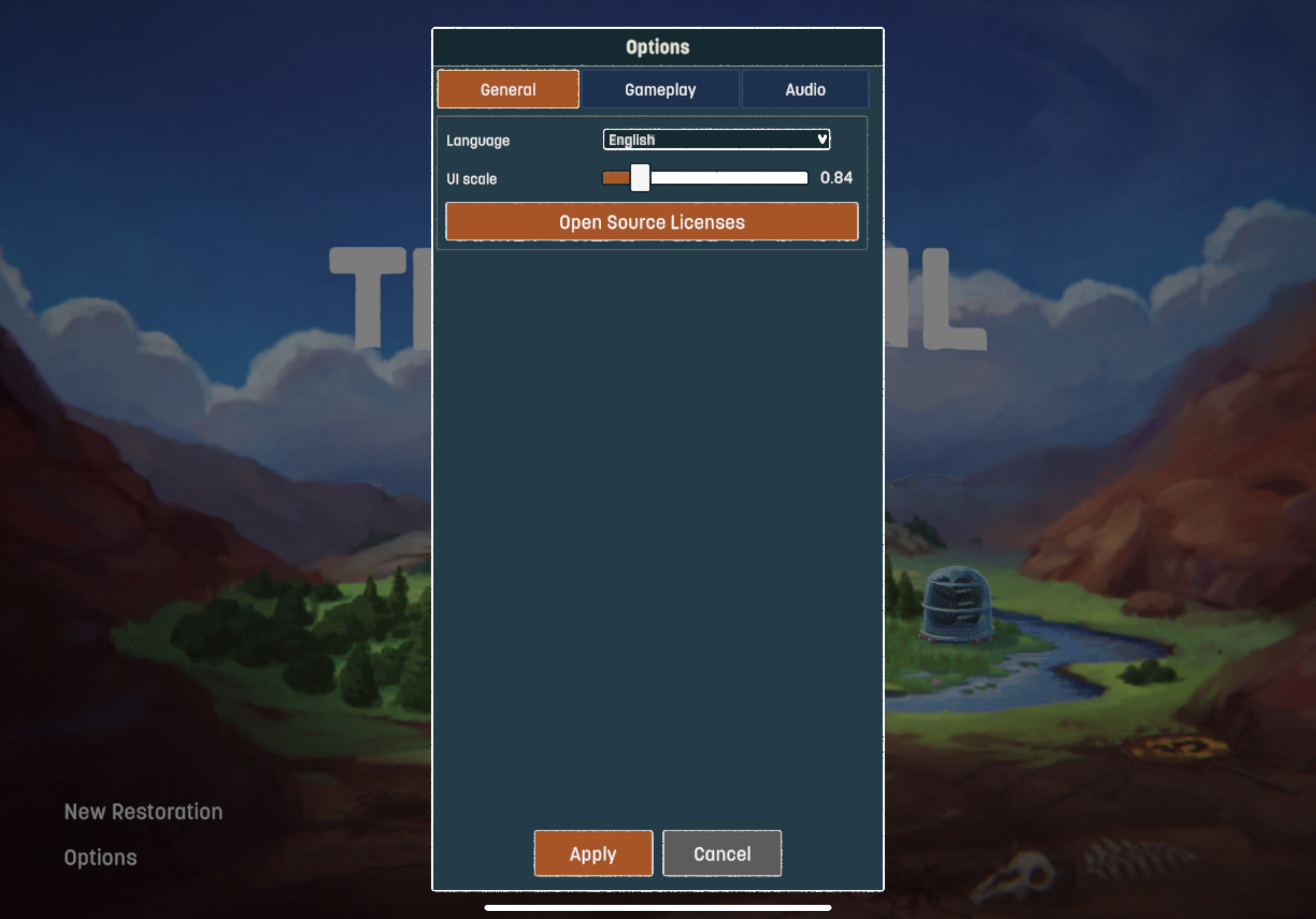 In its current state, Terra Nil is excellent, but it is held back by some bugs and glitches that required me to to replay specific portions of levels. It has a solid base for sure, and I look forward to playing it on and off over the coming weeks and months once patches arrive. I was already impressed with the concept and visuals in the reveal and demo, but I'm glad to see Terra Nil actually deliver in the final release. This is definitely an essential if you have a Netflix subscription despite the issues I ran into.