Need for Speed Unbound was one of the first new current generation only games to impress me on Steam Deck. I've played many games that have been ported to PC from other platforms and also games built for PC from the start, but it is always great seeing the Steam Deck handle games built for PS5 and Xbox Series X|S well. That is where our first Steam Deck review of 2023 comes into the picture. It has been quite an experience playing Dead Space from launch day until about a week later on Steam Deck, PS5, and my laptop.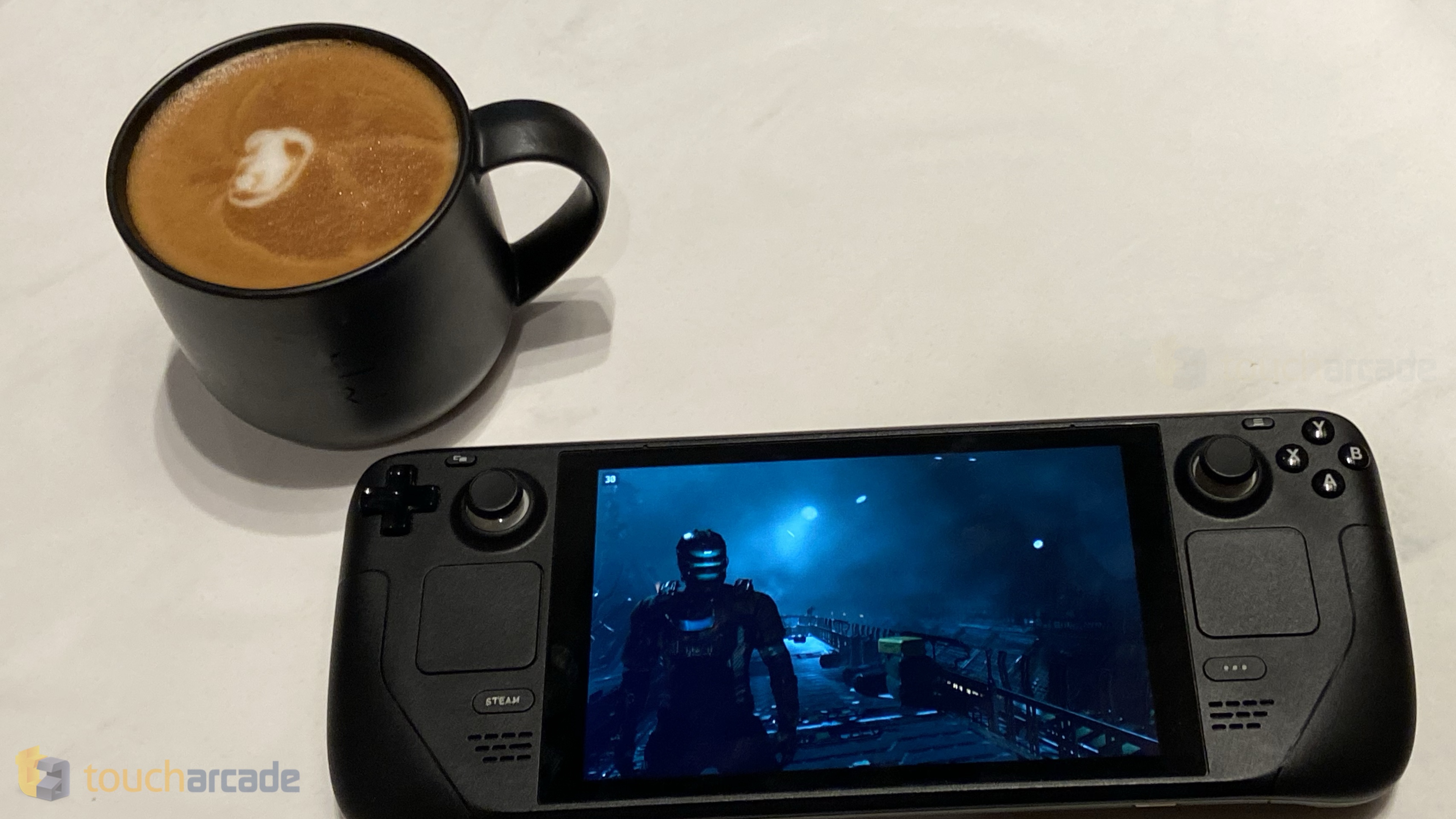 I wanted to approach this Dead Space Steam Deck review a bit differently. I hadn't actually played the original game until I decided I wanted to cover this new release, and it led to me trying the original out on Steam Deck alongside Dead Space. I also wanted to see how the Steam Deck would hold up compared to the PS5 version of Dead Space.
Dead Space itself is a game I wish I had played before. Experiencing it through this new remake reminded me of my time with Capcom's amazing Resident Evil 2 remake from a few years ago. Playing it with a good pair of headphones has been excellent, but the real shocker has been how good it looks on Steam Deck.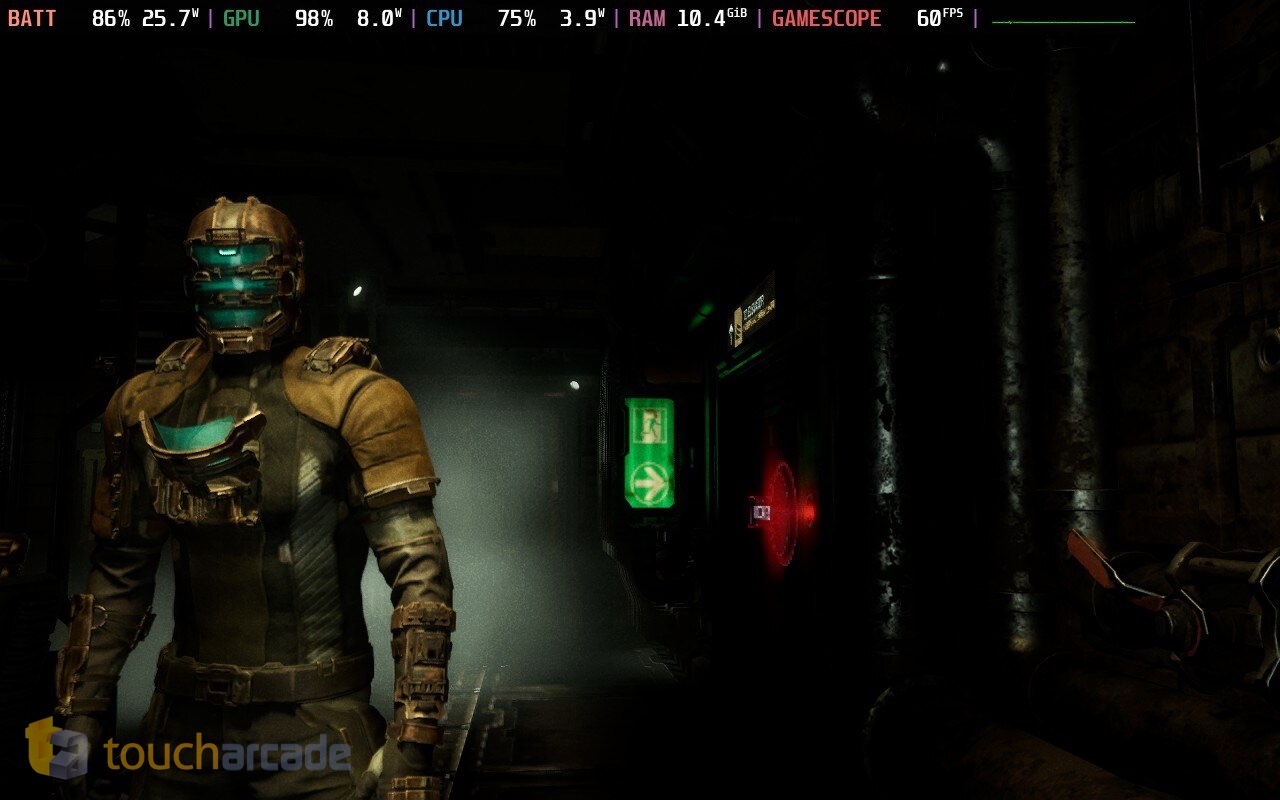 As of this writing, Dead Space has been Steam Deck Verified by Valve, and it shows. The only changes I've made are forcing the game to display PlayStation button prompts in the settings, and also playing around with the graphics and display options for testing how much I can push the hardware. Rest assured, Dead Space is an excellent experience on Steam Deck now out of the box and I'm shocked that a current generation exclusive runs and looks this well on the hardware.
Dead Space has quite a few visual options to improve and adjust the image quality. I left the film grain and motion blur on for my first playthrough. It has dynamic resolution scaling options and support for AMD's FidelityFX Super Resolution 2.0. I enabled both of them and used FSR 2.0's performance mode with the automatic preset for most of my time with Dead Space. You can push some settings higher if you'd like and are ok playing with a 30fps cap (which you need to do on the Steam Deck's own settings). I tested uncapped frame rate at the default settings and was surprised to even see it running at 60fps in parts with v-sync off.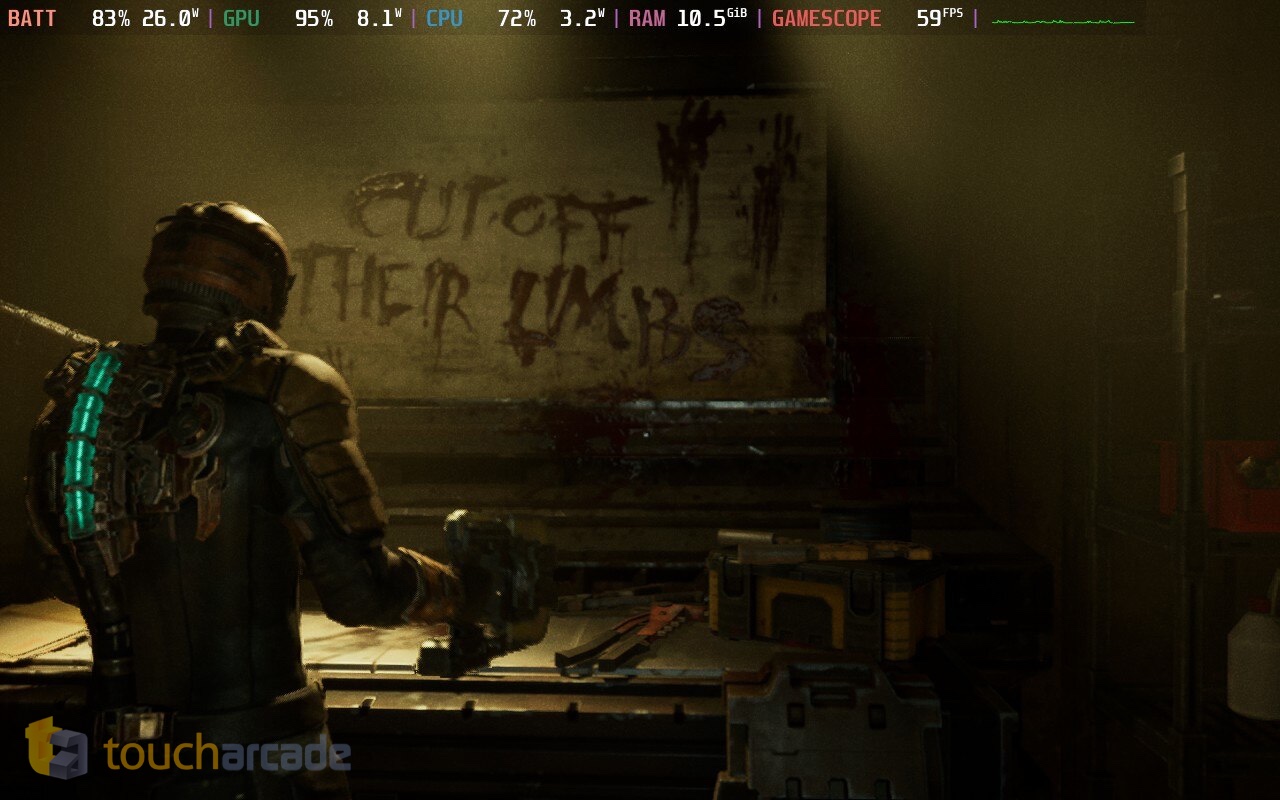 On the performance side, there are a few things you can work with to improve the frame rate like a lower internal resolution (not 800p like I used), opting for a different FSR 2.0 mode, and even the Steam Deck's own "allow tearing" option in the menu. The only issue with changing a lot of settings is you will need to wait for a few seconds or even 20 seconds sometimes for performance to stabilize after making big changes to the game's setting. The major issues I ran into with my setup were in rooms with multiple enemies where the performance drops noticeably.
On the control side, I mapped any analog stick presses to the Steam Deck paddles as I don't like pressing into the sticks. The remaining control options are fine as is. You can change to a control preset faithful to the original Dead Space or Dead Space 2 as well here.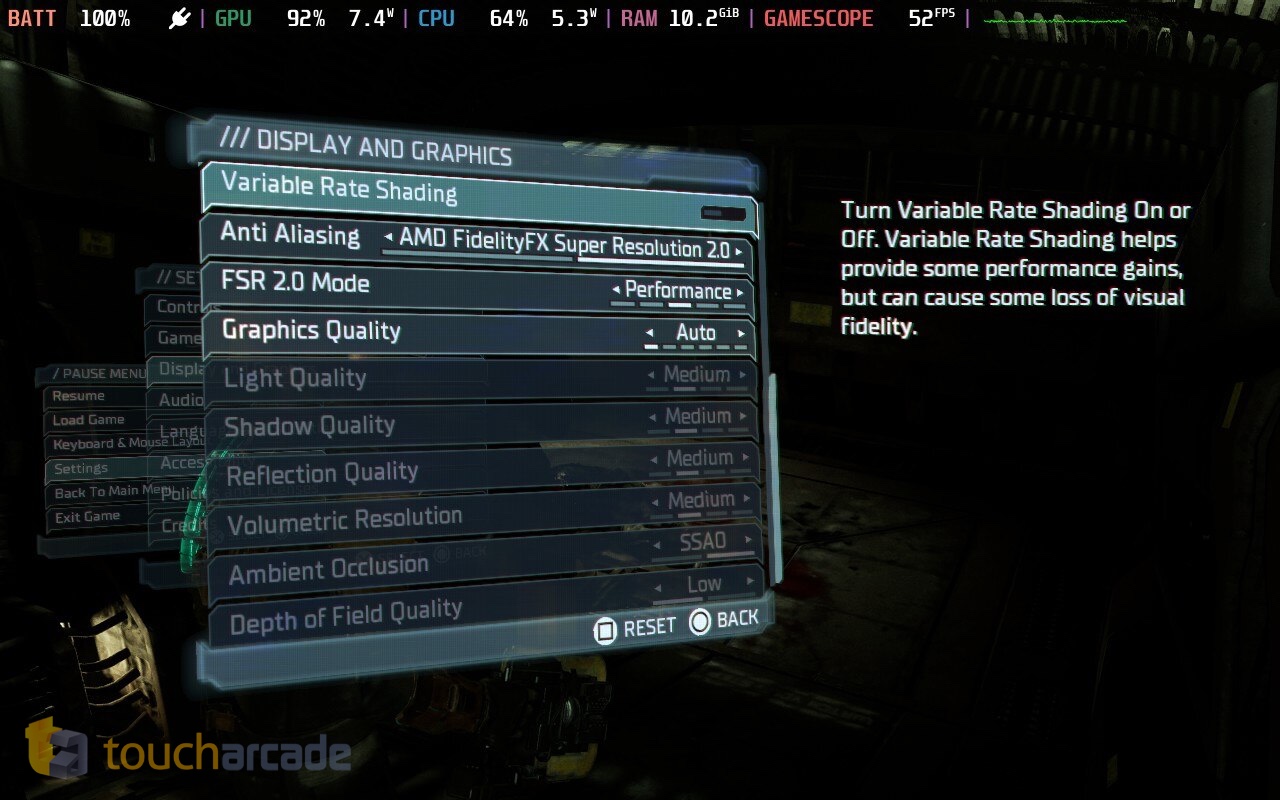 While Dead Space is a fantastic game and a brilliant remake, it really needs commendation for its accessibility options. These aren't as good as recent Naughty Dog games, but there is a lot you can adjust to make the experience more suited to your playstyle including the option to hide certain disturbing scenes and display more content warnings and colorblind options.
Despite being portable and having pretty good speakers, I'd recommend playing Dead Space with a good pair of headphones. The audio design is amazing, and an important part of the gameplay, so using the Deck's speakers would mean missing out on the complete immersive experience.
Compared to the original game which also is Steam Deck Verified, Dead Space is a massive upgrade and improvement in just about every way. Hopefully EA gives Dead Space 2 the same treatment in the future, it would be great if Valve could work with EA to have its other AAA releases in such a nice state on Steam Deck from the start. If you're curious how one of the last areas in the game looks, click here. I'm not embedding this specific image to keep this spoiler free.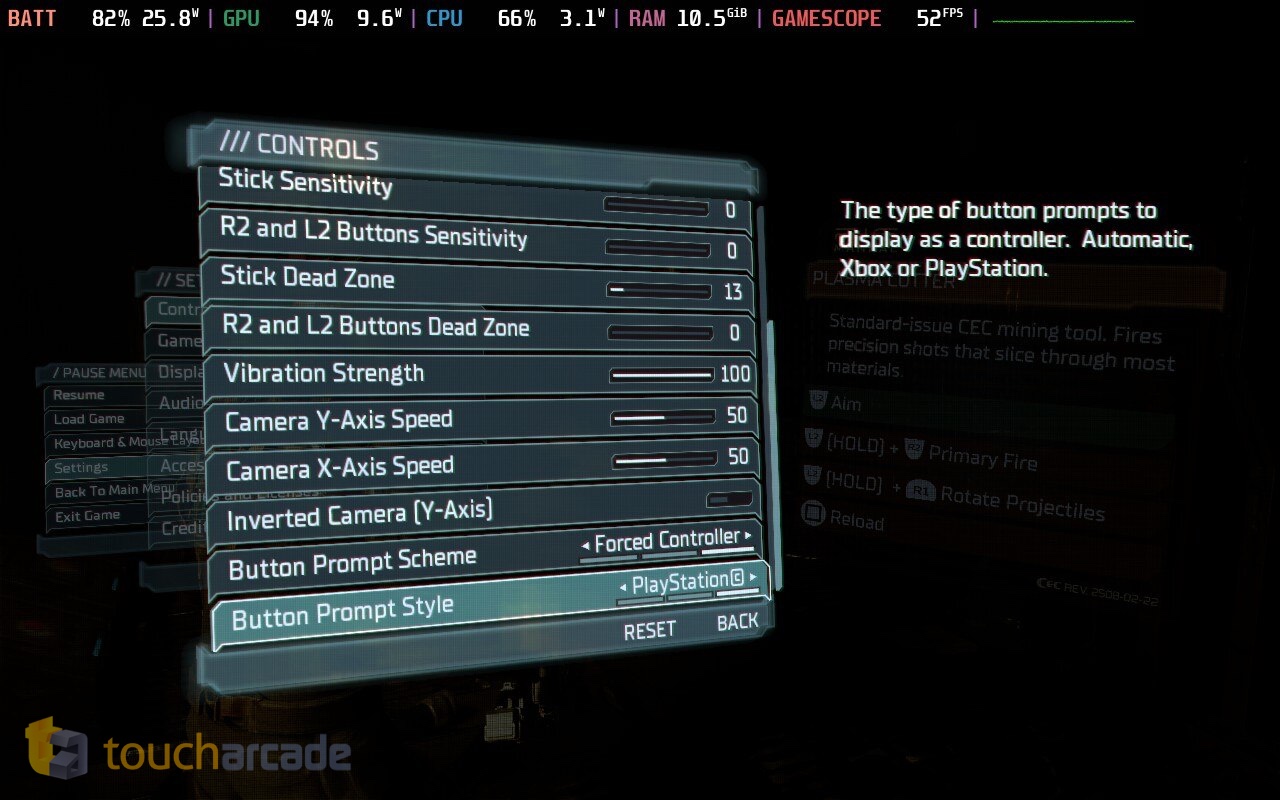 Having also played Dead Space on PS5, the DualSense features like haptic feedback are not present in the PC version of the game even when using a DualSense controller wired. Barring that, Dead Space scales down very well for Steam Deck, but it really shines at higher fidelity and is brilliant on PS5 after the most-recent update. I haven't tested the Xbox Series X version, but Dead Space is an easy recommendation on PC and PS5 in its current state.
I enjoyed swapping between my old laptop and Steam Deck while playing Dead Space without any issues. Despite a slightly rough launch day, Valve's Proton fixes have made Dead Space a survival horror essential for Steam Deck owners, and a true tech showcase for the platform. 2023 is already starting out brilliantly for Steam Deck owners with Dead Space, Hi Fi Rush, and more playing great on the system.
Dead Space is available for PC on Steam here.
Interested in more lists? Check out our other Steam Deck recommendations!