I say this quite often, but this was one of those weeks where it was almost painful to have to pick just one new game to be Game of the Week. There were a number of really cool games released this week, so be sure to check them out, but at the end of the day there was no way I wasn't going with one of my favorite games released on other platforms last year, TMNT: Shredder's Revenge from Tribute Games and Dotemu, which has now made its way to mobile this week courtesy of Playdigious as part of the Netflix Games library.
First off, the beat 'em up genre is one of my very favorites. I admit that I'm biased having grown up through the arcade era of the '80s and '90s when that was a dominant genre, and in this day and age I can say that it's not a genre that's aged particularly well. The classics that people like myself hold in such high regard are actually quite shallow, repetitive, and unfairly cheap when it comes to difficulty. That was fine when one of the design targets of these games was to get kids pumping quarters into a machine, but it doesn't hold up so well today.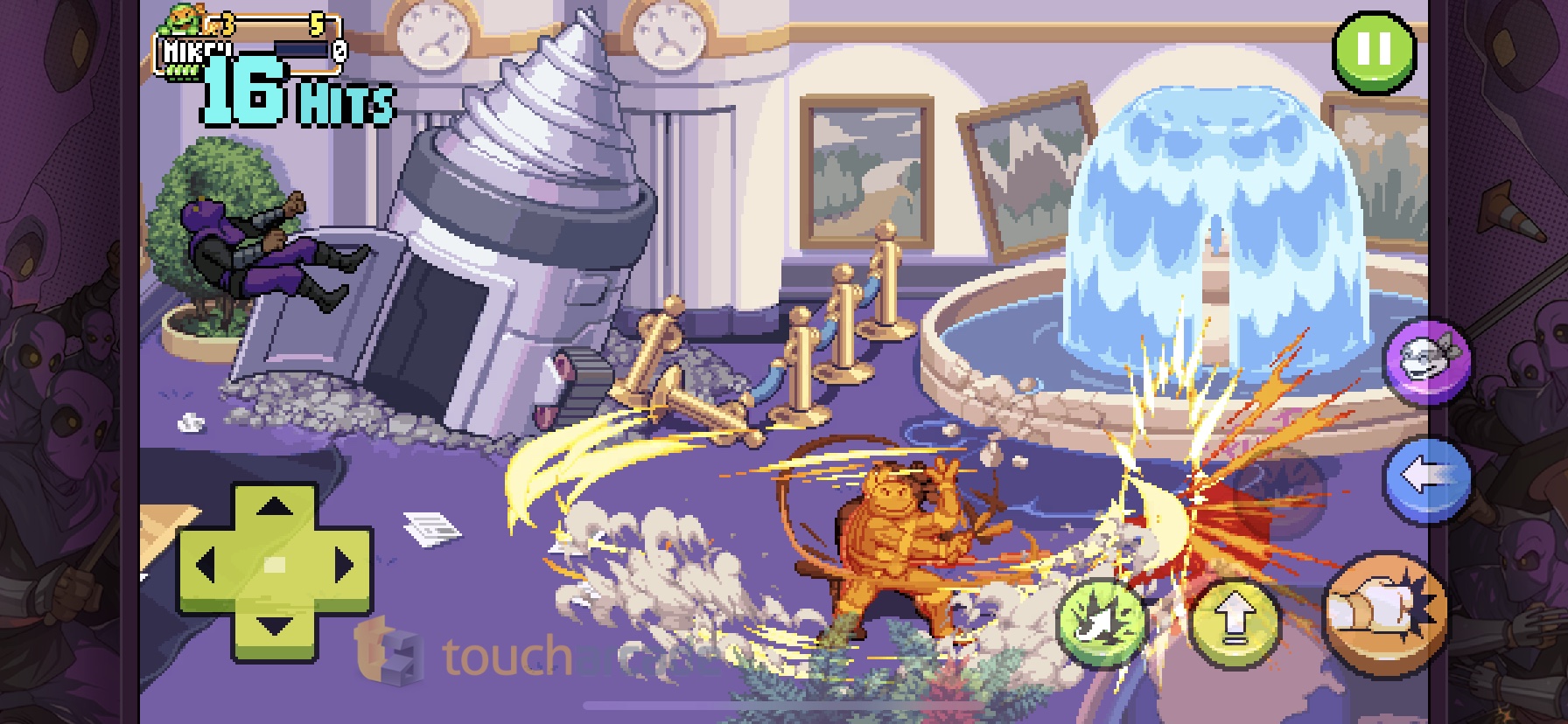 Back then though those negative aspects didn't matter. It was all about teaming up with a buddy or three and playing as some of your favorite characters beating the snot out of your most hated villains. I routinely replay through these old games just for a quick nostalgia hit. The Simpsons Arcade Game, X-Men, Final Fight, and of course the original TMNT arcade games. And plenty more. I typically get 30 minutes to an hour of fun before the shallowness starts to wear thin, especially if I'm not playing co-op with someone else. It's good for what it is, but like I said, it hasn't aged all that well.
That's not to say that there haven't been deeper or more complex beat 'em ups released in the decades since, but I think it was really 2020's Streets of Rage 4 that really brought the genre into a more contemporary setting. It showed us that combat could be more nuanced and strategic rather than button mashy. Unique game modes and progression systems showed that a beat 'em up didn't need to be just some 20-minute linear campaign and instead it could actually offer a ton of meaningful replay value. It shouldn't come as a surprise that I'm also a major fan of Streets of Rage 4 (which is also phenomenal on mobile), and it's from this same cloth that TMNT: Shredder's Revenge is cut.
Ok, this has been a whole lot of words and I haven't even talked about the game in question yet, but being that it was one of the marquee releases of last year on other platforms there should be no shortage of reviews or info should you need to seek it, including our own glowing review and our interview with the developers on bringing it to mobile. This is still the full fantastic game that is on other platforms already, but with excellent touch controls implemented as well as full physical controller support. There's also some truly impressive online matchmaking that seems to always be populated with other people to play with, which feels exceedingly rare for a mobile game.
If I have to come up with a drawback for TMNT: Shredder's Revenge, it's that it requires having a Netflix subscription in order to play on mobile. That will no doubt turn off some people who either don't have Netflix or would just rather pay upfront for the game the old-fashioned way, but that's the world we're living in nowadays. Thankfully the Netflix Games library is truly incredible and arguably a reason itself to subscribe to Netflix if you don't already given how many great games you can play in return, but if it's still a dealbreaker for you I can only urge you to seek out another platform to play TMNT: Shredder's Revenge because games that exude this level of sheer joy and playfulness don't come around all that often.