Hello gentle readers, and welcome to the SwitchArcade Round-Up for October 11th, 2022. In today's article, we've got a full review of No Man's Sky courtesy of our pal Mikhail. Following that, I've got reviews of a few additional games for you: C.A.R.L., Youropa, and Splatter – Zombiecalypse Now. Then we head off to the new releases of the day, and finish things up with some tasty lists of new and expiring sales. Let's get to it!
Reviews & Mini-Views
No Man's Sky ($59.99)
Having been with No Man's Sky from the start back on PS4, it has been mind-blowing seeing how it has evolved over the years. While the initial launch disappointed many people, No Man's Sky went and over delivered through the years with a plethora of free updates, next-generation upgrades, new platforms, and more. It went from a game I used to boot up to relax with to something that offers a lot for so many kinds of players. For this No Man's Sky Switch review, I'm going to cover the port itself compared to all other platforms I've played it on, the state of the game today, and whether No Man's Sky on Switch is a great experience for new players as of update 4.0.2.
No Man's Sky in its current state blends a lot of genres together. There's an action-adventure style mode available, a survival-focused one, custom options, many tweakable difficulty settings, a new relaxed mode and more. If you just want to explore the procedurally generated universe without worrying about combat or resources, you can jump into the creative mode from the start. The relaxed mode is also available on Switch as of version 4.0.2 offering a completely chilled out experience. The gameplay style also perfectly suits the pickup and play nature of Switch and Steam Deck.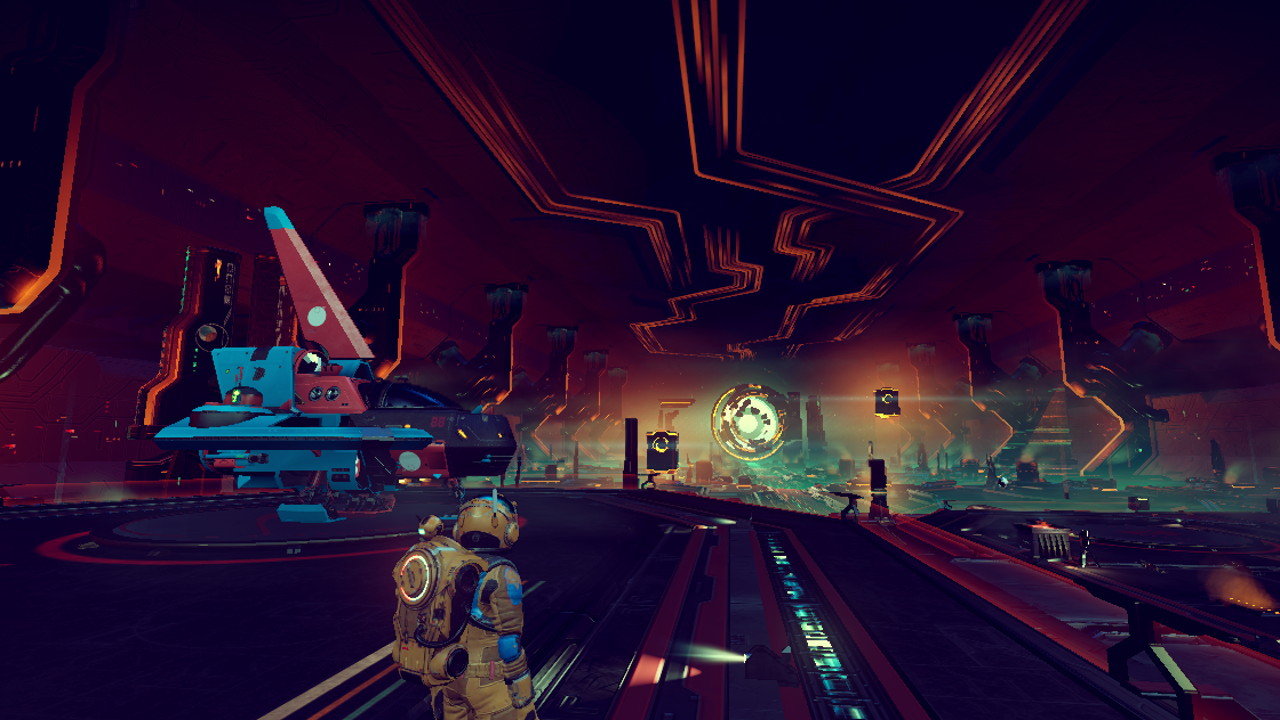 Before getting into what surprised me about this conversion, No Man's Sky on Switch doesn't include multiplayer. This isn't a dealbreaker for me, but it was a really nice addition to the core game. I hope it can be brought to Switch in some form in the future. Even in its current state, the team has done a lot to make No Man's Sky feel and look as good as possible on Switch, and there's even a set of Nintendo Switch-exclusive rewards available until early next month that you can see in the screenshot above.
When it comes to the controls, No Man's Sky on Switch gets almost everything right. It feels great to play with a Nintendo Switch Pro Controller docked and also in handheld mode. I like the HD Rumble implementation, but would've loved to see the team implement gyro support for aiming. Barring gyro, as of version 4.0.2, touch support for the inventory and menus has been added. I used this a lot on Steam Deck, so it is good to see on Nintendo Switch. It wasn't available before 4.0.2 or in the launch version last week.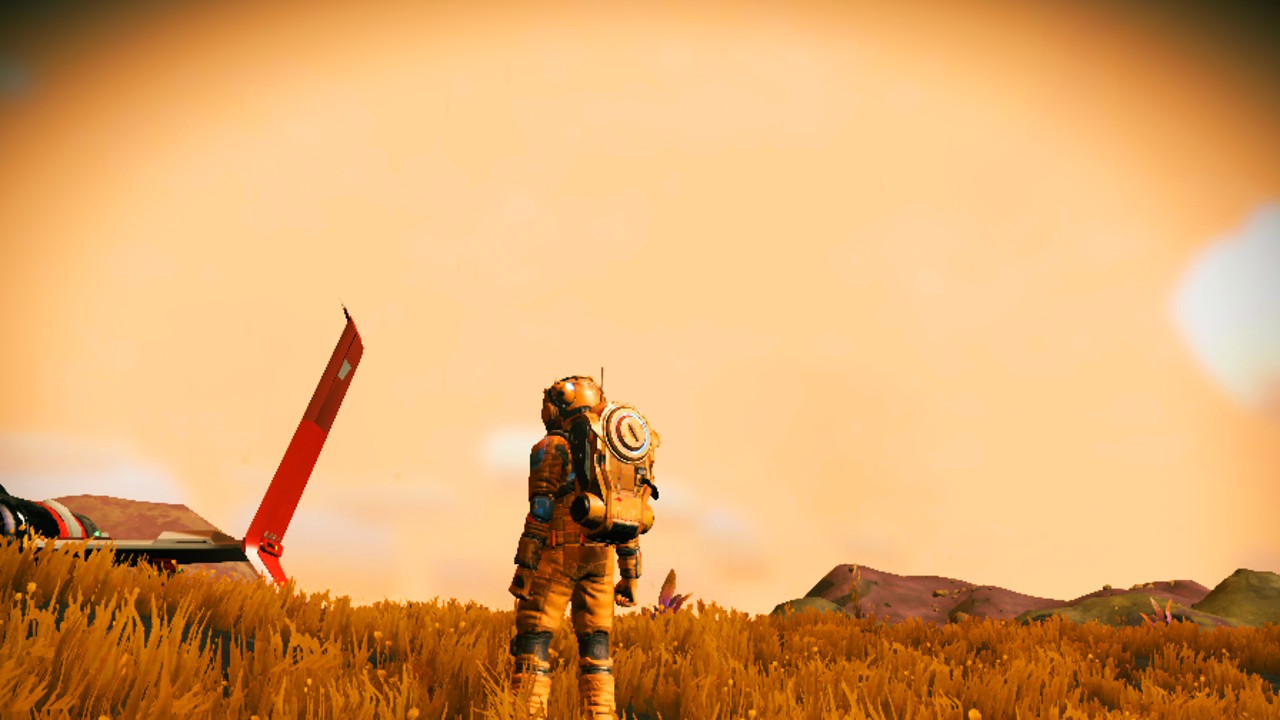 Visually, there are definite cutbacks even compared to the base last-generation console releases. No Man's Sky used to struggle in parts on PS4 years ago, but it has since been updated and upgraded enough to feel like not just one, but multiple games put together. On the Nintendo Switch, No Man's Sky looks and feels like No Man's Sky, albeit at a lower resolution than you likely are used to if you play it on other systems. This isn't a separate version of the game built for Switch, but the full game (minus multiplayer) available all in the initial release. The biggest noticeable downgrade is in draw distance.
On the performance side of things, the frame rate target is held rather well with its visual cutbacks. The one aspect players from other platforms might notice the most, is the load times. Barring that, the team has done a great job with the interface and its responsiveness. I tried to push the game on Switch as much as I could with building and constantly flying in and out of planets. It held up a lot better than I expected.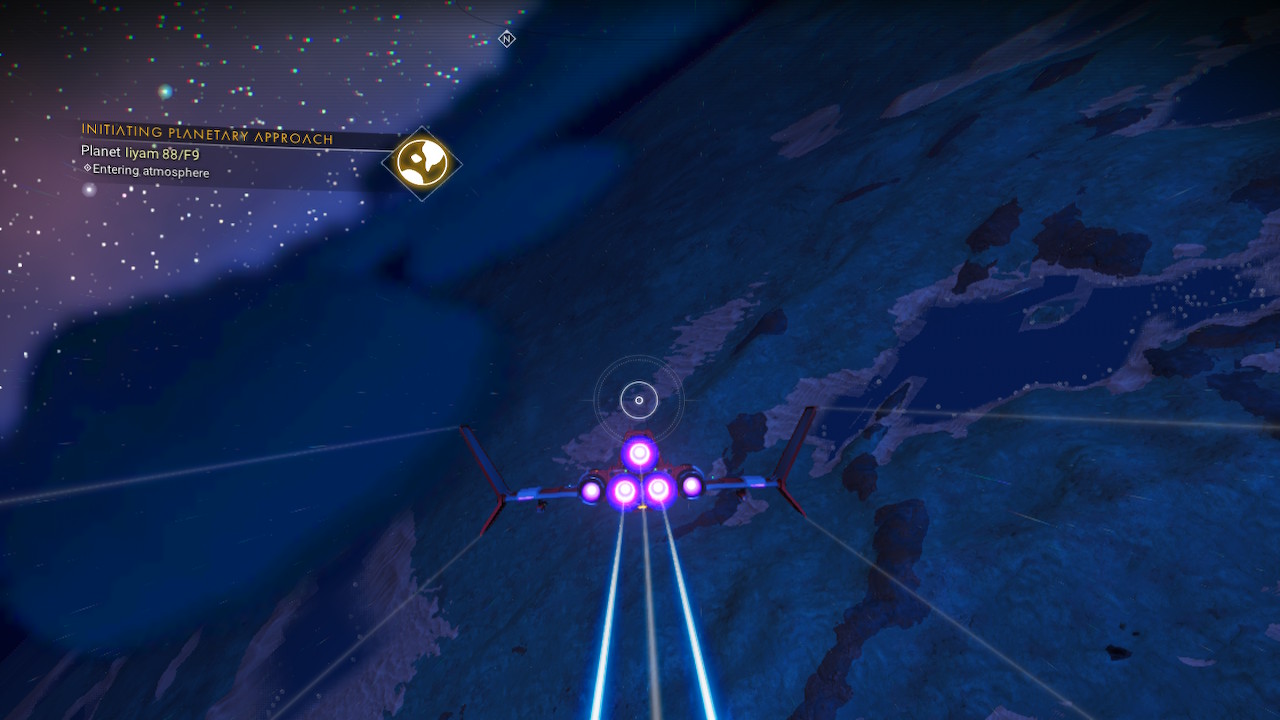 When I wrote about the best games to play on Steam Deck, I was shocked at how well No Man's Sky looked and ran on Valve's portable. That version has also improved since I wrote about it, but it really is mind-blowing to see No Man's Sky look and feel as it does on Nintendo's hybrid system. This is one of the most impressive ports to a Nintendo platform ever, not just one to Switch. While most consider the likes of Doom or The Witcher 3 as the "impossible ports", No Man's Sky is at the top for me, and it is great to see it arrive alongside NieR: Automata which also got a surprisingly great conversion.
Having played No Man's Sky from August 2016 on base PS4 to checking it out on my old laptop, revisiting it on Xbox One S and eventually Xbox One X and PS4 Pro, then getting to play it through free upgrades on PS5 and Xbox Series X when I got both platforms, to playing it on Steam Deck earlier this year for the first time on a portable, I can't think of another game that has delivered so much for free across so many platforms, and all of this feels like it has come together to deliver a fantastic Switch port. I can't wait to play No Man's Sky on iPad when it releases in the future.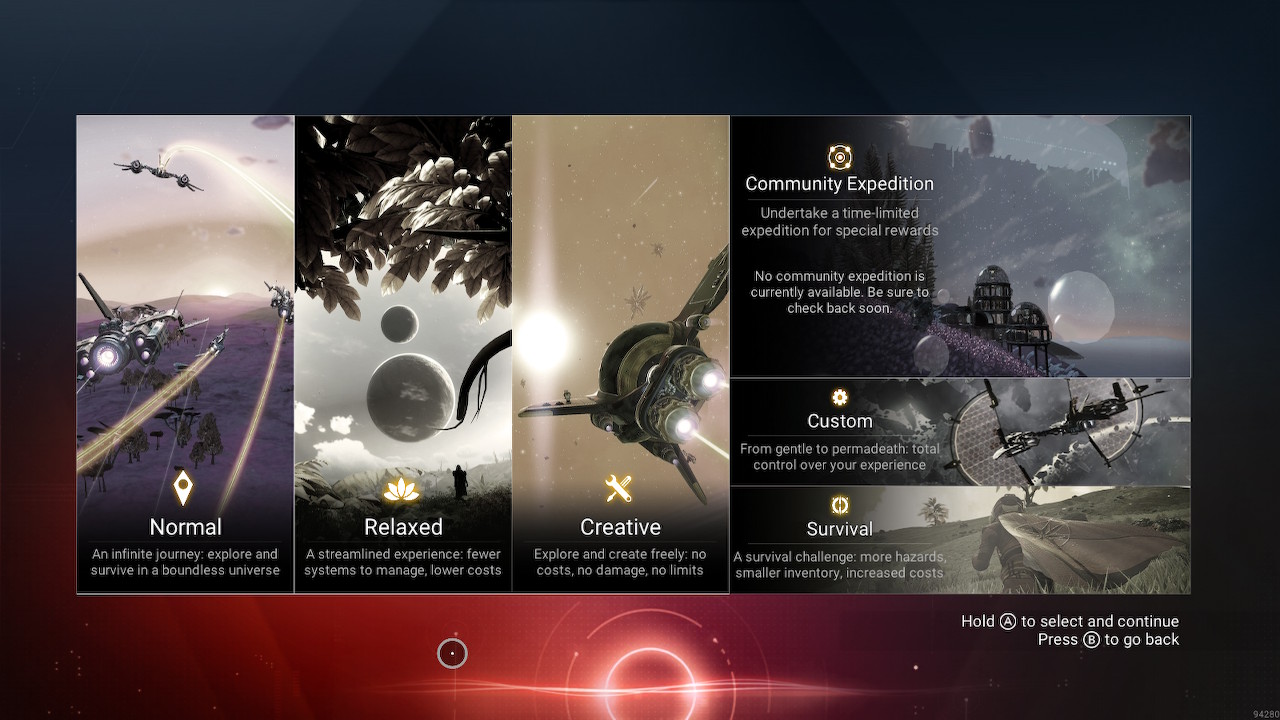 While Hello Games has committed to supporting the game on Switch, I'm hoping more features are planned for Switch like gyro support for aiming. Multiplayer is possibly something the team might bring if it is feasible, but it would be great to see gyro added in the near future since we already have touchscreen support that improves the handheld experience a lot already. The dream is definitely having cross-platform save transfer. I'd love to be able to play a bit on PS5 at home and then boot up my Switch version and pick up right where I was on PS5.
I remember thinking how No Man's Sky was a fantastic experience for exploring planets and listening to brilliant music right from the start, but seeing how many were understandably let down by the initial release. Since then, it has continued to only get better and better while releasing on more platforms. It now more than ever justifies its asking price. As someone who owns just about every version of the game physically and digitally, No Man's Sky is one of the best Switch games of the year, and I can't wait to see how it evolves over time alongside the other versions of the game. –Mikhail Madnani
SwitchArcade Score: 4.5/5
C.A.R.L. ($14.99)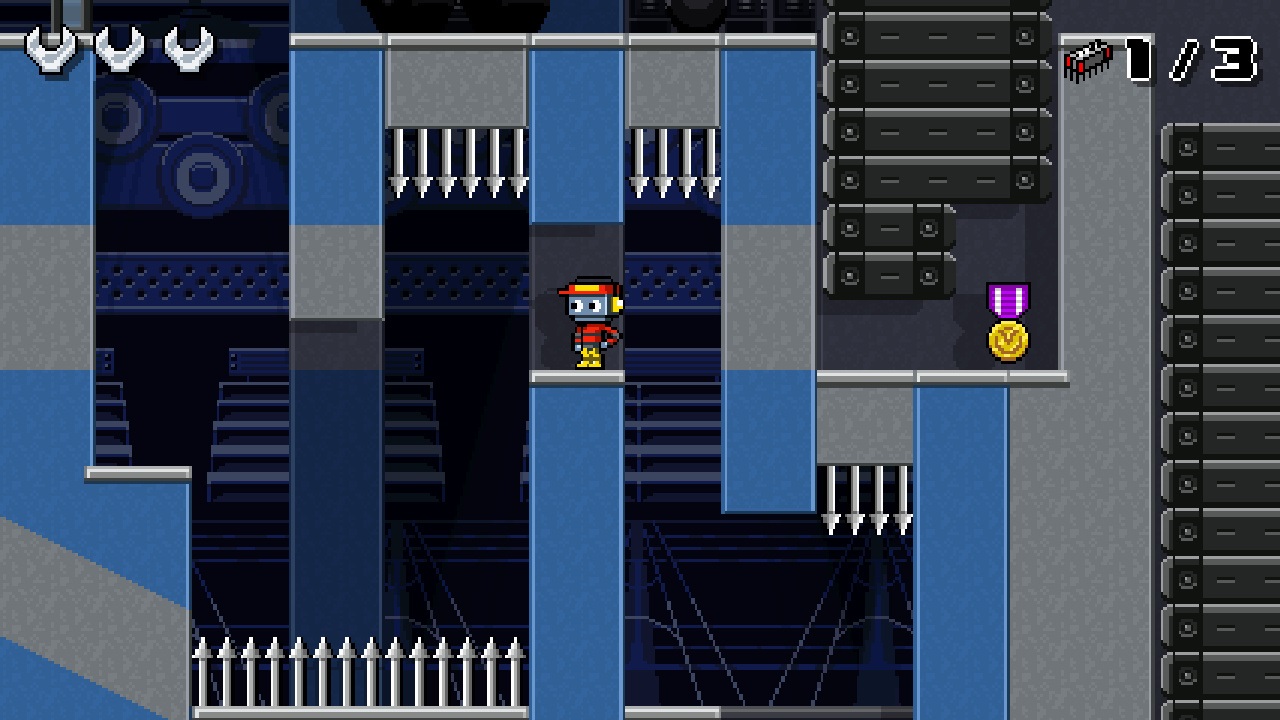 C.A.R.L. is a solidly-designed platformer that calls to mind classic DOS platformers like Duke Nukem. The levels are all satisfyingly labyrinthine, giving you lots of secrets to uncover and a generally fair level of challenge. The game occasionally throws in a new gimmick that typically works well (and not so well in one particular case), and you've got more than enough reasons to replay each level a few times. When you're not wandering about in the levels, you can spend some time in a hub with a few points of interest including upgrade stations, a jukebox, and more. As you play you'll gain new abilities that you can use to reach new parts of the hub, and thus new worlds. You can also use those new abilities to find more hidden stuff in previous levels.
I only have a few knocks on C.A.R.L., and they're not huge ones. There's one particular level that is an outright pain in the butt, and not in a fun way. The bosses lack spice, and are overall far too easy to fell. The game's humor is trying hard, and that's always going to be a subjective thing. If you don't plan on scouring for all the secrets, the game could feel too short. But as mentioned, none of these are big issues for the game. It's a fun, energetic platformer with sharp level designs and a lot of personality. Certainly worth a go for fans of the genre.
SwitchArcade Score: 4/5
Youropa ($14.99)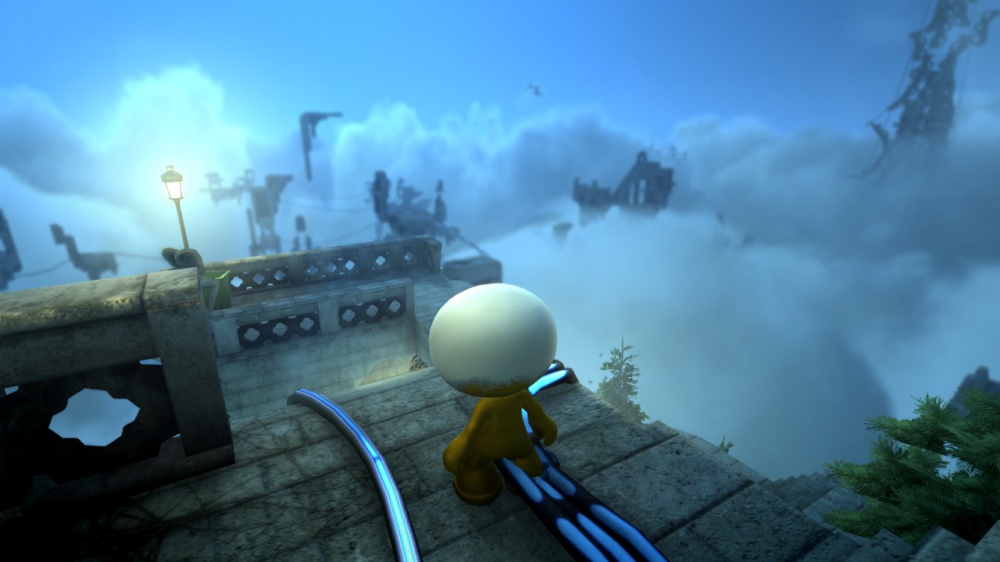 There are some games that are just really good at pulling you into their world, and Youropa is one of those. It's immensely atmospheric, and its puzzles are generally low-pressure and challenging to find the solutions to. You play as some kind of little blobby character whose appearance can be customized to your liking. You start with but one ability: sticky feet that will allow you to defy gravity so long as the path of the structure you're on curves the right way. As you play, you'll earn more abilities that will expand what your little character is capable of and in turn expand the complexity of the puzzles. There's a bit of wonkiness to it that can sometimes be frustrating but is usually just charming.
Those looking for a decent challenge will find it in simply trying to solve the puzzles that open the doors that allow you to progress, but those looking for some extra spice will find it in trying to track down all of the collectibles in each area. There is also a hard mode that is less kind with where it respawns you if you should perish. But generally, I think most people will have the best time by simply enjoying the ride through this rather gorgeous game. Go for those collectibles if you're feeling it, but otherwise, just enjoy that nice chew of observing your surroundings and solving some puzzles. Youropa has a real vibe, and if you're into what it's laying down you'll have a great time with it.
SwitchArcade Score: 4/5
Splatter – Zombiecalypse Now ($7.99)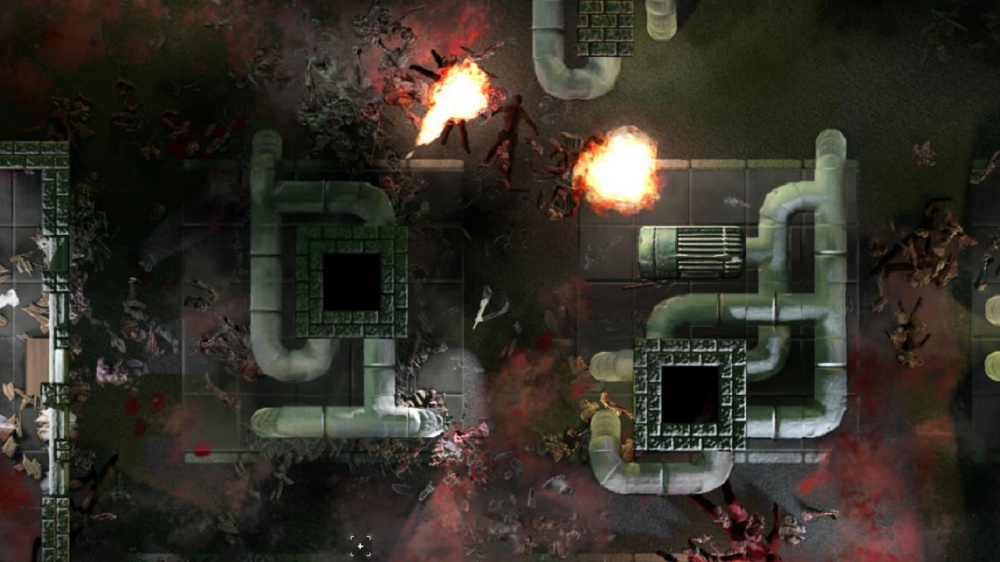 Sometimes a game is more fun than it really should be. Splatter – Zombiecalypse Now is one of those. On paper, it's a pretty straightforward top-down shooter with a corny story delivered horribly. It's not doing anything wildly creative, and despite its attempts to change things up with different enemy types and boss encounters, the gameplay is very repetitive. As regular readers know, I was sick to death of zombie games more than a half-decade ago if not longer. I had every reason to not like Splatter, and somehow I still had a really good time.
Now, I'm not going to say this is a must-have, and there are better twin-stick shooters on the Switch to be sure. But for your eight bucks, you get a rather robust bit of B-movie (maybe D-movie) action with decent atmosphere and solid shooting gameplay. It can be a little grindy if you want to upgrade everything, but with added modes (including a very enjoyable local co-op mode for up to four players) and interesting environments to explore, even the act of grinding isn't so bad. I had a better time with Splatter – Zombiecalypse Now than I was expecting to, and that's always a lovely surprise.
SwitchArcade Score: 3.5/5
New Releases
Kamiwaza: Way of the Thief ($39.99)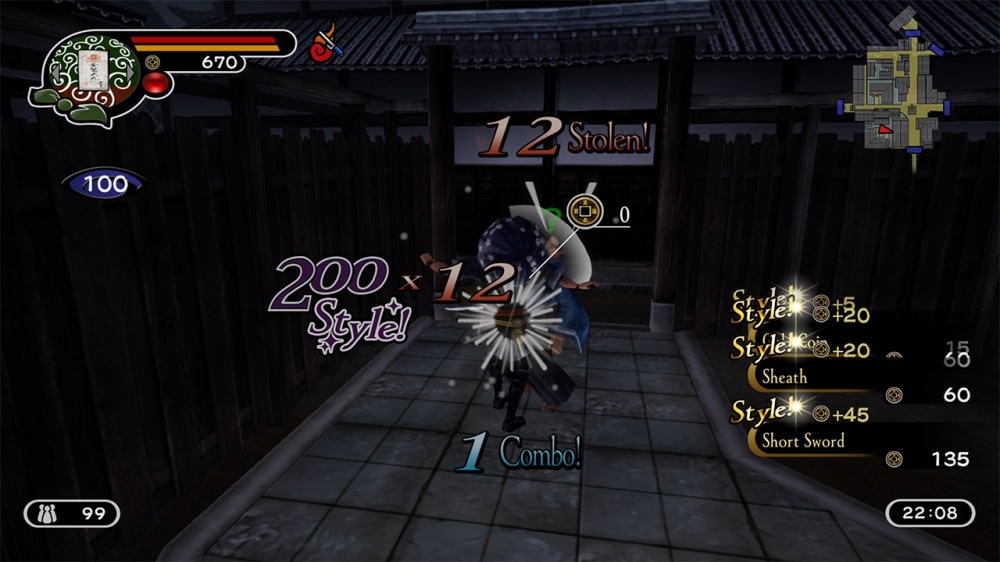 Once upon a time, developer Acquire had a knack for making unique games steeped in Japanese culture. Its ninja game, Tenchu: Stealth Assassins was a big hit. It also found solid success in its samurai series, Way of the Samurai. After a while the developer drifted into things like What Did I Do To Deserve This, My Lord? and Akiba's Trip, but there was one more PlayStation 2 game in the vein of Tenchu and Samurai that didn't get localized back in the day: Kamiwaza. This release is a spiffed-up remake of that game, which sees you playing as a thief in a by-gone era of Japan. I'll have a review of this one soon to give you more details.
In Sound Mind ($34.99)
This psychological horror adventure game hit other platforms about a year ago, and is now making its way to the Switch. You wake up in a mysterious building, and the more you explore the more disturbing things get. You come across multiple victims of some kind of bizarre experiment, and while you're investigating all of that, the delusions begin. With the line between reality and fantasy getting blurrier and blurrier, will you be able to find your way out of where you're imprisoned? This one has a good reputation on other platforms, and I'm sure Switch-owning horror fans will dig it too.
Space Roguelike Adventure ($4.99)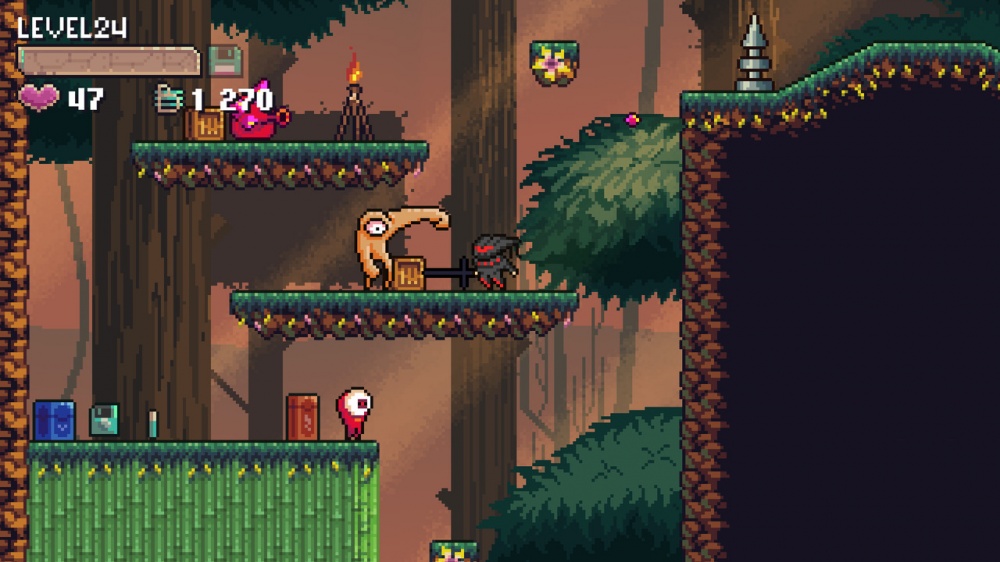 This looks so similar to the kinds of games Woblyware is known for that I had to double-check and make sure this wasn't one of theirs. But no, as near as I can tell, this has nothing to do with them. That's fine, it's not like that dev has a monopoly on this sort of thing. But yes, if you enjoy things like Devious Dungeon, this might be a decent way to spend a fiver today.
Pink Explorer ($4.99)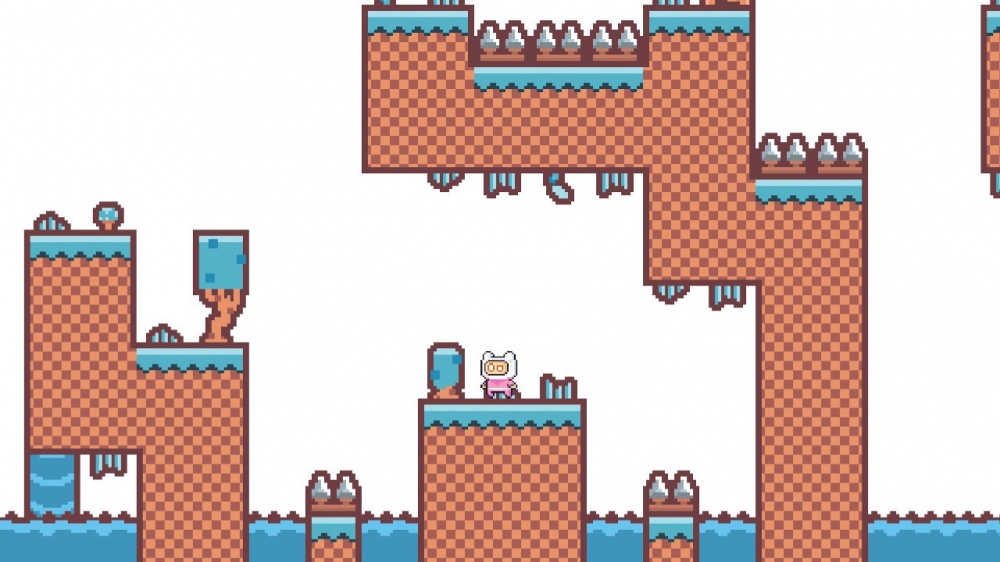 A 2D platformer with some familiar tricks like gravity flipping and wall jumping. It has twenty levels and you'll probably finish it before the payment finishes processing on your credit card.
Sales
(North American eShop, US Prices)
It's the first sale for a game I feel has unfortunately flown right under the radar since it released a couple weeks ago: Haiku, The Robot. Give it a look if you're hungry for a Metroidvania-ish thing to fill out your week. Other titles that catch my eye from today's list: Hell Blasters, Frogun, ToeJam & Earl: Back in the Groove, and Kaichu: The Kaiju Dating Sim. As for the outbox, it's rather small and nothing in it particularly grabs my eye. As always, check those lists yourselves and see if anything catches your whimsy.
Select New Games on Sale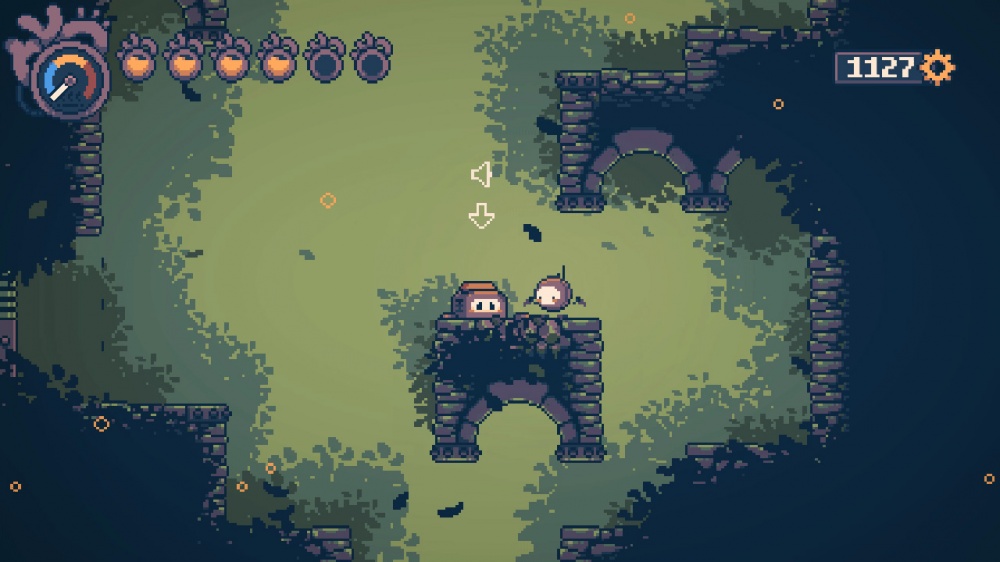 Haiku, The Robot ($15.99 from $19.99 until 10/17)
Framed Collection ($1.99 from $9.99 until 10/17)
No Longer Home ($5.99 from $14.99 until 10/17)
Paradise Killer ($9.99 from $19.99 until 10/17)
Glitchhikers Spaces Between ($9.74 from $12.99 until 10/17)
Genesis Noir ($5.99 from $14.99 until 10/17)
Kraken Academy ($8.99 from $17.99 until 10/17)
Neo Cab ($3.99 from $19.99 until 10/17)
Think of the Children ($2.59 from $12.99 until 10/17)
Suzerain ($8.99 from $17.99 until 10/17)
Citizen Sleeper ($15.99 from $19.99 until 10/17)
Super Mutant Alien Assault ($1.99 from $9.99 until 10/17)
Hell Blasters ($7.49 from $14.99 until 10/17)
Get-A-Grip Chip ($6.99 from $9.99 until 10/18)
Get-A-Grip Chip & the Body Bugs ($2.09 from $2.99 until 10/18)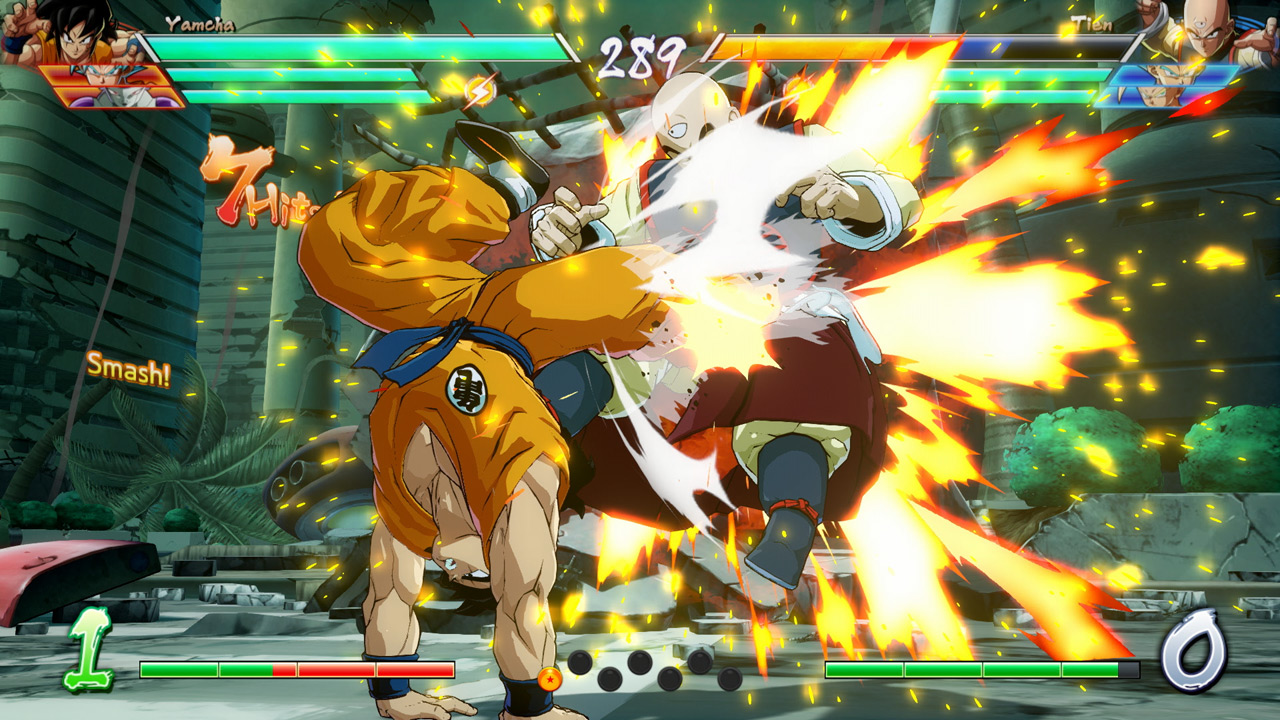 Dragon Ball FighterZ Ultimate ($16.49 from $109.99 until 10/24)
Ni no Kuni II: RK Prince's Edition ($23.99 from $59.99 until 10/24)
Taiko no Tatsujin Rhthymic Adv. 2 ($14.99 from $29.99 until 10/24)
Namco Museum Archives Vol.2 ($4.99 from $19.99 until 10/24)
One Piece Unlimited World Red DE ($3.99 from $39.99 until 10/24)
Naruto Ultimate Ninja Storm 3 ($4.99 from $19.99 until 10/24)
ToeJam & Earl: Back in the Groove ($1.99 from $14.99 until 10/25)
Kaichu: The Kaiju Dating Sim ($6.99 from $9.99 until 10/25)
Frogun ($11.99 from $14.99 until 10/25)
Redo! ($4.49 from $9.99 until 10/25)
Potion Party ($1.99 from $9.99 until 10/25)
Guardian of Lore ($1.99 from $13.99 until 10/25)
Sheepo ($4.89 from $10.99 until 10/25)
Henchman Story ($6.69 from $14.99 until 10/25)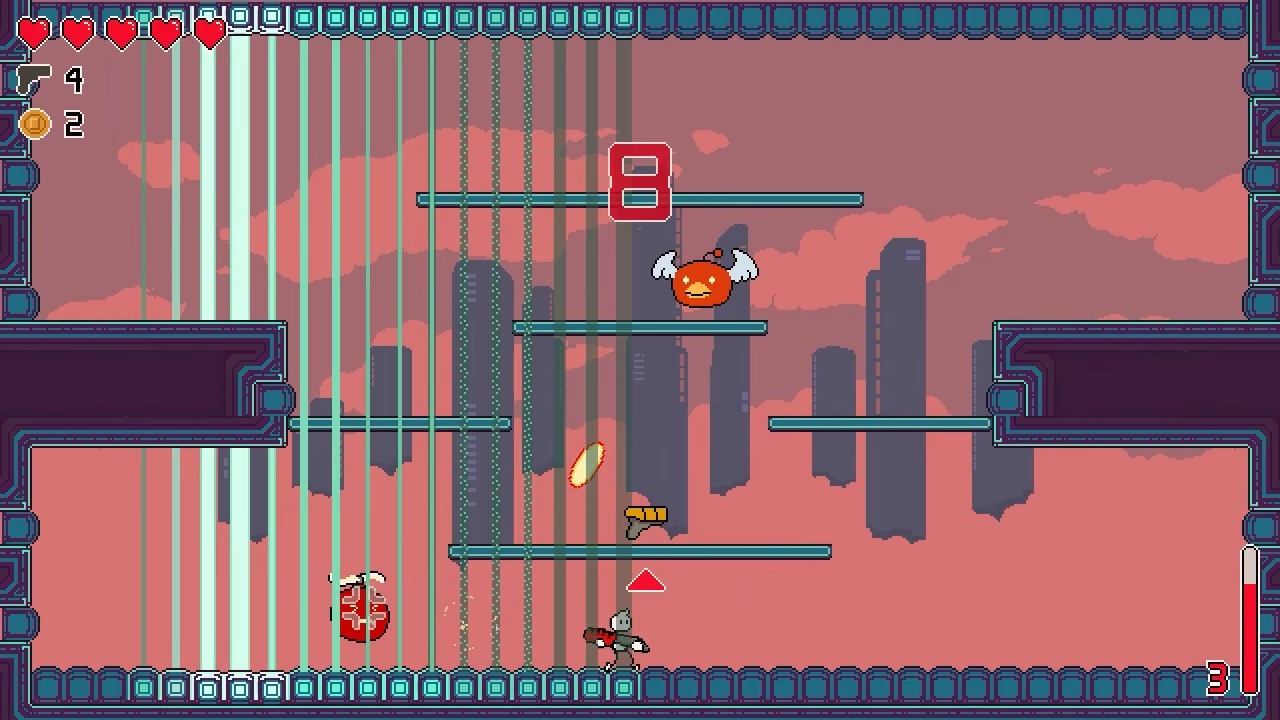 Gunkid 99 ($1.99 from $6.99 until 10/25)
Big Dipper ($1.99 from $4.99 until 10/25)
Merrily Perilly ($1.99 from $4.99 until 10/25)
LIT: Bend the Light ($6.00 from $8.00 until 10/30)
Mail Mole + Expansions ($9.99 from $14.99 until 10/31)
Enigmatis: Ghosts of Maple Creek ($1.99 from $14.99 until 10/31)
Enigmatis 2: Mists of Ravenwood ($1.99 from $14.99 until 10/31)
Enigmatis 3: Shadow of Karkhala ($1.99 from $14.99 until 10/31)
Sales Ending Tomorrow, Wednesday, October 12th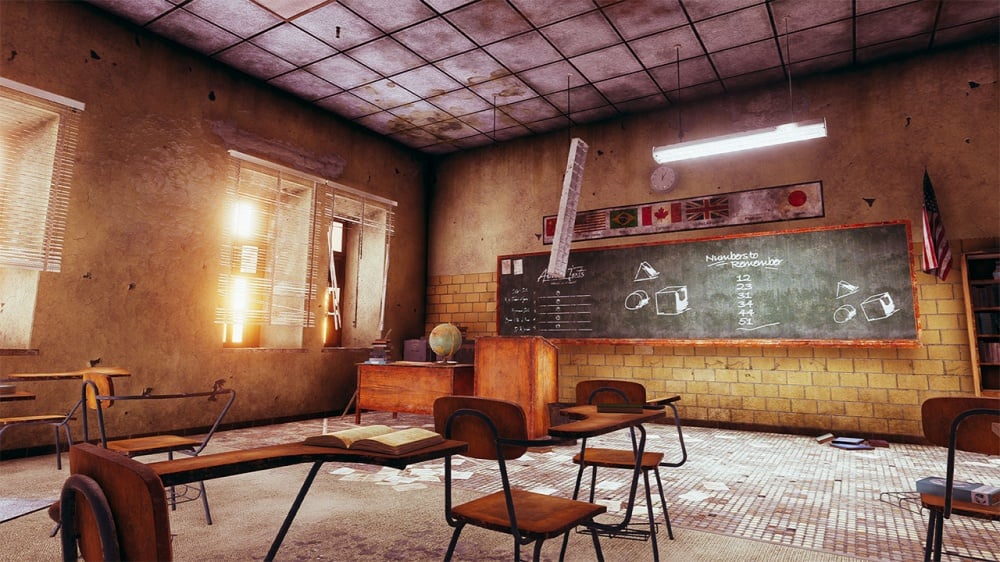 Alumni Escape Room Adventure ($4.79 from $5.99 until 10/12)
Crysis Remastered ($11.99 from $29.99 until 10/12)
Crysis Remastered Trilogy ($29.99 from $49.99 until 10/12)
Despotism 3k ($2.19 from $10.99 until 10/12)
Ekstase ($9.89 from $14.99 until 10/12)
Krispain Hero ($1.99 from $9.99 until 10/12)
Negative Nancy ($5.99 from $14.99 until 10/12)
Squabble ($4.79 from $14.99 until 10/12)
Squish ($10.49 from $14.99 until 10/12)
Superbeat: XONiC ($20.99 from $29.99 until 10/12)
That's all for today, friends. We'll be back tomorrow with more new releases, more sales, and potentially some news and reviews. We'll see how things go. As for me, I've got some Ninja Golf to play on the Evercade. It'll be cool to have that one on the Switch via Atari 50 next month. I hope you all have a great Tuesday, and as always, thanks for reading!