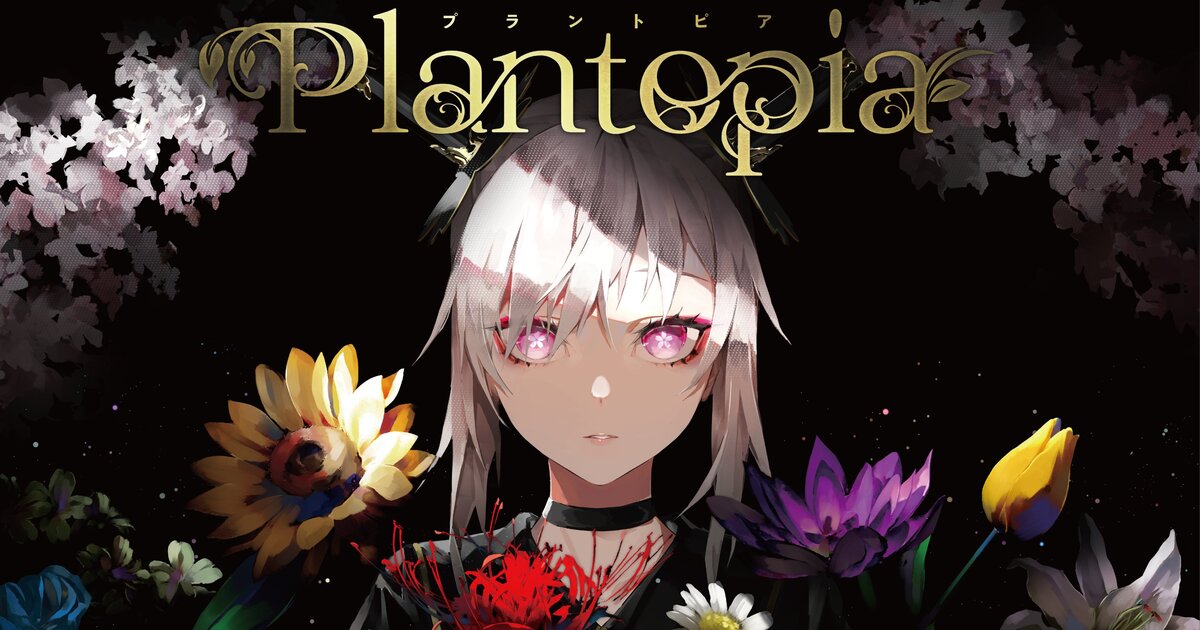 Renowned illustrator LAM has brought his striking touch to countless characters and series, from Hatsune Miku to takt op.Destiny, but now he's embarked on a whole new journey: Plantopia, an original figure and animation project created with fellow illustrator Kukka and writer Nozomu Kuoka.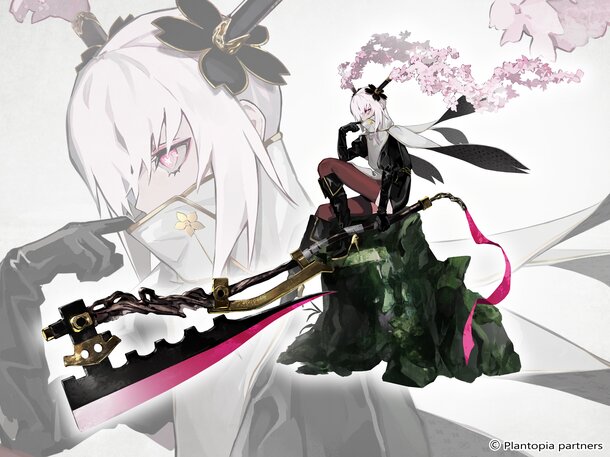 With rewards like high-res wallpapers and key frames (and of course, a figure!), the project's Kickstarter has gained massive support from fans all around the world, reaching its goal of 5 million yen (approx. US $33,560) in just two days.
The Kickstarter is still running, but you can already enjoy more glimpses into the world of Plantopia with "Shitsurakuen" (Paradise Lost), a song by popular singer-songwriter Mafumafu. Check out the recently released full music video, which was directed by Yuki Igarashi ( Star Wars: Visions ).
We were able to interview LAM and Igarashi about their experiences and insights into Plantopia, but we thought that fans should get to ask some questions too, so stick around for bonus answers from LAM that'll especially come in handy for aspiring and current artists!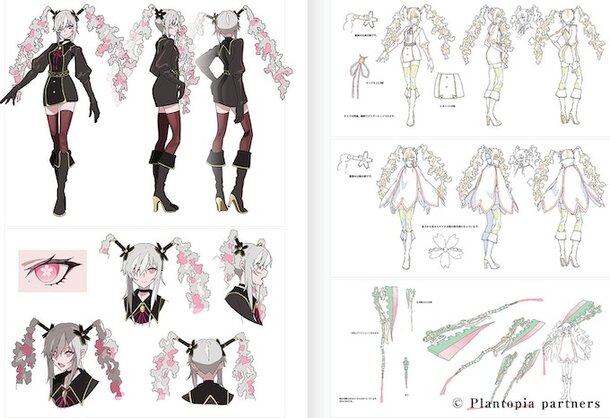 TOM: The crowdfunding project reached its goal in just two days. Did you originally think that there would be this much of a reaction?
LAM: I'm extremely happy and grateful that so many people took an interest in it from day one. I had already predicted the numbers to some extent because of previous projects, but this time we had an extremely large number of supporters from overseas. That was a welcome miscalculation.
Yuki Igarashi: I was also surprised to see it get so much more attention than I expected. (laughs) There wasn't much info on what the project was about, so I assumed that at first it would naturally be an uphill battle. I thought we'd have to do our best to gradually become well-known, like a grassroots movement, but thankfully that was an unfounded fear. I feel that these results are a sign of how much people are expecting of LAM, Kukka, and Kuoka.
TOM: Could you tell us how the concept of Flowerians living in a world swallowed up by plants came to be?
L: When I was planning this project with [production company] Twin Engine, I put forward the idea of something flower-themed. I've always loved flowers, and after considering whether we could make use of their beauty as a motif and grotesque representation of life for the characters, I found myself at the concept of the Flowerians.
YI: I also requested that perhaps LAM's original rough design for Alpha could include some demi-human elements. At first, the visuals depicted girls who were themed around flowers. However, I felt that putting Alpha, a Flowerian, with Haru, a human, meant that the former should have a striking design that would immediately convey the fact that she's not human.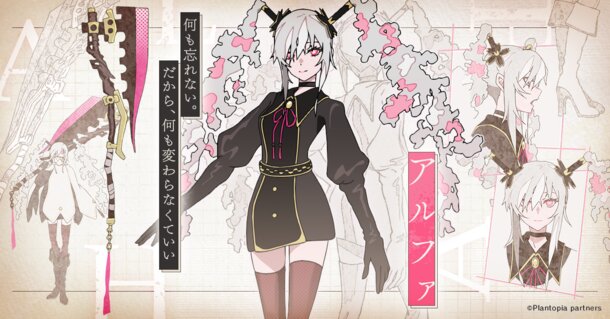 TOM: Mr. Igarashi, can you tell us what you thought when you saw the project proposal and LAM's original character designs?
YI: I was intrigued by the sight of Flowerians and humans bravely living on in the midst of a post-apocalyptic setting. I joined the project during the COVID-19 pandemic, so I feel like it was easy to incorporate the feel of this period - that sense of being trapped inside and wondering what's going to happen to the world, life and death, rebirth and memories. I'm not sure how much of it came through in the music video, though.
At first, LAM's designs only included an idea of what the Flowerian was like. I suggested some of my opinions, and I feel that it turned out quite different from the original image. There were a lot of points where I said what I thought, which LAM would then refine. I'm an artist myself, so this process taught me a lot. I truly believe that Plantopia never would have been possible without LAM's designs.
TOM: In bringing LAM's designs to life, what elements of the character design did you pay attention to in particular?
YI: LAM has said himself that the eyes, or the makeup around the eyes are a distinctive part of his illustrations. I was especially careful about this when creating the design. In addition, LAM's style has a certain beauty, including his use of accent colors, the thickness of outlines, how the ears and faces in profile are drawn, etc. So, I searched for the right balance for anime while referencing his other illustrations and picking up his trademark elements as much as I could.
TOM: Please tell us about the aspects of Alpha, Haru, and Cvstos that you particularly took care to express.
YI: Alpha, cool. Haru, cheerful. Cvstos, psychopathic. (laughs)
L: Alpha is the benchmark of this project, so I designed her very carefully, endeavoring to give her an androgynous beauty, an inhuman sense of strangeness. I also took great care to dress her in a chic outfit with an air of luxury while utilizing the flower motif to the fullest.
YI: For now, she's the only Flowerian we've seen, but I'm sure that the rest of them generally seem cold too. Plus, Alpha's eyes have sakura blossoms in them, which is another thing that tells us she's clearly not human, so I absolutely made sure to emphasize this part.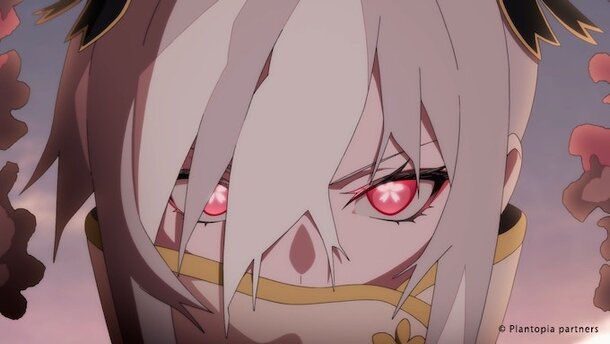 L: Speaking of sakura, I thought that tightly clustered sakura, just like a weeping cherry tree, made a lovely silhouette, so I turned them into twintails.
L: Meanwhile, Haru is a human, so I intended for her to illustrate the differences between her kind and Flowerians. She's a character who acts as the eyes of the audience, and I see her as an energetic and fiercely curious girl.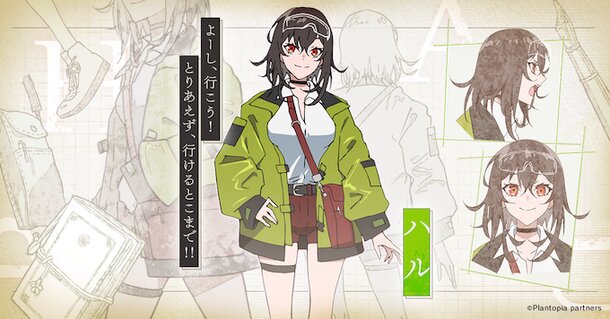 YI: She's the type to run head first into anything that interests or bothers her; this links to her secret backstory. She also has a rough and mischievous personality, yet somehow gives off an air of intelligence.
L: Finally, as a being who is neither Flowerian or human, Cvstos is the mystery of this project. My fondness for ball-jointed dolls is one reason I created a character like this, who possesses an inorganic beauty.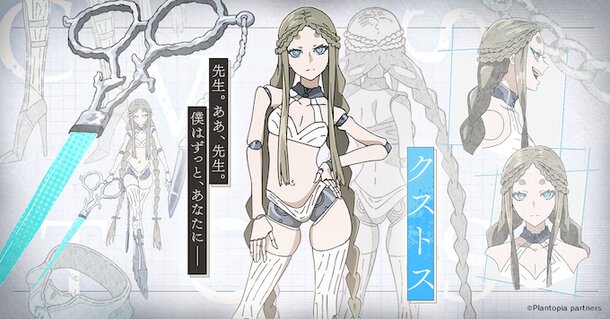 YI: She's like a video game boss, so I wanted her to have a shady vibe, one that makes you feel like it would be kind of dangerous to talk to her. The ball-jointed dolls that inspired LAM also influenced the horror-like aspects we gave her.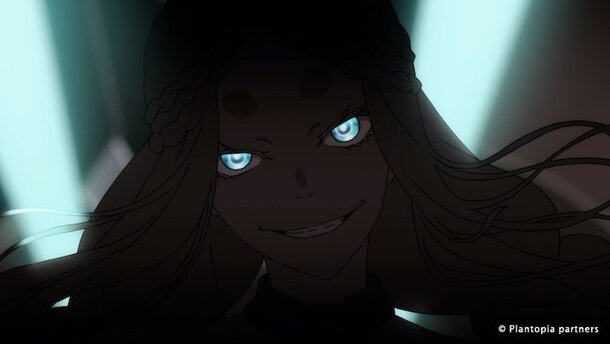 TOM: LAM, what did you think when you saw the music video?
L: The beauty of Mafumafu's song, "Shitsurakuen," and the animation came together, creating a cool and dramatic video! There are a lot of elements that can't be picked up just by watching the video, so I encourage everyone to imagine things themselves.
TOM: Mr. Igarashi, what kind of influence did "Shitsurakuen" have?
YI: The glass-like delicateness that Mafumafu has always possessed and a power that rises up from below the earth; these elements coexist in the world of his song and completely fit Plantopia. I asked for it to be Alpha singing what she felt for Haru; I think it was truly the perfect song for this.
Also, I'm a fan of anime opening and ending theme songs where the lyrics and visuals match up, so I decided I wanted that. Mafumafu's lyrics feature unique word choices, so I remember worrying quite a bit about how to bring out the image of Plantopia. Watch the MV while comparing the lyrics and video, and you might see it in a different light.
TOM: So, the MV has already been released, and a figure is coming. What else would you like to do with Plantopia in future?
L: It may have started off with a figure, but I believe that this project, including Kuoka's scenario, the world Kukka created, and Mafumafu's music, contains potential for many more things. I hope that it will go far beyond the category of figures and expand into various types of media.
YI: For me, I suppose the first thing would be an adaptation into an anime series. As I heard that this was a goal when I first got involved, I also created the MV with it in mind. For example, I would think, "What if there was a great anime like this?" I truly look forward to welcoming fans who will support the project becoming an anime series.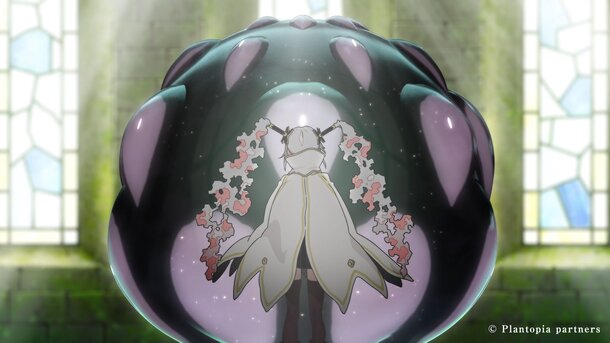 TOM: In terms of the content, is there anything you particularly want fans to look forward to?
L: So far the only Flowerian we've shown is Alpha, so look forward to seeing others!
YI: On that note, I'd like to show people all sorts of scenes from the Flowerians' everyday life, which had to be omitted from the MV. Their diet must differ from that of humans', as well as the way they spend their time. It's a gross topic, but I wonder what they do to go to the toilet. (laughs) Or if they take baths. The mysteries are endless. I quite like sci-fi works about first contact, so I want to try bringing out a Haru who's surprised or excited about every single difference she finds between humans and Flowerians.
And of course, we have a huge mystery embedded within Plantopia. What are the Flowerians? What are the Pruners? Why did humankind perish? The roots of these topics are still a puzzle, so I'd like to fully illustrate what happens.
TOM: Finally, do you have any messages for your overseas fans?
L: Thank you for all of your support! We're going to make an amazing figure, so please look forward to it. I'll do my best to create something that will bring excitement to everyone.
YI: Thank you so much for supporting Plantopia. This isn't the end - we're only at the beginning of this project, so we hope you'll continue to show us passionate support!
TOM: And thank you for speaking to us! We're looking forward to seeing what's next!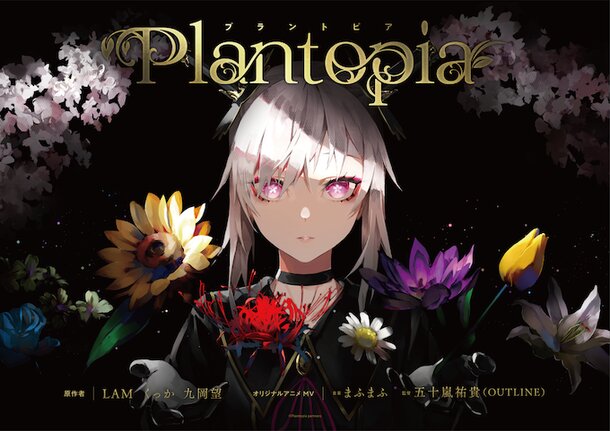 Rest assured that this isn't the end of the interview, either! LAM has taken the time to answer a few questions submitted by fans. Whether you're just starting out as an artist or you simply love LAM's work, read on for some great insights and advice!
Why did you decide to become an illustrator?
L: I love drawing, and I'd always wanted to become an illustrator or manga artist.
As I kept on releasing illustrations, before I knew it, drawing led to work, and here I am.
You're someone who uses all sorts of colors in such a beautiful way, so do you have any favorites?
L: Black and red.
Is there anything you want to try out or really get involved in to express yourself (besides drawing)?
L: I'd like to try creating manga and stories. Also, I love music, so I want to get more involved in making music as well.
Could you give us any messages for beginner artists who want to dive into this world?
L: If you go for it with passion, your efforts are sure to bear fruit, so don't hesitate and challenge yourself to do anything!
Do you have any tips for artists who are still developing their style or are still unhappy with it?
L: Be true to what you love. I believe that the act of being moved by something can bring forth creativity that will move others in turn. If you find out what you really love, I think that will turn into your own style.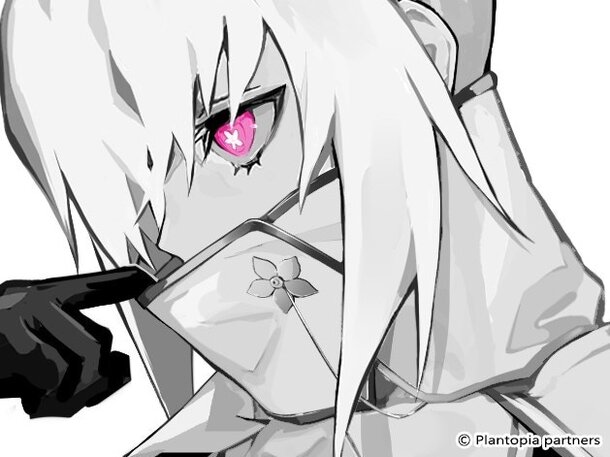 Thank you for reading all the way to the end! Are you looking forward to diving deeper into the world of Plantopia? While you're waiting, you can always take LAM's suggestion and imagine what's to come, as well as back the Kickstarter if you haven't already.
Plus, join the Discord for exclusive Q&A opportunities and content, including official stills that you can use to express your support!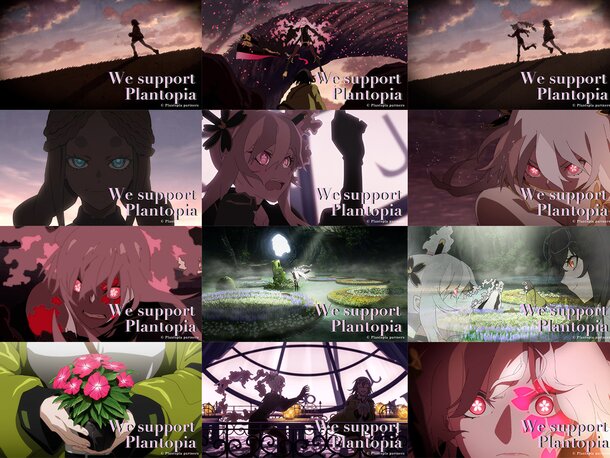 More info on the overall project can be found at the official website.
This is a Tokyo Otaku Mode original article.