While it may be to the chagrin of some fans, Konami has in recent years put a lot of its weight into its mobile gaming projects, particularly in the Japanese market. This year's Tokyo Game Show showed that the company is going to keep putting its chips on that segment, even as it slowly begins to thaw the frosty approach it has had for other platforms of late. In an eye-catching booth you could see from clear across the floor, Konami had its mobile games front and center. You can bet I made a stop there to see what the publisher had to offer.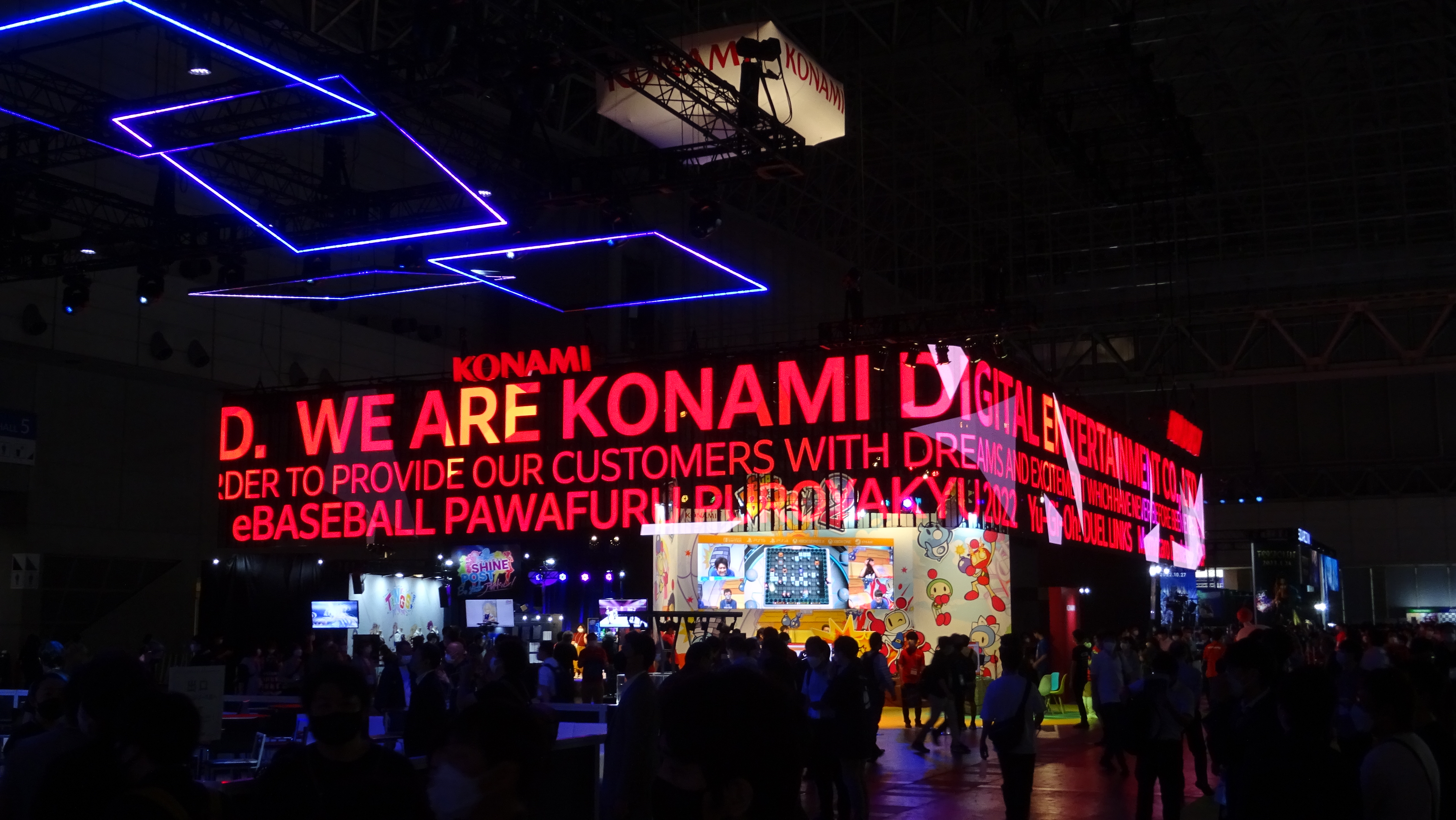 Depending on which side you approached the booth from, you would be met with one of the four main brands Konami was showcasing. Occupying much of the front was Yu-Gi-Oh!, with both Yu-Gi-Oh! Master Duel (Free) and the recently launched Yu-Gi-Oh! Cross Duel [appprice url"https://apps.apple.com/us/app/yu-gi-oh-cross-duel/id1569130433"] enticing passerbys for a play. Son of Musgrave has taken a bit of a shining to Yu-Gi-Oh! of late and wanted to give Cross Duel a go. There was some sort of special card on offer for playing, you see. As Son is an experienced player, he was ushered over to a table with three other human players. I'm… less experienced, so the nice Konami folks brought me over to an area where I could play against CPU opponents. With only vague memories of Magic: The Gathering to draw on, I was a bit nervous about whether or not I'd be able to figure the game out.
Well, it turns out that Yu-Gi-Oh! Cross Duel is the perfect game for someone like me. It really simplifies the rather complex affair that the main card game has become, but maintains a fair bit of its depth. Despite the fact that you are tackling three opponents at once instead of just one, the UI makes it very easy to understand. There are lanes between each of the players, and you need to send your monsters along to the players you want to attack while also keeping an eye on anything incoming. With four participants at play, much of the strategy comes from seizing chances to gang up on other players or attacking someone while their attention is diverted. It's good fun, and I recommend trying it out.
Just to the left of the Yu-Gi-Oh! games at the front was Super Bomberman R 2. Alas, this is one of the few games Konami was showing without a mobile version. It looks fun, though. Continuing around the corner brought us to SHINEPOST Be Your IDOL!, a game that is extremely unlikely to be localized for the West. It's part of a cross-media franchise, and at this point exists as little more than an announcement. While not as dominant as they once were, these sorts of games are still very popular in the Japanese mobile gaming market.
Heading over to the right side of the booth, eFootball 2023 had a huge display. The eFootball rebranding for Konami's Winning Eleven/Pro Evolution Soccer series hasn't gone very smoothly from a critical standpoint, but it seems to still be bringing home the bacon financially. The 2023 update arrived on mobile a few weeks ago, and while there are some substantial improvements compared to when the eFootball 2022 update first dropped, there's still a ways to go before anyone will be likely to sing the praises of this once-storied soccer franchise.
Sadly, one of the more exciting announcements from Konami at Tokyo Game Show 2022, the reveal of Suikoden I&II HD, appears to be skipping mobile. It would be nice to see Konami put this on mobile platforms, but I suppose the market is what it is. Still, the majority of Konami's games from Tokyo Game Show this year are available on mobile, and it's the only major game company I can say that for. Add in its rather healthy support of Apple Arcade, and we can see a publisher that still thinks mobile gaming is worth its attention.