September 24 saw the return of Aniplex Online Fest, an event full of anime produced by Aniplex. The 2022 edition was held both online and as an in-person event in Yokohama, which the folks at Geek Lab visited!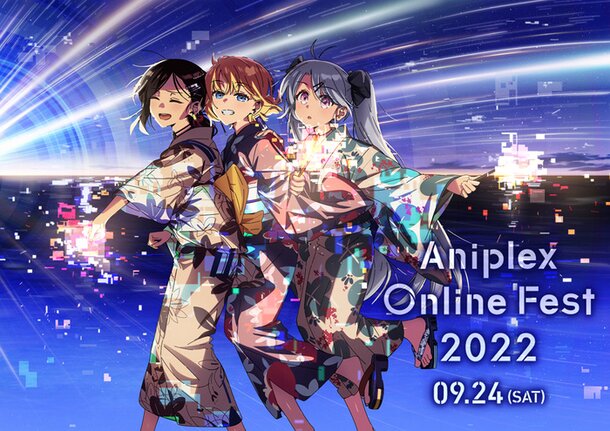 The content of the event was split into two categories: announcements and live performances, with the former featuring new info from over 20 anime. This article will focus on Geek Lab's take on presentations from two popular series that aired this summer, so let's get started!
The very first title featured in AOF 2022's lineup was Lycoris Recoil, which took the anime world by storm. Chika Anzai and Shion Wakayama, the voice actresses behind main charcters Chisato Nishikigi and Takina Inoue, appeared on stage to greet the audience.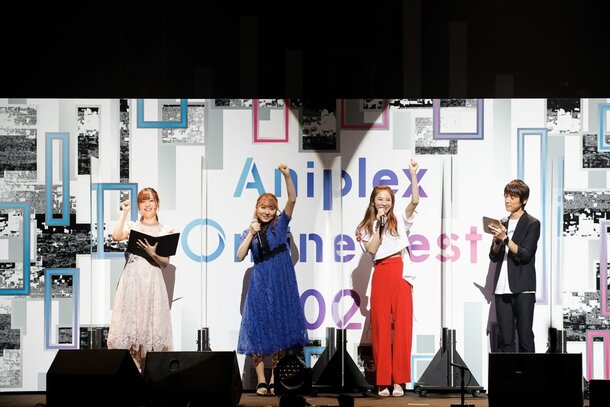 The event miraculously happened to coincide with the day of the very last episode, which aired at 11:30 pm, meaning there was plenty of excitement as they discussed that episode.
While fans of Lycoris Recoil have had many chances to voice their opinions on radio and other platforms, this was the cast members' first time participating in an event with an actual audience since the series started airing.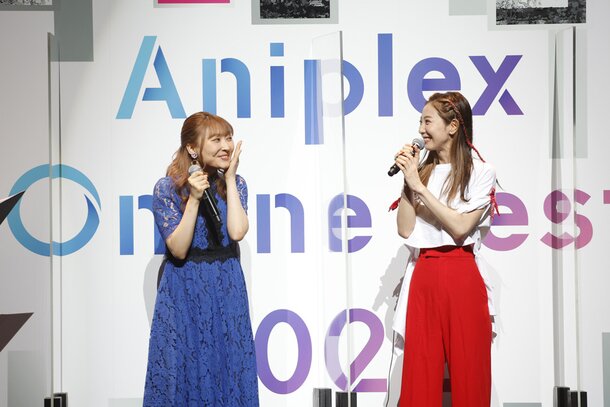 In addition to Anzai and Wakayama's humorous exchanges, their time slot featured a previously released trailer for the 13th and final episode. A particular quirk of Lycoris Recoil's trailers is the two girls talking about everyday happenings in sharp contrast to the tension and action of the actual scenes shown, and this one was no exception.
The trailer was also accompanied by a teaser image of Takina looking conflicted. This presentation was just held about 11 hours before the last episode was set to air, leading to many fans voicing their impatience online.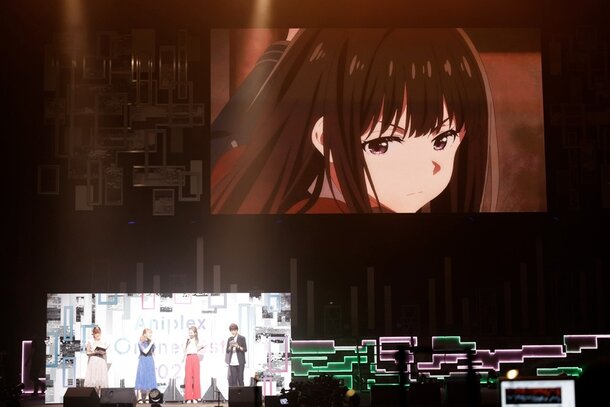 After letting everyone know how excited they were, Anzai and Wakayama finished things off with a reminder about a special program that would also happen that day.
Although the anime series may have already ended, fans can still look forward to exploring new sides to the world of Lycoris Recoil through future manga and other types of media.
☆ Engage Kiss
A part of Project Engage, a completely original project by Fumiaki Maruto and Tsunako, Engage Kiss also had its final episode on the same day as AOF 2022. Their slot featured four cast members: Soma Saito (Shu Ogata), Saya Aizawa (Kisara), Lynn (Ayano Yugiri), and Rumi Okubo (Sharon Holygrail).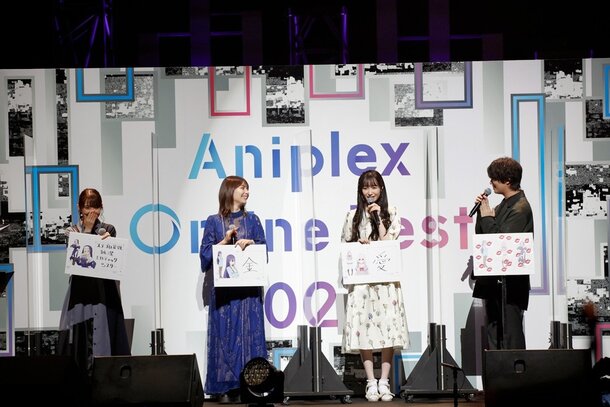 The female cast members competed with 30-second presentations showing how appealing their characters are. The aspects that each cast member chose to put forward were well received by the audience, with "love" for Kisara, "money" for Ayano, and "erotic sister" for Sharon.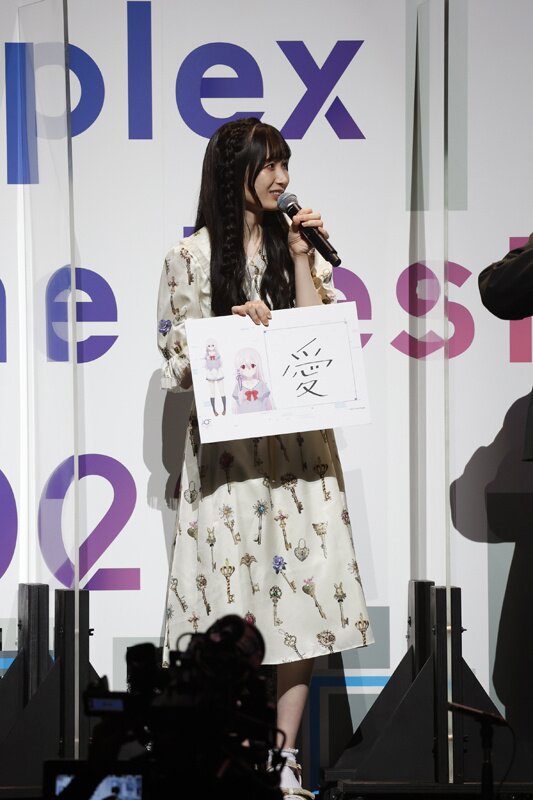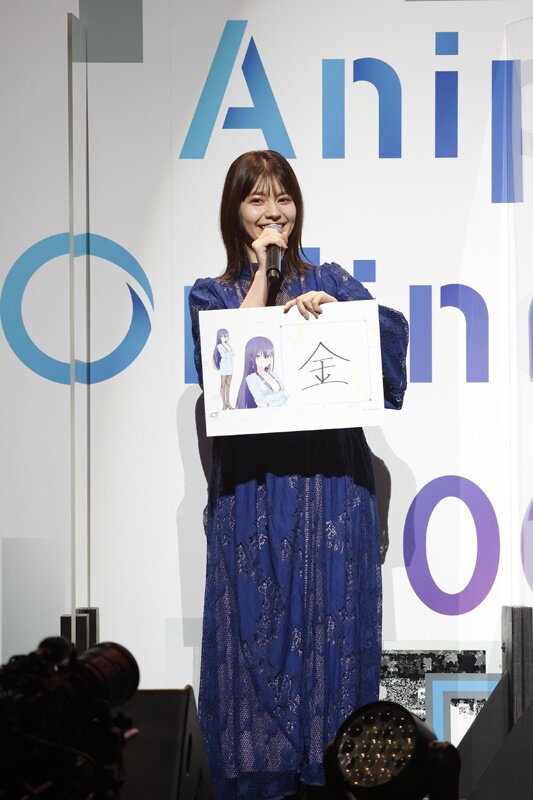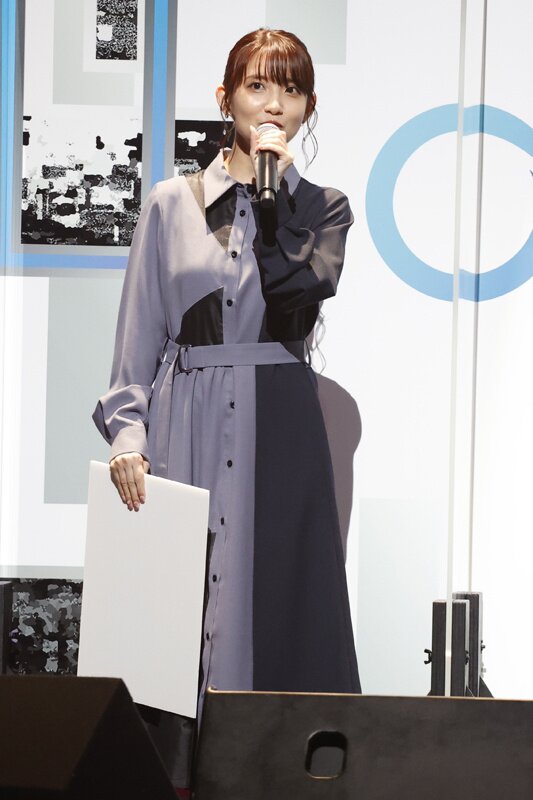 Finally, Saito was tasked with breaking the three-way tie. Although it was a difficult decision, he ultimately chose Kisara!
Later, popular musician halca also sang the opening theme song, "Everyone, Scramble." Revealing that she loved yandere heroines, she performed while evoking the emotional instability of a yandere.
While Engage Kiss has officially finished airing, fans can look forward to a mobile game titled Engage Kill, which will be developed by Square Enix.
If you enjoyed this report, why not check out the actual event? You can check out the archived video here until 11:00 pm on October 1, 2022 (JST)!
Aniplex Online Fest 2022 was held on September 24, 2022 online and at Pacifico Yokohama in Kanagawa Prefecture. For more info, visit the official website.
Coverage/Original Article: Geek Lab (SubCulture Press LLC.)
Photos: Aniplex Inc.
This report was produced with the cooperation of Aniplex Inc. and Tokyo Otaku Mode Inc.