It's hard to remember what the App Store was like a decade ago, but that's about how long it's been since FDG Games released Banana Kong. It was an endless runner entering into a vast sea of other endless runners, but somehow it managed to set itself apart with a menagerie of runner mechanics and a hard-to-resist personality. It became FDG's most popular game back then, and although the developer mostly focuses on the console and PC world since the premium game market more or less dried up on mobile, I was super excited to see them partnering up with Engine Software to release Banana Kong 2 this week.
Honestly if you played the original Banana Kong then there's not a lot that will surprise you in the sequel. This is still a game about jumping and gliding over obstacles while collecting bananas in the jungle, and occasionally being whisked off to a different environment or engaging with an animal buddy that will mix up the mechanics. Hop in a sub to head underwater, or into a mine cart to head underground, or into a cannon to be shot up into a tree tops level. It's this variety that set the first Banana Kong apart from the thousands of other auto-runners of the time, and that feeling continues in Banana Kong 2 even if there aren't quite as many runners getting released nowadays.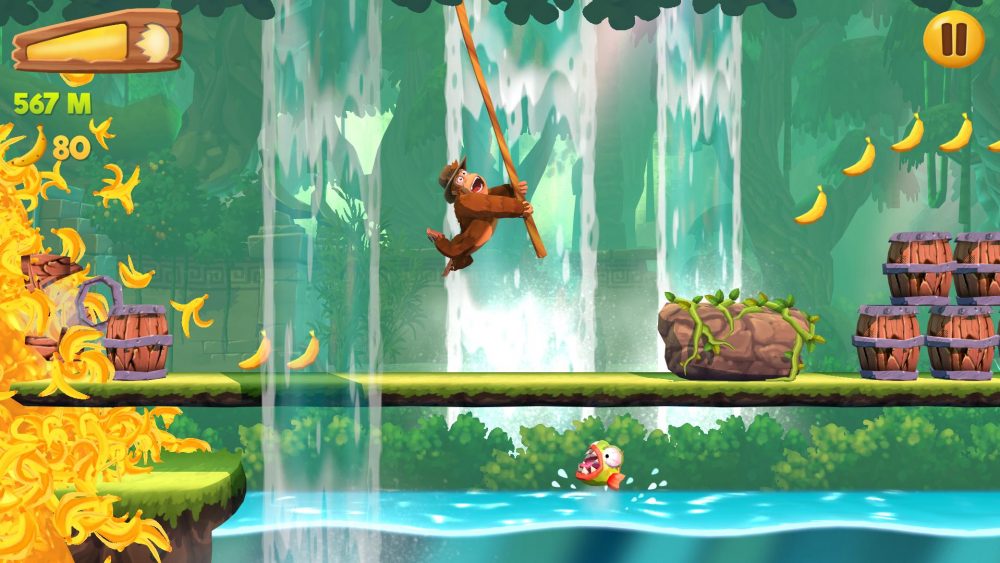 Another thing that has always made these games so sticky is a slow-drip progression system where you're practically always unlocking some cool new trinket, dress-up item, or upgrade. There's a mission system so you've always got a handful of mini-goals to achieve, and even special events to unlock unique items or shop discounts. For as much as Banana Kong 2 feels the same as the first game, there's also a bunch of new stuff too, like new environments and animal buddies. The game also features totally new 3D visuals, and while the original game's 2D graphics were just fine, this new 3D look just as much of the charm and personality of the first game, and overall the game feels a bit snappier to play.
You may recall that the original Banana Kong started out as a paid game, but slowly shifted into free-to-play territory after a few years. Banana Kong 2 is free to play from the start, but it does offer a premium unlock IAP that removes ads, automatically doubles bonuses you'd normally have to watch an ad to double, gives you a bunch of in-game currency to spend in the shop, and will double any of the coin pack IAP you might buy in the future. It's a nice way to remove some of the more annoying free-to-play elements that people typically hate while still keeping the slow-drip progression system intact so you still have stuff to work towards while playing.
The one thing that might catch some people off guard is that this premium IAP is $15. Value is already completely skewed on mobile in the first place, so who am I to say if $15 is too expensive for a game like this or not? I was happy to pay it because it made a game I was already enjoying a lot more suitable to my tastes. But it definitely is on the higher end of mobile pricing, so I'm not sure how well this will go over with your typical mobile gamer. A lot of people have said they'd prefer something more in the $5 range that just disabled ads but didn't include any of the other benefits, and that's something FDG is going to consider.
The good news is that you can download Banana Kong 2 for free and try it out for yourself, and even if you don't end up wanting to pay for the premium unlock, this still plays out like your average free game. You'll deal with some ads, and some grinding, but that's really it. It has been a lot of fun to experience a game I loved so much so long ago with a fresh coat of paint and some new ideas. Whether you played the original Banana Kong or not, it's definitely worth checking out Banana Kong 2 as even a decade later it's still one of the more interesting and entertaining runners around.