It's been a little over a month since Blizzard launched Diablo Immortal and, well, it's certainly been the talk of the town in that time. I can't think of the last time I saw such a polarized reaction to a video game. On the one hand, there seem to be plenty of people out there enjoying what Diablo Immortal has to offer without feeling the need or desire to spend their life's savings on the game. Then at the other end of the spectrum, there are a whole bunch of folks who seem pretty disgusted with Diablo Immortal's monetization scheme and the unlimited potential to spend money in the game. Are there people in-between these two extremes? Well if there are, they sure aren't as vocal as the other two camps. Personally Diablo Immortal didn't do much for me and I churned out of it after a couple of weeks, but I have a few friends who absolutely adore the game so I guess it all comes down to the individual.
It does seem apparent though that Diablo Immortal has been a success for Blizzard thus far, and they've mentioned multiple times over the past several years of the game's development that this is meant to be a game that is continually updated for years and years to come. Well, one month in and the first major content update for Diablo Immortal is set to arrive tomorrow, July 7th. It brings the start of Season Two and that means a new Battle Pass, this one themed around the Bloodsworn, the cult-like followers of the Countess. In this storyline, Bloodsworn all throughout the Dark Wood have decided to rise up against the Countess and revolt, and the new standard Battle Pass will offer 40 ranks worth of challenges and rewards.
Of course, there are two additional paid tiers of Battle Pass as well. The Empowered Battle Pass includes everything from Standard but unlocks an additional Empowered progress track with additional rewards at every rank. It also comes with the Bloodsworn Weapon cosmetic, unlocked at rank 1, and the thorn-covered Bloodsworn Armor cosmetic, unlocked at rank 40. Then there's the Collector's Empowered Battle Pass which includes everything from standard and Empowered, as well as the Bloodsworn Avatar Frame, Bloodsworn Portal cosmetic, and a ten-rank boost, all of which you'll get immediately upon upgrading to this premium pass.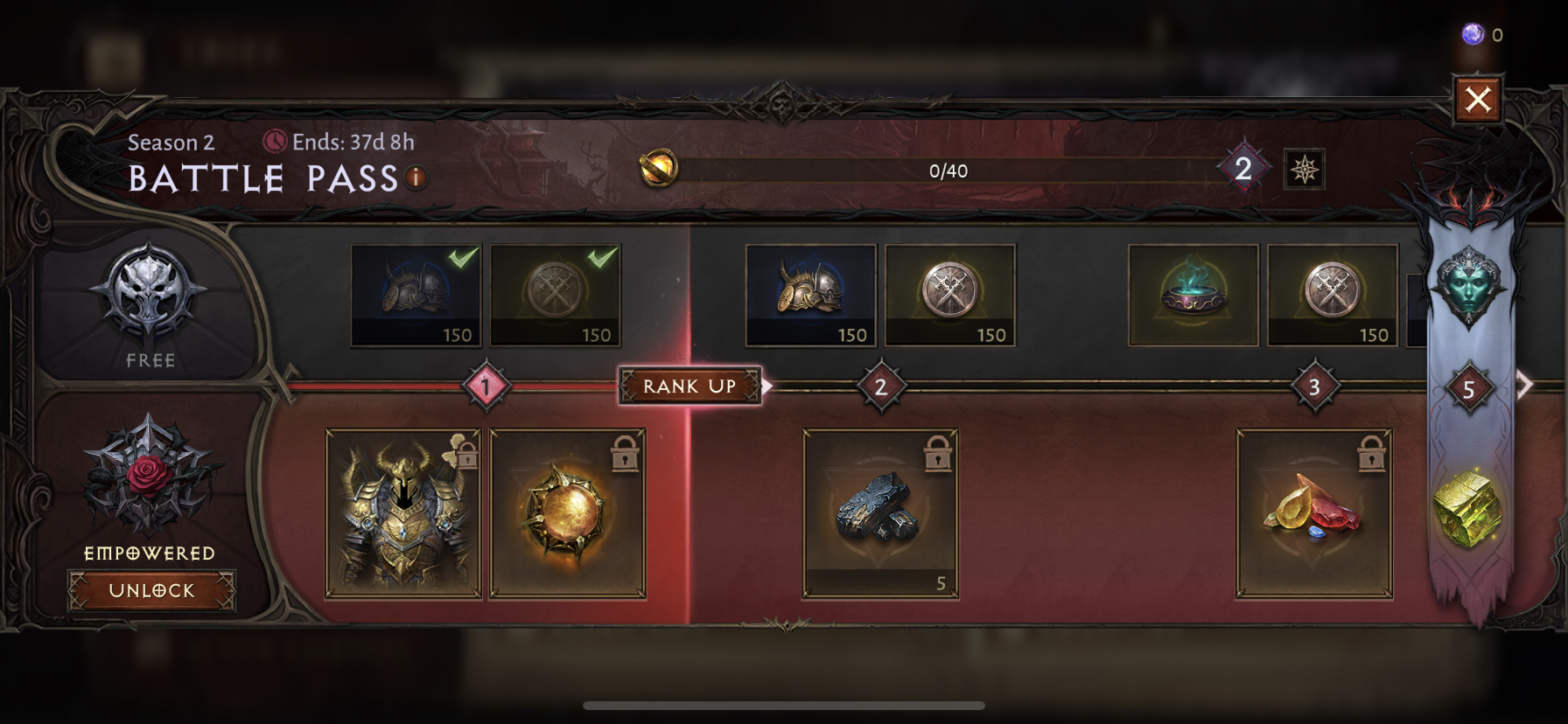 Season Two also includes a new Helliquary Raid Boss, Vitaath the Shivering Death, as well as a new Hungering Moon Weekend Event from July 15th to 18th. There's plenty more to this update too, including a bunch of balance changes and bug fixes, which you can find detailed on the official Diablo Immortal blog. Season Two officially kicks off July 7 at 3:00 a.m. server time and will run until August 4 at 3:00 a.m. server time.