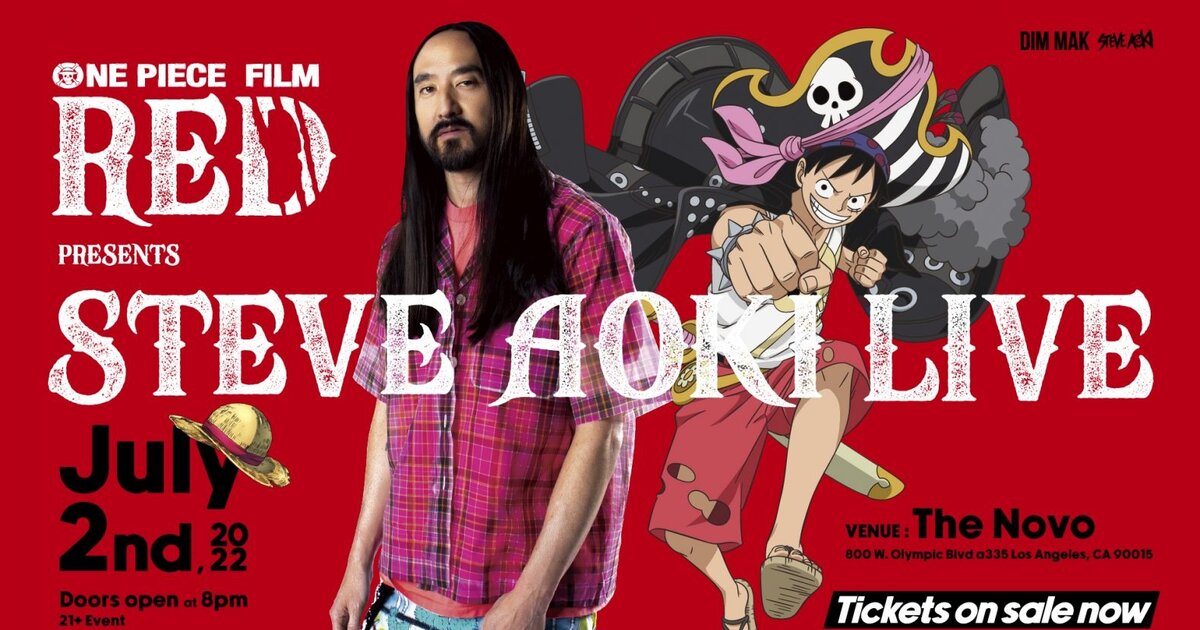 To celebrate the upcoming movie One Piece Film Red, world famous DJ Steve Aoki played to a packed crowd at Anime Expo 2022 in Los Angeles on July 2, 2022!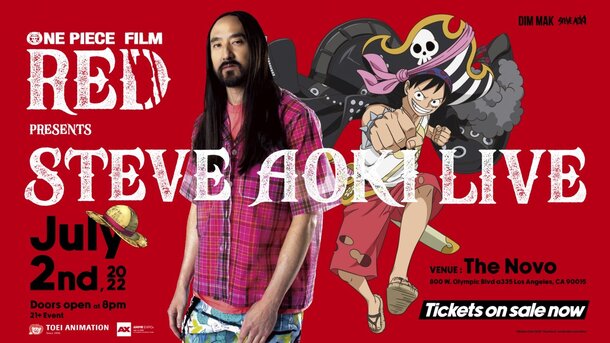 Presented in partnership with Toei Animation and in collaboration with the Society for the Promotion of Japanese Animation (SPJA), Aoki gave an exclusive performance at the Novo Theatre. He even debuted a special One Piece mix that released that same day on Spotify and other music platforms. And of course, the two-time Grammy-nominated artist brought plenty of cake to share with the event's anime fans.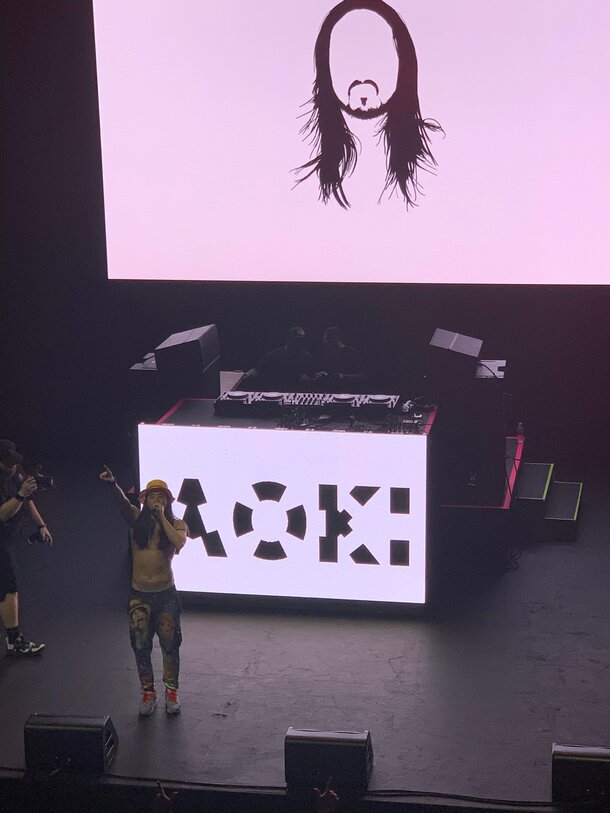 AX attendees were also able to purchase apparel from the "DIM MAK x ONE PIECE" collaboration inside Anime Expo's main exhibition hall. This collaboration consists of Aoki-designed hoodies, tees, accessories, and skate decks all featuring original artwork from One Piece's iconic Wano Country Arc.
From the official press release:
"We're thrilled to celebrate the upcoming release of ' One Piece Film Red' with this special performance by Steve Aoki produced exclusively for fans," said Lisa Yamatoya, Director of Global Marketing of Toei Animation Inc. "Anime Expo 2022 provides the perfect backdrop to promote this exciting new film from creator Eiichiro Oda. Fans will not want to miss this opportunity to part of a one-of-a-kind One Piece franchise experience."
"This year marks our first in-person Anime Expo event since 2019, and we're incredibly excited about partnering with Toei Animation Inc. to host a special performance by international superstar Steve Aoki," said Ray Chiang, CEO of SPJA. "Through both his music and fashion collaborations, Mr. Aoki has been deeply connected to the anime community for decades, making him the perfect artist to help welcome our Anime Expo fans back home to Downtown Los Angeles in 2022!"
"I have been a huge fan of Toei Animation from as early as I can remember. One Piece holds a special place in my heart because I have always been impressed by the resilience and determination of Luffy. His happy-go-lucky demeanor in the face of adversity inspired me in many ways. Having this opportunity to join forces with Toei Animation to commemorate their upcoming ' One Piece Film Red' is an immense honor. Not only am I performing during Anime Expo, but my brand Dim Mak is also releasing a merch collab at the same time," says Steve Aoki.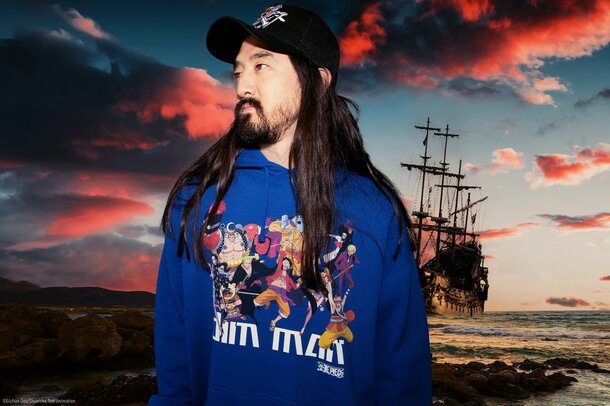 One Piece Film: Red is the 15th anime film in Eiichiro Oda's popular franchise. It releases in Japan on August 6, 2022, and in the US later in the fall.
This is a Tokyo Otaku Mode article by Sean Cardeno. Photography assistance by Jamie Fandialan.