Hello gentle readers, and welcome to the SwitchArcade Round-Up for June 28th, 2022. In today's article, we have to dance around the main topic because the time lag between when I write this and when you read it is just long enough to miss that Nintendo Direct. But I do have a couple of reviews for you to look over, plus summaries of all of the new releases (that I know about) and the latest sales. Let's get going, and don't worry about the stuff we'll go over tomorrow!
News
How About that Nintendo Direct Mini Partner Showcase, Eh?
Yes, it's the usual thing. By the time you read this, the June 2022 Nintendo Direct Mini Partner Showcase will have already aired. As I am writing this, it is still several hours in the future. So I don't really know what I can write here except that I'm sure there were probably at least one or two neat surprises in those twenty-five minutes focused on third-party games. We'll catch up on the big stuff tomorrow.
Reviews & Mini-Views
Bassmaster Fishing 2022: Super Deluxe Edition ($44.99)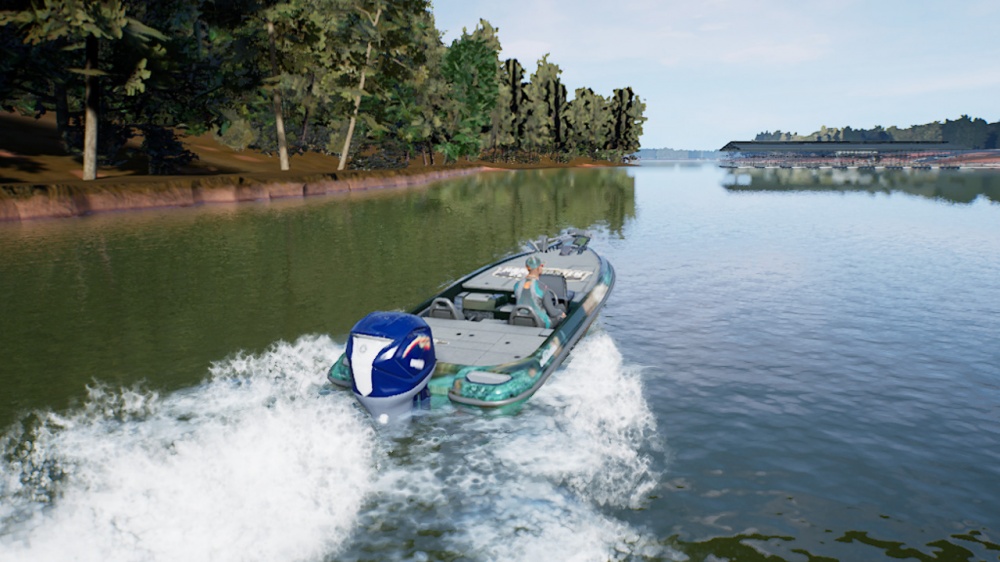 I'll be straightforward: I'm not really a fishing game guy. I was born and raised in a town built on a giant lake that is known for sport fishing, and I've certainly done more than a fair share of the real thing. Mostly when I was younger. My uncles are rather wild about fishing, and two of them take part in our town's annual bass fishing tournament every year. But when it comes to video games, the only dedicated angling game I've ever really found myself getting into was SEGA's SEGA Bass Fishing on the Dreamcast. As an RPG fan I've naturally had to deal with frequent fishing minigames, too.
But when it comes to the fishing games that aim to simulate the activity, I usually bounce off pretty quickly. That doesn't bode well for Bassmaster Fishing 2022, I know. The thing is, while this game makes some superficial gestures towards being a sim, it's not very realistic at all. Sometimes it's better for that choice, and sometimes it's worse. Driving your boat around the different locations often feels like you're driving a wooden water tank. The actual act of catching fish relies heavily on minigame-like actions. You have a wide selection of lures and such, but you seem to be able to catch just about anything whatever you pick. So yes, despite the presence of real pros and licensed gear and the somewhat realistic visuals, this game ends up splitting the difference between realism and arcade-style fun.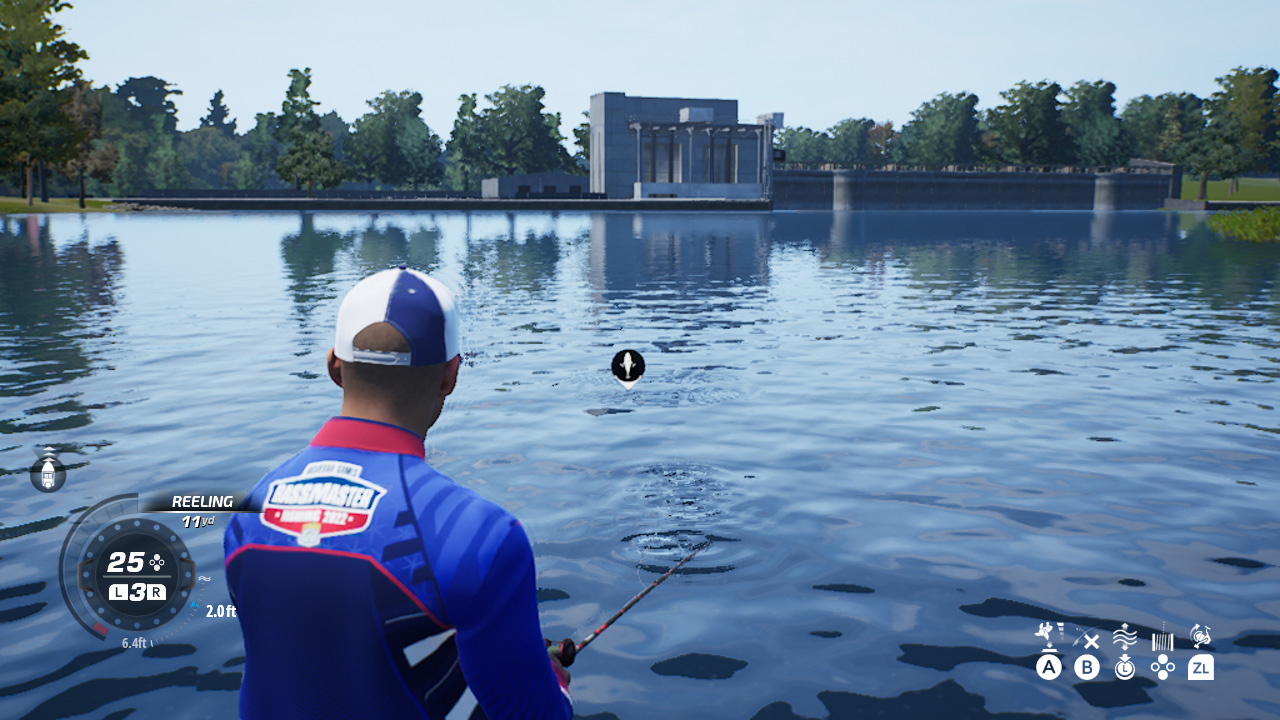 You get a few different modes to enjoy, with a career mode to play through, the online Bassmaster Royale, or a mode where you just pick a location and go out to fish to your heart's content. The career mode can be a bit vexing as you'll often need to catch particular types of fish and with the lure system being what it is, just about any fish will bite on anything. It was nice to duck out of the career mode and just go relax with no constraints for a bit. As you play any of the modes, you'll earn currency that you can use to unlock things, adding a nice layer of progression to the affair.
On a technical level, Bassmaster Fishing 2022 often struggles. The load times are lengthy, though once you're on the water you won't need to load again until you change locations. The framerate is extremely jerky if you try to look around too much, but if you focus on the fishing aspect it typically behaves itself. It's obvious the game wasn't designed around a console with the Switch's specs, but it's playable enough where it counts.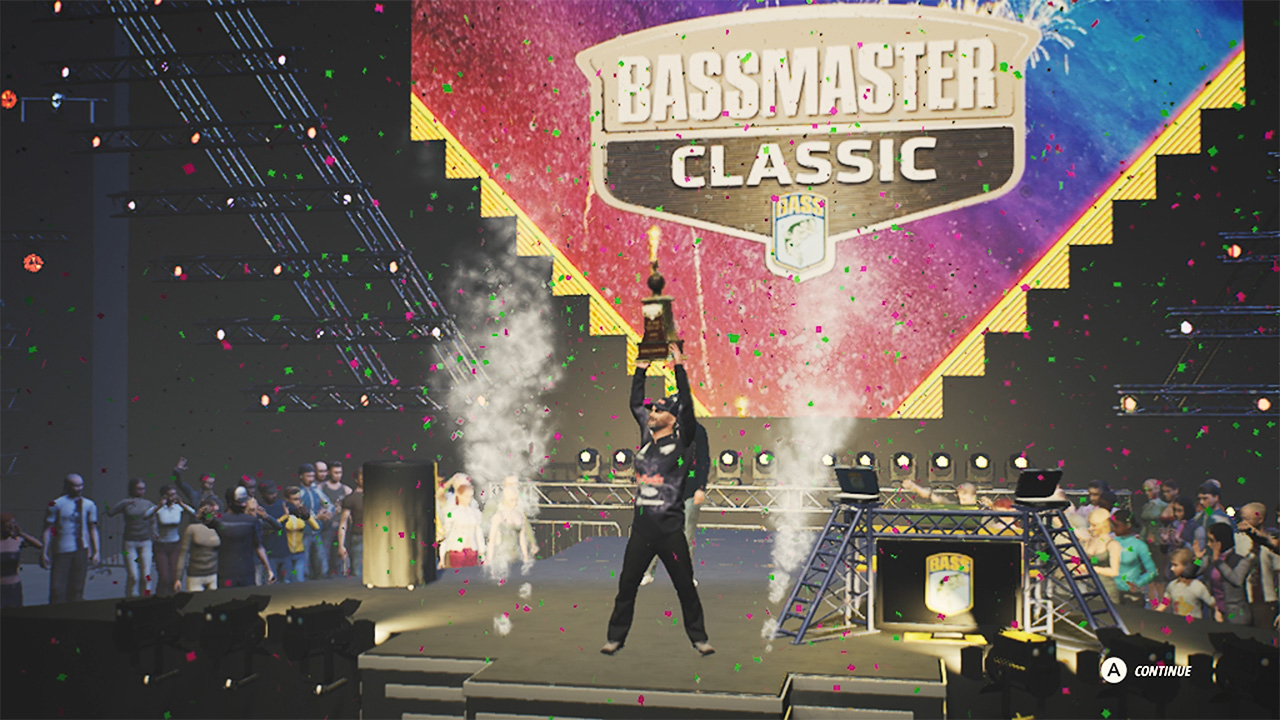 Beyond the technical flaws, the biggest problem Bassmaster Fishing 2022 has is in where its attempts at realism clash with its more arcade-ish elements. Realistic fishing tournament goals run counter to the more casual reality of how lures work. The graphics look great but your boat behaves like an air hockey puck. A whole lot of waiting around and finding good spots, but a minigame-like focus when it comes time to catch the fish. This conflicted approach means that both fans of sim games and fans of more casual fishing experiences are going to have to accept some compromises. Nevertheless, fishing fans will likely find enough to enjoy here to make it worth the trip.
SwitchArcade Score: 3.5/5
Firegirl: Hack 'n Splash Rescue DX ($17.99)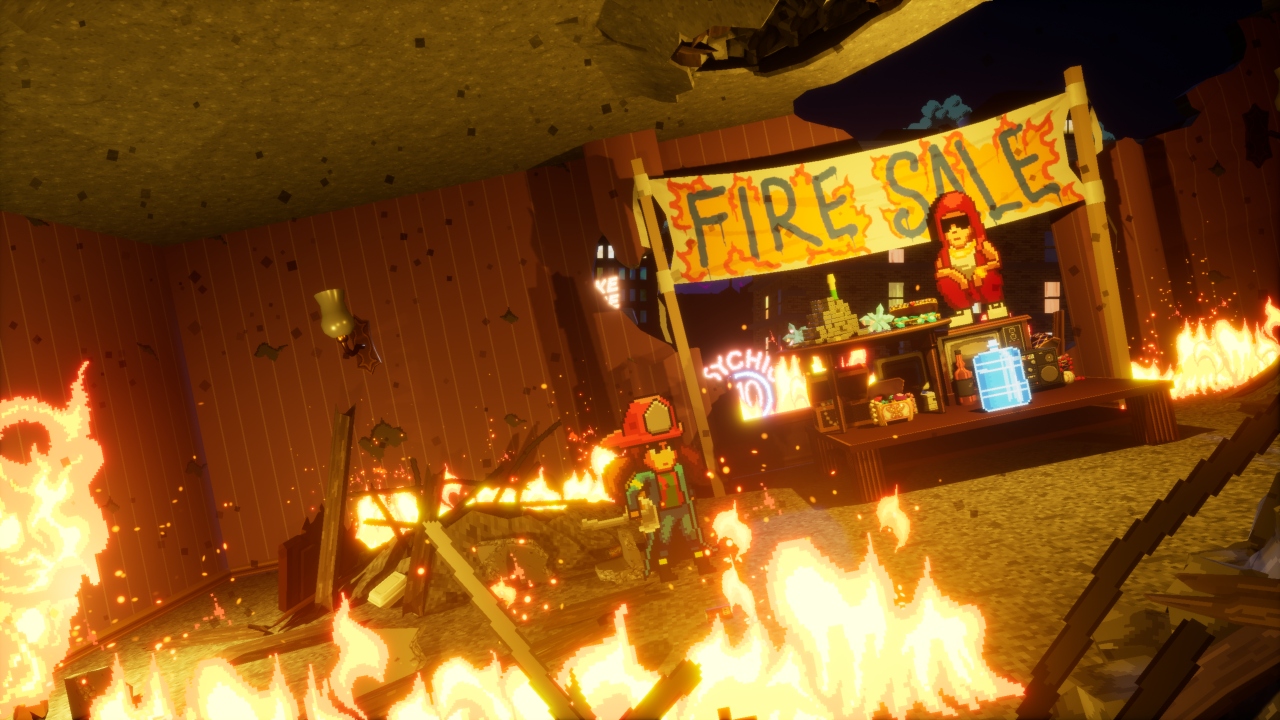 I wanted to like this game a whole lot more than I did, but it's decent enough. You play as Firegirl, a brave rookie firefighter who has some personal stakes in the whole business. You'll enter procedurally-generated burning locations, seeking out survivors and putting out fires as you go. Success will earn you money that you can use to upgrade your firehouse and equipment, giving you better tools to take on more difficult calls. It's a 2D platformer where you spray flames with water, use your axe to chop down obstacles, and even fly through the air with a jet of H2O. As you clear missions, the slightly bonkers story will slowly roll out.
Every missions sees you trying to do everything that need to be done within a very tight time limit. You can earn more time by putting out fires and collecting certain power-ups, but you're going to be cutting it quite close in most cases. This timer really butts heads with the procedurally-generated environments, especially with how samey they tend to be. A lack of variety is a general problem with Firegirl, with only a few different types of environments, lots of repetitive level "chunks", and gameplay that feels like it's missing an extra spoonful of zing to keep things fresh. This Switch version also has some odd performance hiccups, with hitches here and there that briefly bring things to a halt.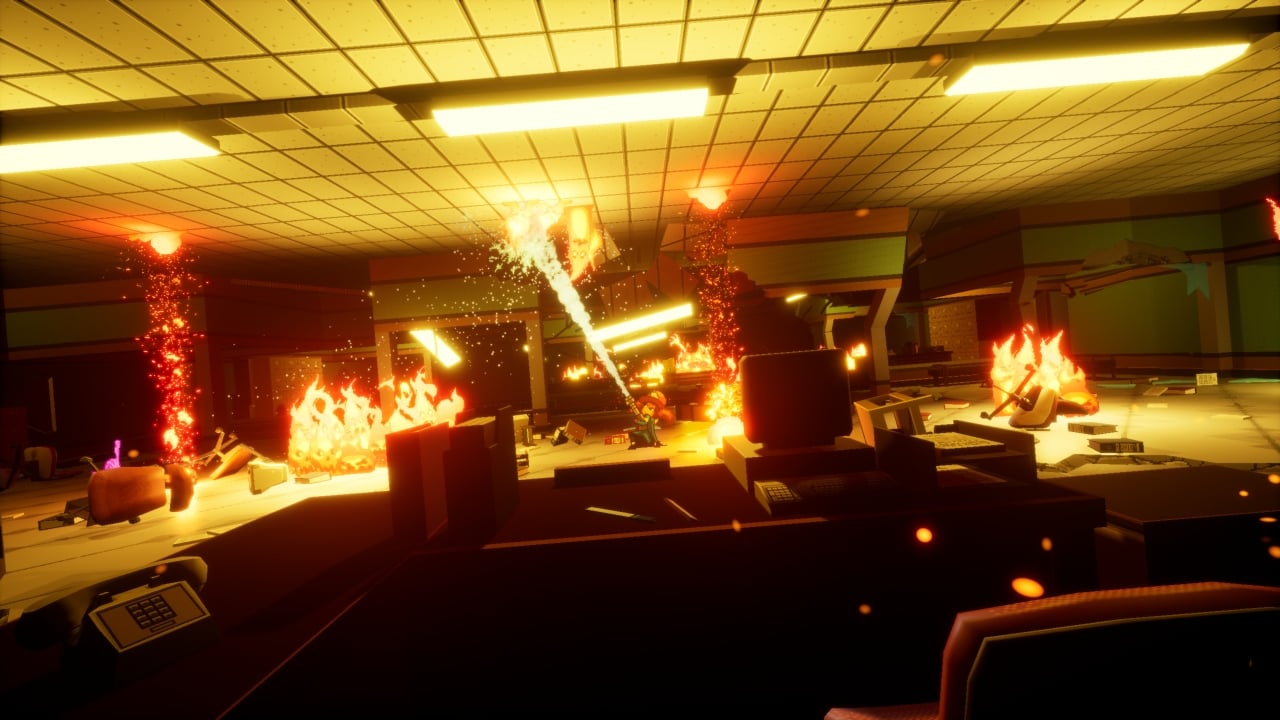 Even in this improved form, Firegirl: Hack 'n Splash Rescue DX has a lot of rough edges that you'll have to learn to accept if you want to enjoy it. It has a few small technical issues, a somewhat repetitive gameplay loop that feels like it needs a bit more spice for its runtime, and very tight timers that don't always pair well with the procedurally-generated maps. Still, those tight timers can sometimes lead to a satisfying level of tension, especially when things really start to come apart and you make a last-minute escape. There's a real charm to Firegirl, even if you're going to get a little roasted in pursuit of it.
SwitchArcade Score: 3.5/5
New Releases
Birushana: Rising Flower of Genpei ($49.99)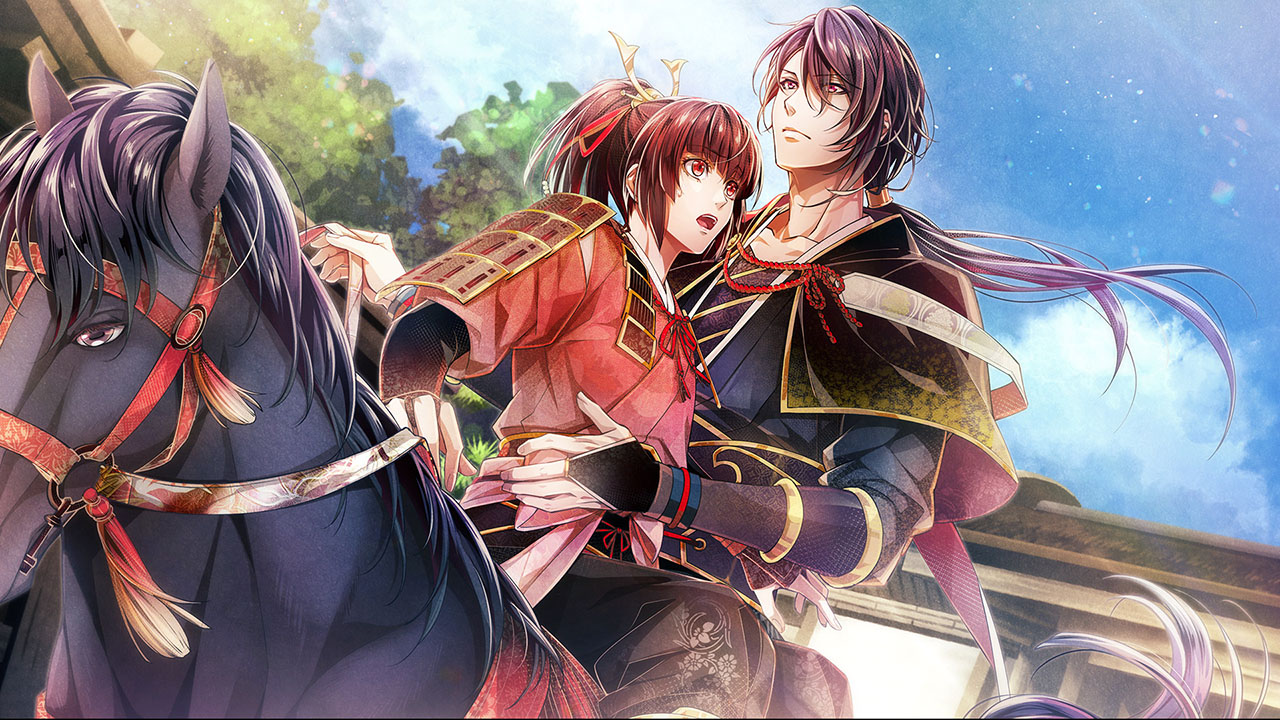 Here's the latest otome visual novel from the folks at Idea Factory. It's set fifteen years after the Heiji Rebellion which saw the clash between the Heike and Genji clans leave the latter in near-ruin. It seems that the youngest surviving male heir to the Genji clan, Shanao, is living hidden in the mountains of Kurama. Shanao has a pretty big secret, however. Unbeknownst to many, Shanao is actually a woman. As she tries to figure out her path in life, she comes in contact with a number of people who very well may change its course. Make your choices wisely, smooch all the dudes, and see which ending you'll reach. You know how this kind of thing goes.
Squish ($14.99)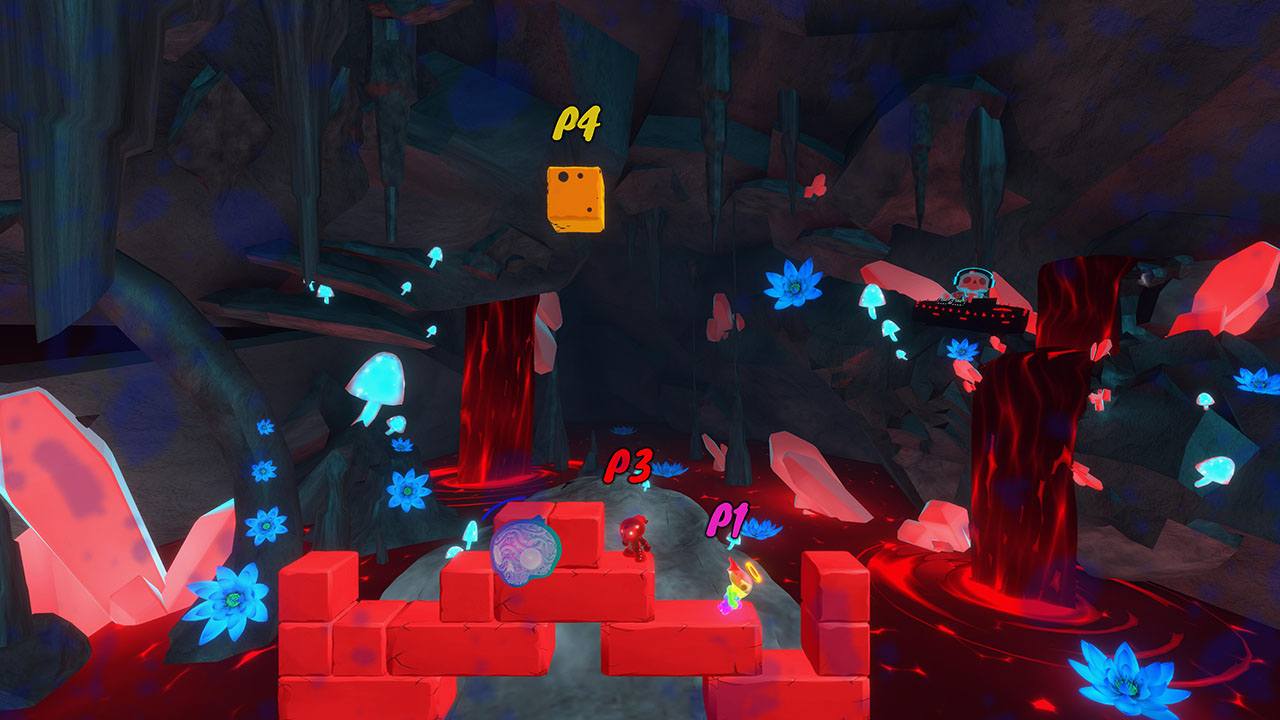 Here's a party-focused action game where you need to try to outlast your opponents amidst a rave in a collapsing underground crypt. You can try to improve your chances of being the last one standing by squishing your friends under blocks, but keep in mind they can do the same to you. Up to four players can join in, either via local multiplayer or online. Seems like it could be fun.
Can Androids Survive ($9.99)
From the developer behind Can Androids Pray comes another question about the capabilities of robots. This is a short first-person shooter where you play as a battlefield courier that is sent to a warzone to deliver supplies. You have to mind your fuel, obviously avoid being destroyed by hazards and other dangerous things, and perhaps even discover the true nature of your existence. Probably a bit more contemplative than the average game in this genre.
Sales
(North American eShop, US Prices)
Just a little list, as is likely to be the case for the duration of the Big Ol' Super Sale. The Kingdom Rush games are on sale, along with Tin Man's excellent Choices That Matter and To Be Or Not To Be choice-based adventures. Not much in the outbox, but I will once again recommend the Power Rangers fighting game, which is the closest thing to a new Marvel vs Capcom we're likely to see for a very long time. Now watch them announce a new Marvel vs Capcom game at the Direct today and make me look like an utter clown. Well, more of one.
Select New Games on Sale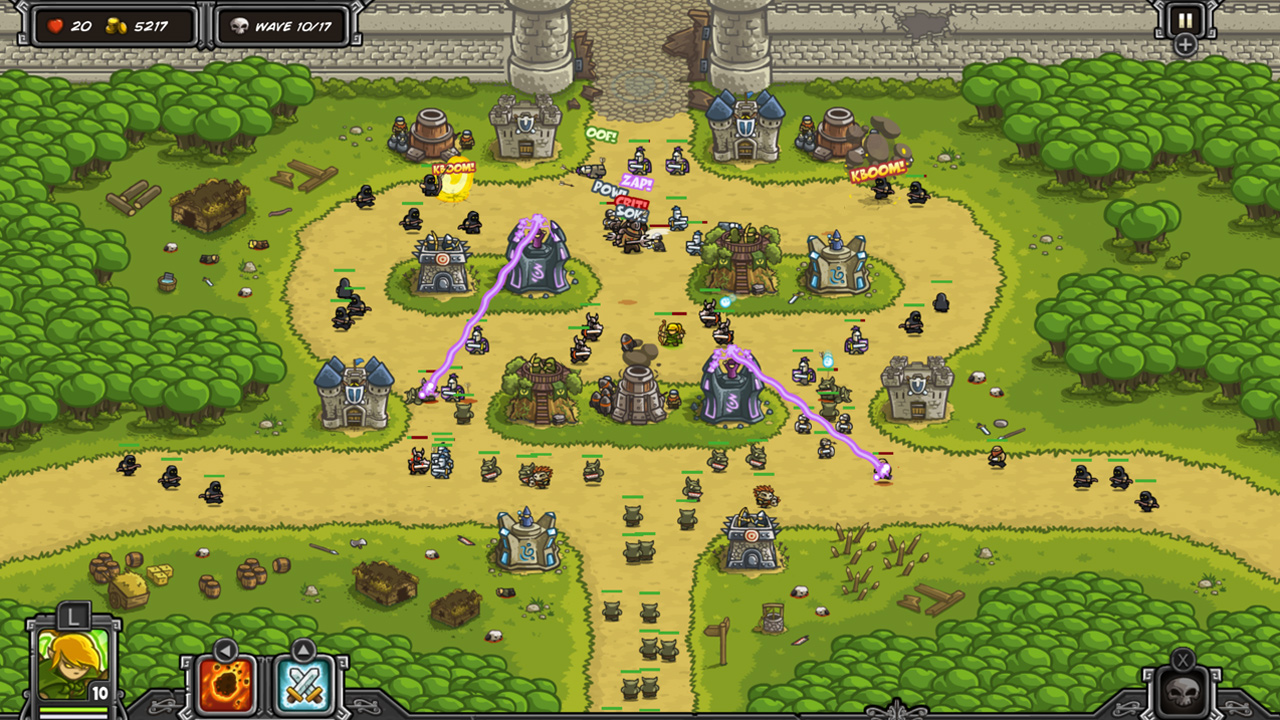 Kingdom Rush ($2.99 from $9.99 until 7/11)
Kingdom Rush Frontiers ($2.99 from $9.99 until 7/11)
Kingdom Rush Origins ($4.49 from $14.99 until 7/11)
SkateBIRD ($15.99 from $19.99 until 7/12)
Trine Enchanted Edition ($3.74 from $14.99 until 7/12)
Trine 2: Complete Story ($4.24 from 16.99 until 7/12)
Trine 3: Artifacts of Power ($4.99 from $19.99 until 7/12)
To Be Or Not To Be ($3.49 from $6.99 until 7/18)
Choices That Matter: ATSWO ($2.03 from $5.99 until 7/18)
Choices That Matter: ATHWL ($2.03 from $5.99 until 7/18)
Choices That Matter: ATSWE ($2.03 from $5.99 until 7/18)
Starbase Startopia ($29.99 from $49.99 until 7/18)
Adventure Field 4 ($4.99 from $9.99 until 7/18)
Aeturnum Quest ($6.49 from $9.99 until 7/18)
Isolation Story ($1.99 from $9.99 until 7/18)
Archery Escape ($2.39 from $2.99 until 7/18)
Sales Ending Tomorrow, Wednesday, June 29th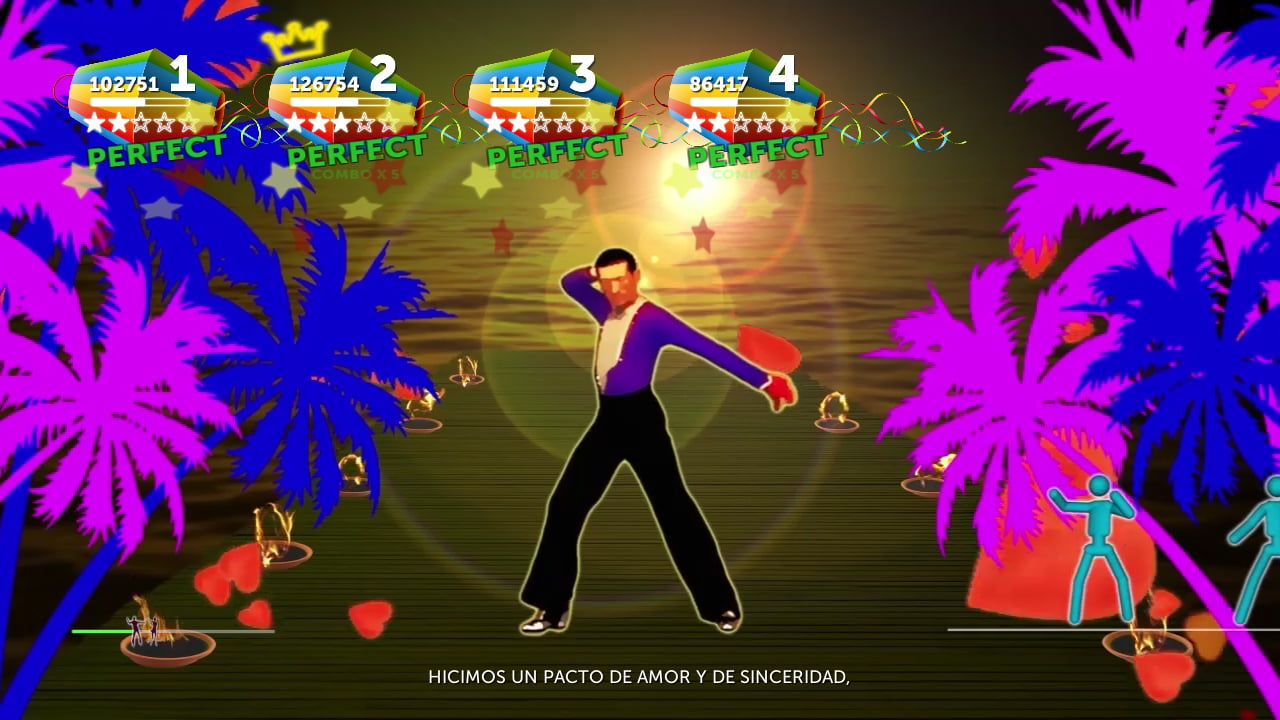 Baila Latino ($6.99 from $9.99 until 6/29)
Devastator ($4.99 from $6.99 until 6/29)
Jack 'n' Hat ($3.99 from $7.99 until 6/29)
Luckslinger ($2.99 from $9.99 until 6/29)
P.3 ($1.99 from $4.99 until 6/29)
Power Rangers: Battle for the Grid ($10.99 from $19.99 until 6/29)
Power Rangers: Battle for the Grid SE ($27.49 from $49.99 until 6/29)
Power Rangers: BftG Season Four Pass DLC ($8.24 from $14.99 until 6/29)
The Bug Butcher ($1.99 from $7.99 until 6/29)
That's all for today, friends. We'll be back tomorrow with more new releases, a summary of the Nintendo Direct Mini Partner Showcase, and some fresh sales. Hopefully there was some good stuff in that presentation. I'll be watching along with many of you. I hope you all have a great Tuesday, and as always, thanks for reading!