Hello gentle readers, and welcome to the SwitchArcade Round-Up for March 29th, 2022. We've got a couple more reviews for you today, this time covering the shoot-em-up Andro Dunos 2 and the auto-runner platformer Super Nanaru. Then we've got a few new releases to check out, including WRC 10, Crystar, and more. Things are rounded out with the usual lists of new and expiring sales. Let's get into it!
Reviews & Mini-Views
Andro Dunos 2 ($19.99)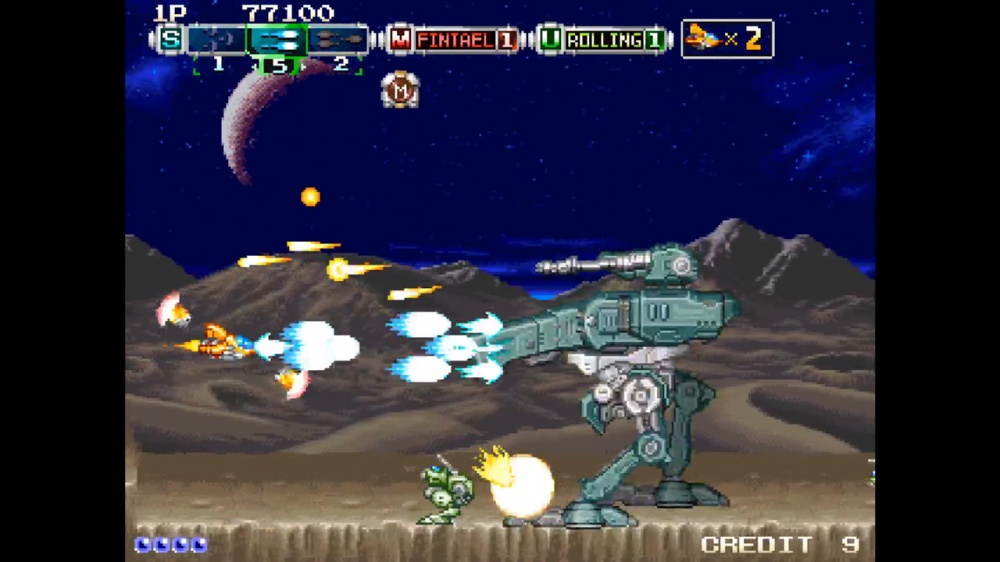 I know the original Andro Dunos has its fans. I know this because if it didn't, I can't imagine we would have a thirty-years-later sequel. I wish I could say I was among those fans, but the truth is that I barely remember it. I know I played it back in the day, but nothing about it stayed with me. That means I'm largely coming into Andro Dunos 2 fresh, and I'd be more worried about that if I wasn't relatively certain most of you are, too. This is a side-scrolling shoot-em-up that takes you through seven stages of fairly orthodox action, with a few quirks to call its own.
One of those quirks is making its return from the original game. You can freely swap between various weapons, each with their own style of shot. You can power them up by picking up capsules from defeated enemies, as well as add missiles and shields to your arsenal. If you get killed, the weapon you were using at the time will drop a level. On top of that, each weapon has a mega attack you can use. There's a cooldown for using mega attacks, and knowing which one to deploy and when is the key to surviving. Besides power-ups, enemies drop score items that give you experience you can trade at the end up each stage to level up weapons, missiles, and shields.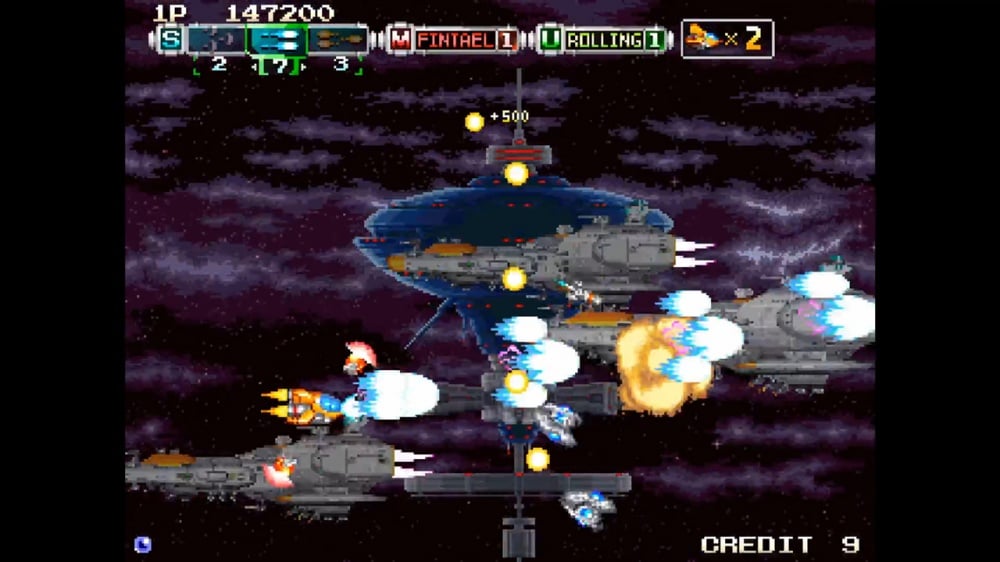 The game features three difficulty levels and allows you to adjust various other parameters, such as how many continues you want to bring with you. The regular arcade mode sends you from the start of the game through the seven-stage campaign, but you can also use a level select to start from the furthest stage you've previously reached with a refreshed stock of continues. That level select also allows you to play single levels for training purposes, if you wish. You can also unlock a boss rush mode and two additional stages that are remakes of levels from the first game.
Unfortunately there are no scaling options or scanlines in this game. You can't even choose the borders around the play area, as they seem to be randomly picked when you load the game up. The game features a local leaderboard, but there aren't any online options. It kind of hurts the replayability of the whole affair, since you're only competing with yourself unless you share screenshots on social media or something. Unlocking everything is certainly going to take some time, but once you've done that there isn't much left beyond taking another spin through the game.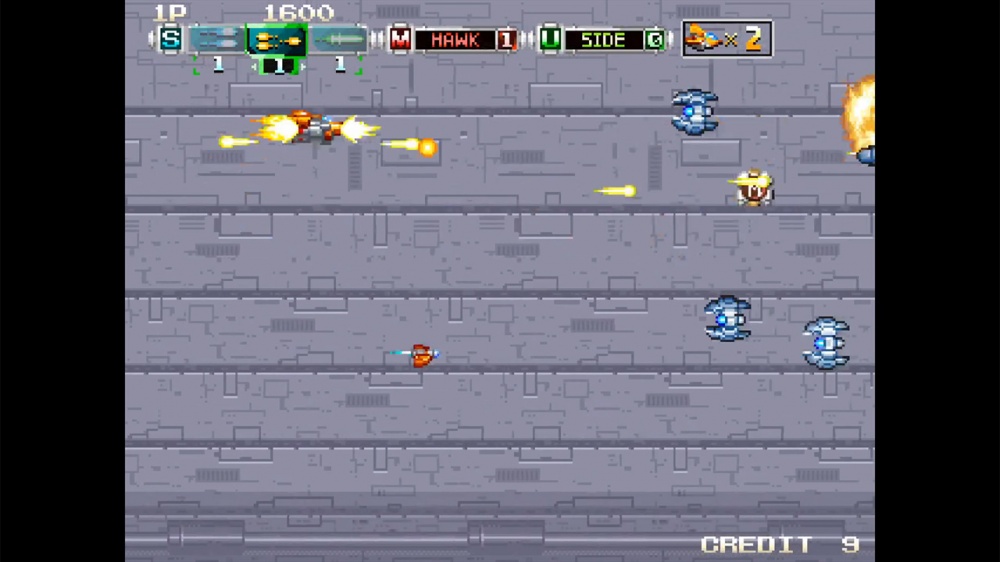 That does prove to be an enjoyable enough romp, nicely capturing the feel of the original game's era in both presentation and design. This is no bullet hell, but it is certainly challenging with a little bit of memorization required to clear the game in one shot. There's a nice variety of locations, and a few segments where you need to navigate environmental hazards. Naturally, there's also a battle ship stage where you need to take apart massive ships piece by piece. It's a decent enough course of shooting delights, with lots of different enemy types and patterns to keep things exciting. The boss battles are also quite good.
When it comes down to it, Andro Dunos 2 is a faithful ode to a particular era of shooters that is a few options and features away from being all it can be. It's perhaps a bit too faithful, as it can feel a little bit pedestrian at times. The mechanics are easy enough to pick up for newcomers, but require just enough strategy to apply to give more skilled players something to chew on. The lack of online leaderboards takes some of the wind out of the score attack sails, and the disappointingly minimal display options fall below expectations. Still, fans of the original and shoot-em-up fans should find enough to chew on here.
SwitchArcade Score: 3.5/5
Super Nanaru ($9.99)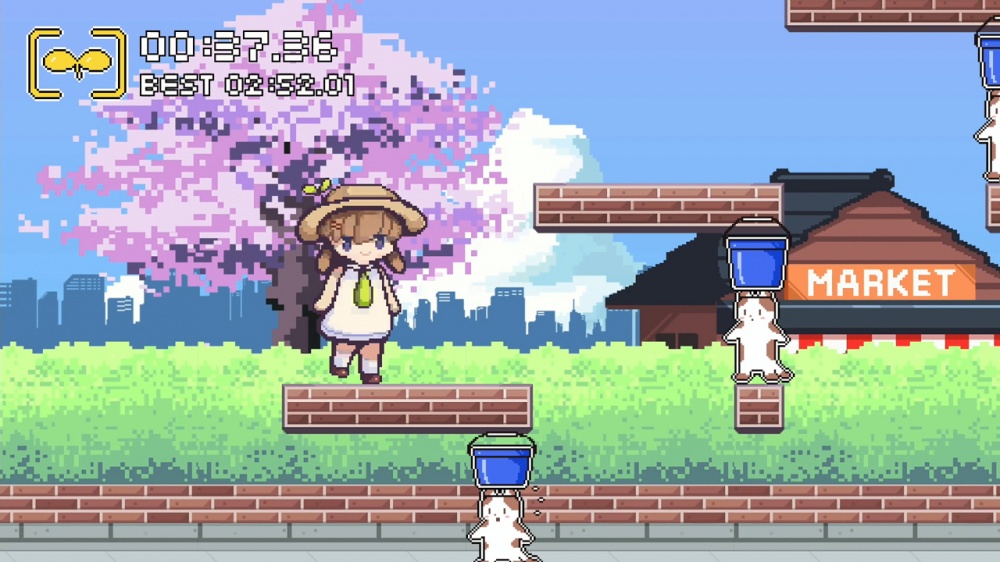 This game has some nice pixel art. It also has a few clever ideas for an auto-runner to keep you on your toes, but some of them aren't exactly welcome. You play as Nanaru, who has a rather large sprite. She keeps on running, and you can press the button to jump. That's it. Oh wait, she can double-jump. The game gets pretty tough pretty quickly, and pulls all kinds of nasty tricks. Your goal is to complete each stage, with a couple of secondary goals in the form of time attacks and extra collectibles. You can unlock a number of costumes and other goodies, too.
Apart from its attractive presentation, Super Nanaru is a bit plain as a game. That's especially the case for those of us who have been playing mobile games for a long time. The large sprite makes the platforming a little awkward at times, and the game's penchant for dirty tricks is something you'll either love or hate. Infinite lives and generous checkpointing means even the toughest stages are surmountable, but that doesn't make it any more tolerable when, say, a bus drives in front of the platforms you're hopping across and completely obscures them. I can't say it doesn't have its charms, but it ultimately didn't do a lot for me.
SwitchArcade Score: 3/5
New Releases
WRC 10 The Official Game ($49.99)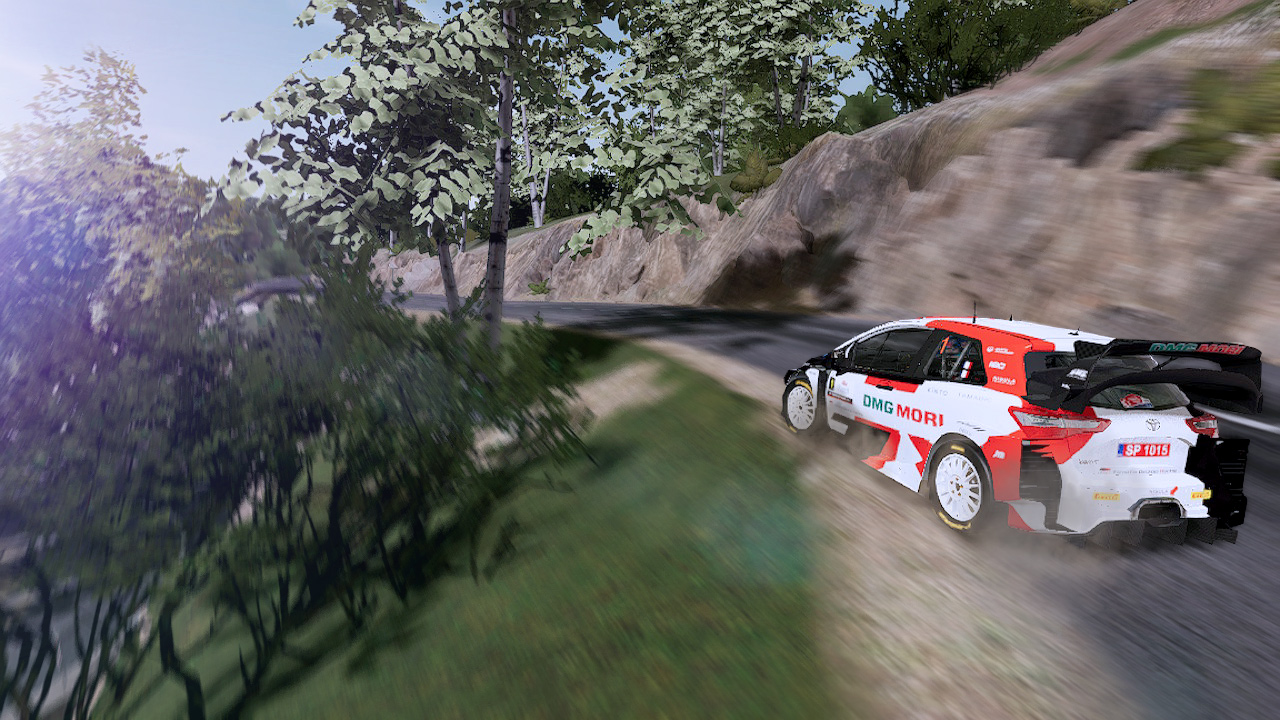 Year by year, KT Racing and Nacon have been finding their feet with their rally racing games a little more. This particular installment celebrates the 50th anniversary of the WRC, and as such includes some historical rallies alongside the new 2021 ones to celebrate. There are only a couple of new courses compared to WRC 9, but you definitely have more content to play through thanks to the abundance of stages and rallies. There's also a livery editor now. Sadly, this is still a strictly single-player affair. Even worse, this Switch version suffers from severe technical issues. Yes, even worse than last year. I'm not sure how that happened. I'll have a proper review of this one soon but I suppose if you tolerated WRC 9's Switch version you probably won't be completely put off by this port's flaws.
Crystar ($49.99)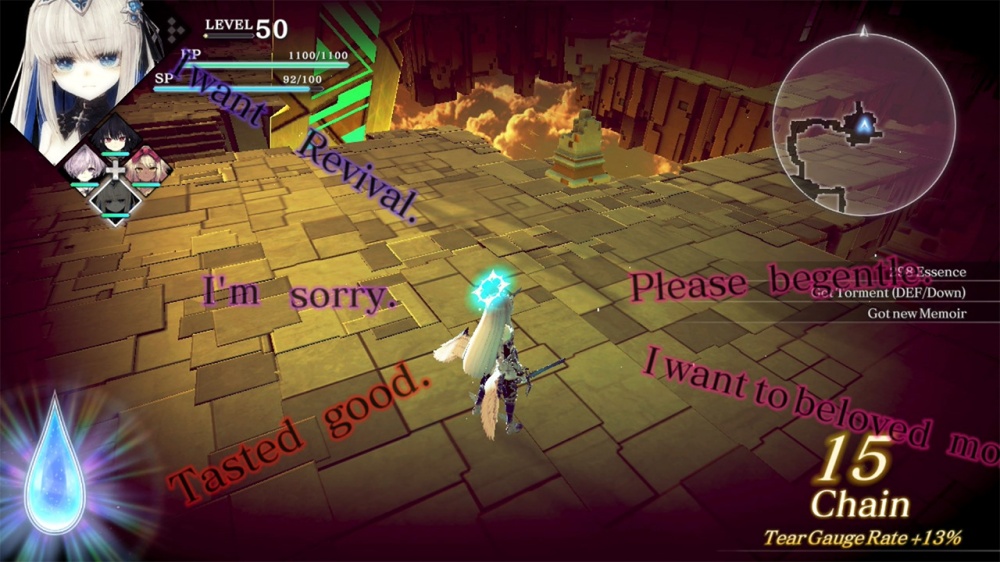 Oh hey, another FuRyu game. That… usually doesn't bode well. This one is an action-RPG with four playable characters that you'll have to switch between to progress the story. And that story is the best part of the game, so make sure you savor it. The action bits are considerably less impressive, especially since this port comes from more powerful hardware and hasn't made the transition in what I would call a smooth manner. I'll have a full review of this one soon. I'm really mixed on it so far.
Ikai ($14.99)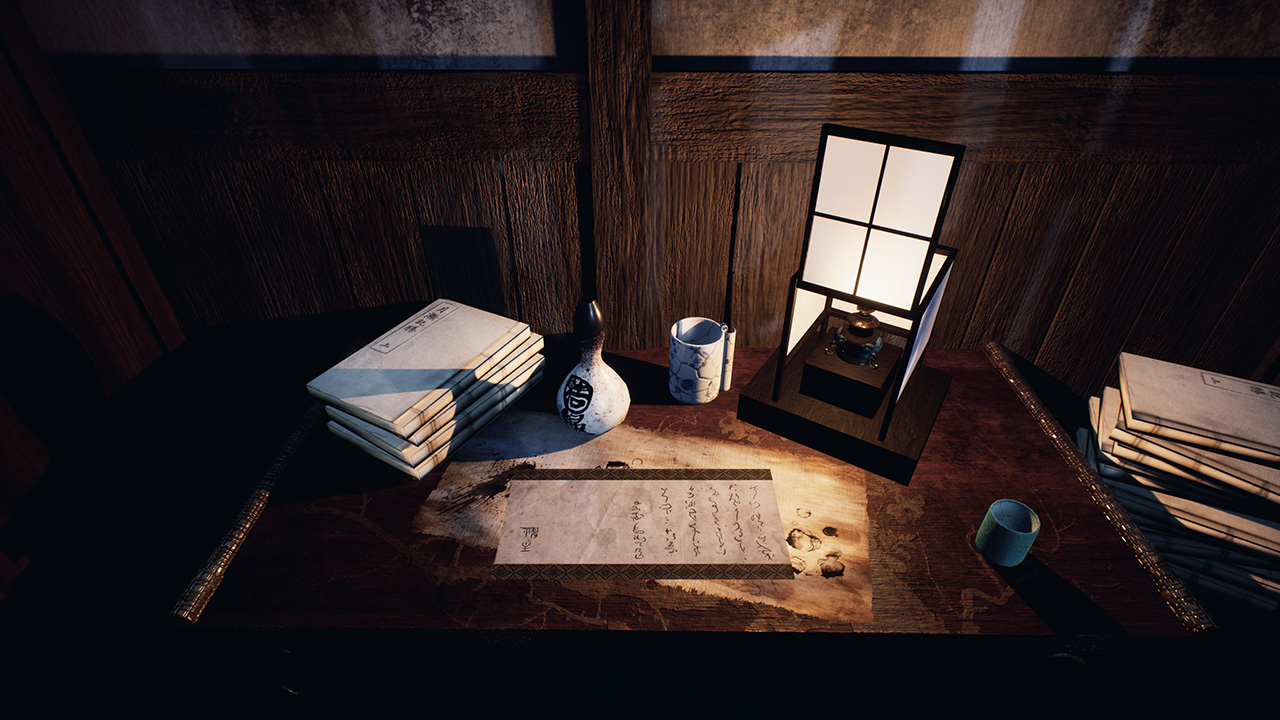 Yes, it's another first-person horror adventure game. This one has a Japanese theme and comes to us by way of publisher PM Studios and Spanish developer Endflame. Explore in and around a feudal shinto shrine, watch out for yokai, draw protective seals, solve puzzles, and for your sake try to stay out of sight. As regular readers may know, I'm completely tired of this kind of game these days so I can't really say whether or not this one is worth paying attention to. At least the theme is different from usual?
Vengeful Heart ($9.99)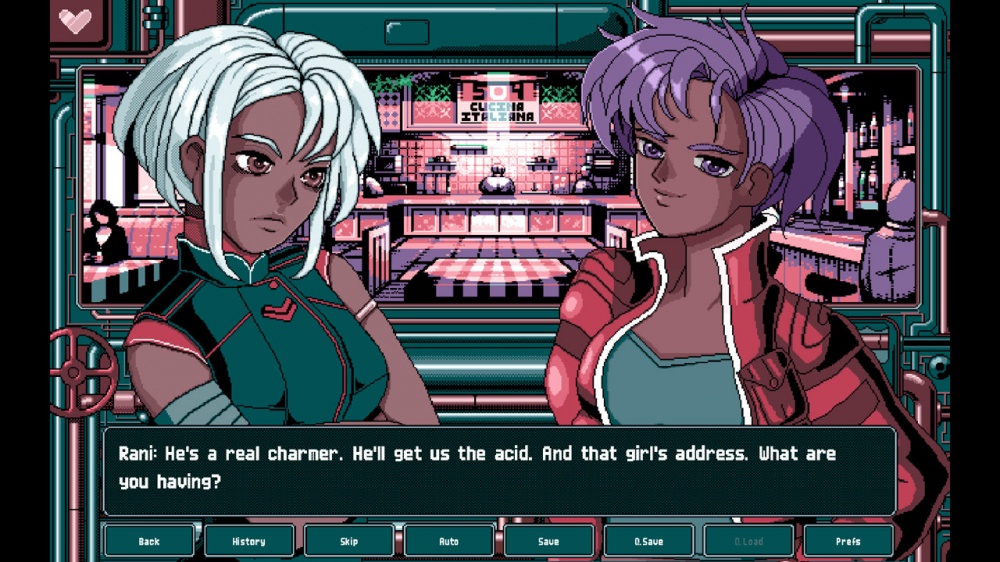 Oh yeah, that's a whole vibe. This is a visual novel with but a single choice, so if you're looking for a lot of interactivity this one might not be for you. But the story and characters are really good, so if you just want to play through an interesting tale you'll probably like what you get here. The game has a PC-98 style to it, and that is an awesome choice. The story is set in a future where water has become a scarce, controlled resource. Josephine Lace is an engineer working for the mega-corporation that controls most of the water, but things go very ca-ca one day and she finds herself on a quest for vengeance.
Sales
(North American eShop, US Prices)
Hey, that's an excellent price for Axiom Verge. Other than that, it appears to be some LEGO games and a few 2K Games titles. The outbox is pretty ordinary, but I suppose you should take a look at both lists anyway to see what grabs you.
Select New Games on Sale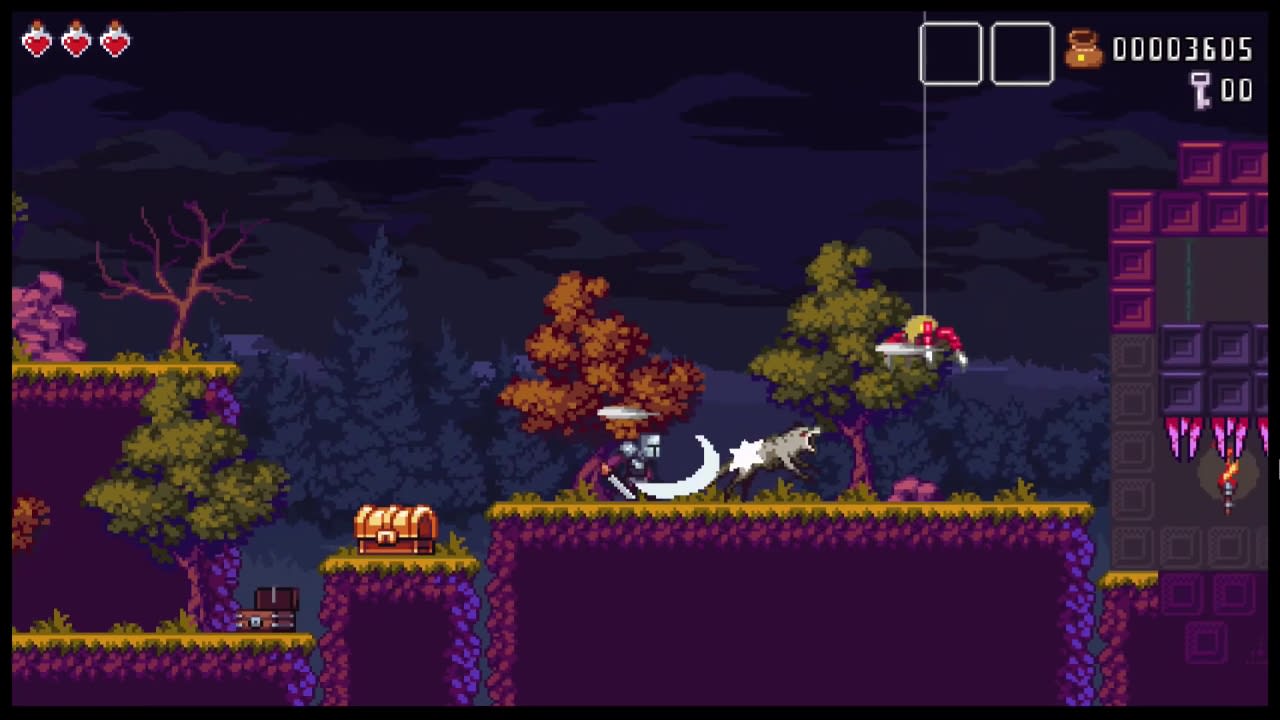 Swords & Bones ($1.99 from $7.99 until 4/4)
Juiced! ($1.99 from $4.99 until 4/4)
Axiom Verge ($5.99 from $19.99 until 4/5)
Pinball FX3 Universal Classics ($3.99 from $9.99 until 4/5)
Pinball FX3 Williams Vol.6 ($3.99 from $9.99 until 4/5)
WWE 2K18 ($17.99 from $59.99 until 4/8)
WWE 2K Battlegrounds ($15.99 from $39.99 until 4/8)
PGA Tour 2K21 ($14.99 from $59.99 until 4/8)
Sid Meier's Civilization VI ($8.99 from $29.99 until 4/8)
NBA 2K Playgrounds 2 ($7.49 from $29.99 until 4/8)
NBA 2K22 ($19.79 from $59.99 until 4/8)
Carnival Games ($9.99 from $39.99 until 4/8)
BioShock Remastered ($7.99 from $19.99 until 4/8)
BioShock 2 Remastered ($7.99 from $19.99 until 4/8)
Borderlands: GotY Edition ($11.99 from $29.99 until 4/8)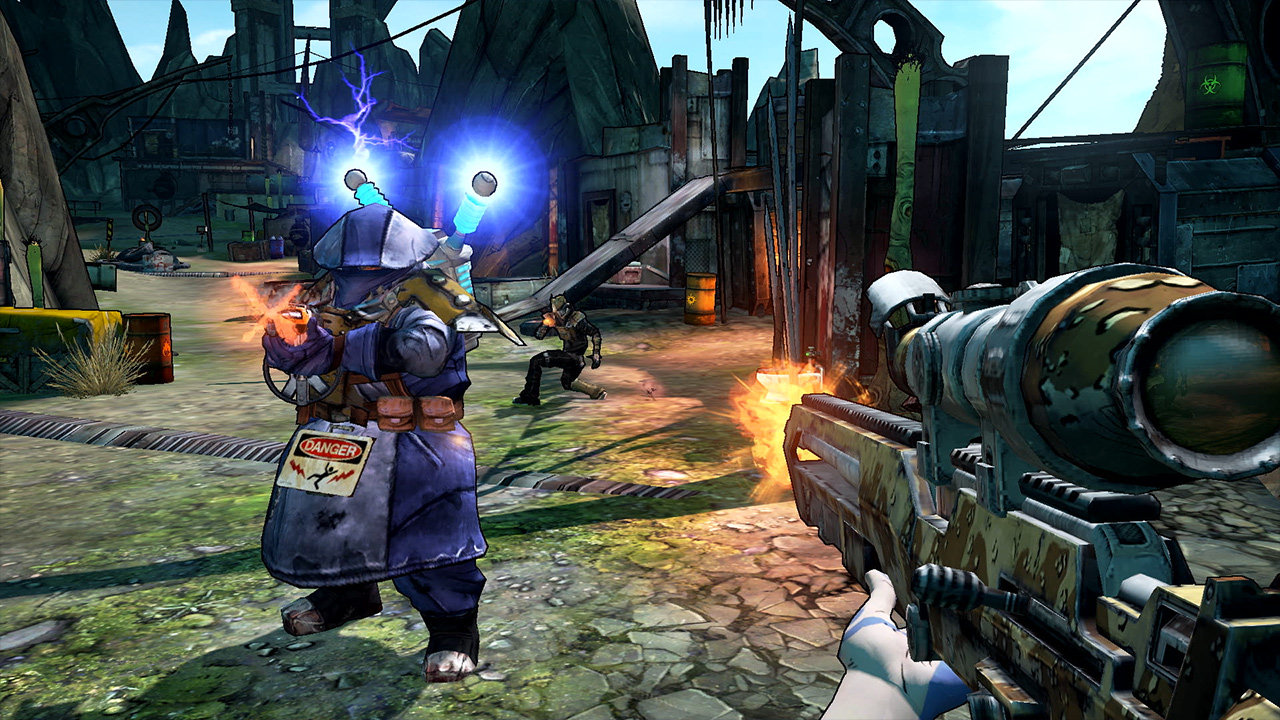 Borderlands: Handsome Collection ($15.99 from $39.99 until 4/8)
Tales from the Borderlands ($14.99 from $24.99 until 4/8)
Goridan Rooms: Curious Heritage ($4.99 from $9.99 until 4/11)
Quest Hunter ($8.99 from $29.99 until 4/11)
Dreamscaper ($14.99 from $24.99 until 4/11)
Willy Morgan & Curse of Bone Town ($12.49 from $24.99 until 4/12)
Dry Drowning ($9.99 from $24.99 until 4/12)
LEGO Super-Villains Deluxe ($11.24 from $74.99 until 4/18)
LEGO Marvel Super Heroes 2 Deluxe ($8.99 from $44.99 until 4/18)
LEGO Harry Potter Collection ($9.99 from $49.99 until 4/18)
Mortal Kombat 11 Ultimate ($17.99 from $59.99 until 4/18)
Knights & Guns ($2.99 from $14.99 until 4/18)
Here Be Dragons ($5.39 from $17.99 until 4/18)
Tap Tap Legions ($1.99 from $3.99 until 4/18)
Ages of Mages: The Last Keeper ($5.99 from $11.99 until 4/18)
Battle for Blood ($1.99 from $3.99 until 4/18)
Legend of Numbers ($2.45 from $2.99 until 4/18)
Queen's Quest 4: Sacred Truce ($2.09 from $14.99 until 4/18)
Demon Hunter: Riddles of Light ($2.09 from $14.99 until 4/18)
Sales Ending Tomorrow, Wednesday, March 30th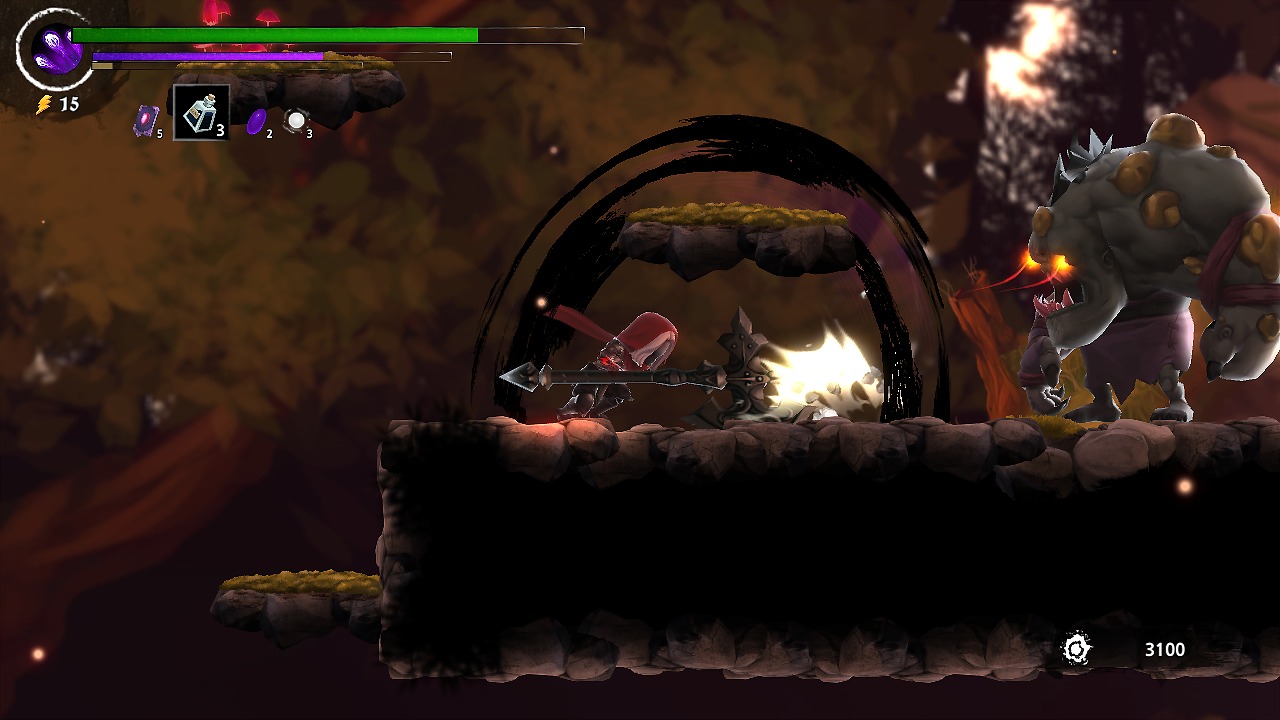 3000th Duel ($5.99 from $14.99 until 3/30)
Codebreaker Puzzle 1000! ($4.74 from $9.49 until 3/30)
Deadly Days ($2.08 from $18.99 until 3/30)
Don't Be Afraid ($6.49 from $9.99 until 3/30)
Dungeon Warfare ($3.39 from $9.99 until 3/30)
Encodya ($5.99 from $29.99 until 3/30)
Jessika ($2.09 from $14.99 until 3/30)
Kasiori ($5.60 from $7.00 until 3/30)
Leisure Suit Larry WD Saga ($9.74 from $64.99 until 3/30)
Leisure Suit Larry WDDD ($3.99 from $39.99 until 3/30)
Leisure Suit Larry WDDT ($7.99 from $39.99 until 3/30)
Number Place 10000 ($2.94 from $5.89 until 3/30)

Ox Logic Puzzle 1000 ($4.76 from $14.00 until 3/30)
Picture Painting Puzzle 1000 ($2.94 from $5.89 until 3/30)
RazerWire: Nanowars ($1.99 from $9.99 until 3/30)
Shakes on a Plane ($1.99 from $19.99 until 3/30)
Super Arcade Football ($4.99 from $9.99 until 3/30)
Super Arcade Racing ($4.99 from $9.99 until 3/30)
SUPERHOT ($13.74 from $24.99 until 3/30)
The Innsmouth Case ($2.09 from $14.99 until 3/30)
Uchu Shinshuchu ($4.00 from $8.00 until 3/30)
Urban Flow ($1.99 from $14.99 until 3/30)
That's all for today, friends. I should be back tomorrow with the usual things: new releases, sales, news, and what-not. I say "should" because I am getting my vaccine booster shot, and one never really knows how one will feel in the aftermath of such things. But you folks know I rarely miss a day if I can help it, so you will probably see me back here tomorrow as usual. I hope you all have a terrific Tuesday, and as always, thanks for reading!