It seems as though we're rolling along with the ACA NEOGEO releases. Hamster keeps a weekly schedule on other platforms, and that could be what will happen here. That means you'll be getting a lot of opinions on NEOGEO games from me in the future, I suppose. Today we'll be looking at Shock Troopers ($3.99), a 1997 top-down shooter that came during a time when the genre was a bit on the wane. This ACA NEOGEO version comes in a similar package as the previous releases, which we already know to be a good thing.
Let's go over those details again though, just in case. You get the original game nicely emulated with a wide variety of options and features. Both Japanese and overseas versions are available to play with a selection of difficulty options, video options and filters, control layouts and button remappings, sound settings, and more. You can play with virtual controls or external controllers, and if you have multiple controllers and a friend who wants to join in, you can play local multiplayer. There are also online leaderboards and a couple of extra modes in the form of a score attack and a time-limited Caravan mode. You really can't ask for much more.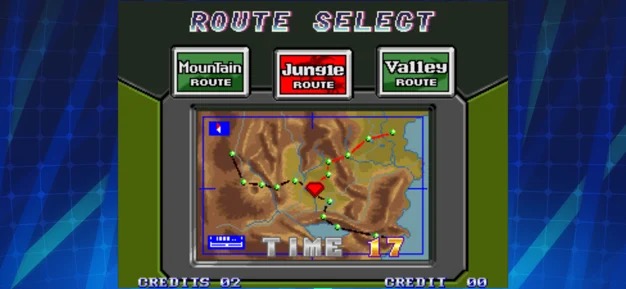 That leaves us with the game itself, then. Shock Troopers came a year after the highly successful debut of Metal Slug, and in a sense follows a somewhat similar outline. It takes a well-established genre that had seen better days and throws some NEOGEO muscle at it to see what happens. Rather than the side-scrolling run-and-gun, however, it sought to revitalize a genre that SNK had plenty of past experience with: the top-down shooter. With major hits like Ikari Warriors under the company's belt, you can't blame SNK for wanting to give it another try.
Well, Shock Troopers didn't go over quite as well as Metal Slug, but it didn't go over badly either. With impressive 2D graphics, amazing set pieces, an assortment of characters to choose from, multiple routes that encourage replays, and solid action, Shock Troopers gave arcade-goers a real thrill in its day. It was popular enough to earn a sequel, though the series didn't go much farther than that. We should see that follow-up sooner or later, but this first game is well worth enjoying on its own.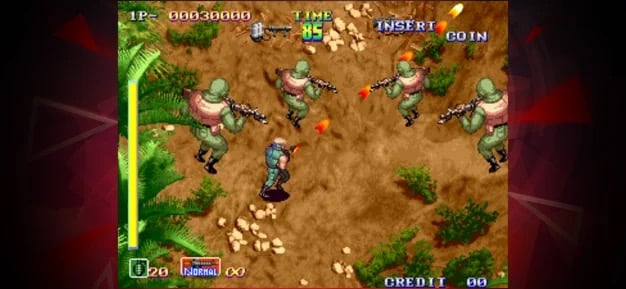 While the core gameplay isn't too different from classic overhead shooters, Shock Troopers has a few twists that make it a step above earlier examples. You can play the game in two different modes. One sees you picking a single character to take through the game, getting a stat boost to help you out. The other has you picking a team of three, which gives you the advantage of using their various talents as needed. There are eight distinct characters, each with different stats and their own special bomb. Regardless of who you pick, you can make use of a basic machine gun weapon and a melee attack that will earn you some bonus points for your daredevil attitude. You can also perform a useful roll to get out of the way of… whatever.
Each playthrough will take you through six stages, but it's not as simple as that. You get to choose your route at various points throughout the game, and it will take you at least a few playthroughs to see them all. They're sprawling affairs that take you in various directions and throw in lots of fun elements to mix things up. You can pick up new weapons that will give you a temporary boost and allow you to create some real carnage. While the game doesn't offer twin-stick controls, you can lock your firing direction by holding down the shoot button. The controls work well whether you're playing with the virtual buttons or an external controller, with the speed and responsiveness you would want for a game like this.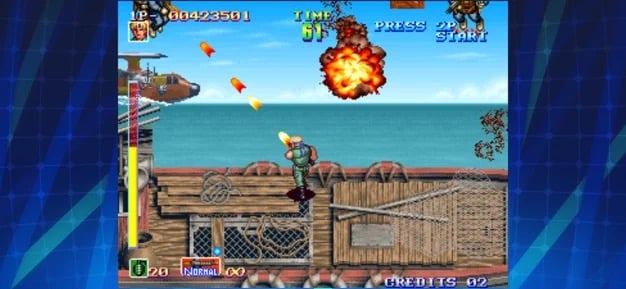 Shock Troopers is another great pick from the NEOGEO library for a mobile conversion. This kind of game plays well with touch controls, and Hamster has packed it full of features and options that allow you to fully appreciate the game on your own terms. It's an excellent action romp that frankly goes harder than it probably needed to, and if for some reason you never saw fit to drop a coin in its slot back in the day, this is a great chance to give it some of your attention.