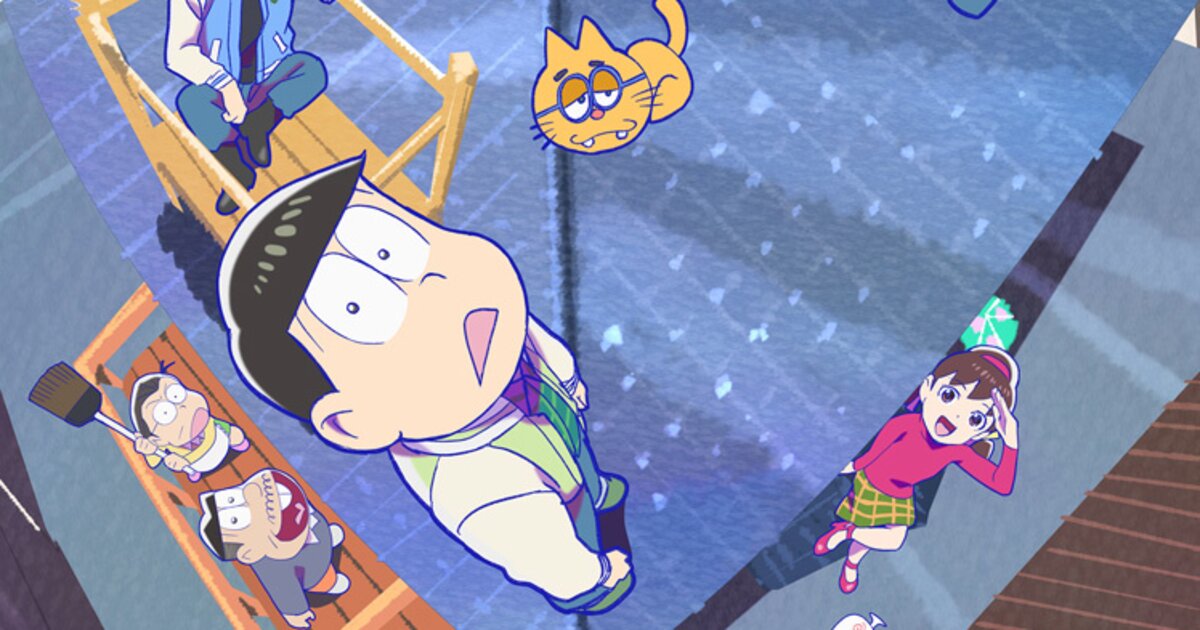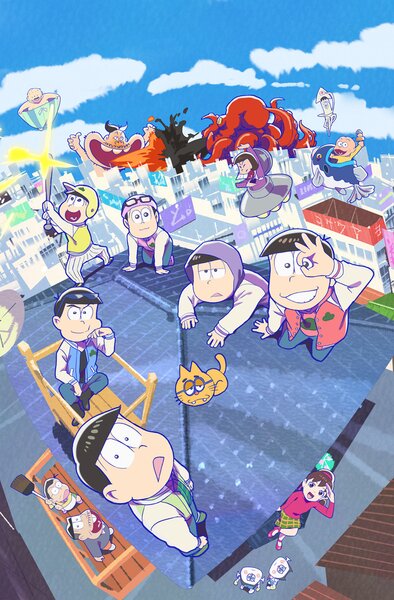 There are always a few comedy anime masterpieces among the many series that are produced yearly. You may be wondering which ones are actually funny, but not to worry! Tokyo Otaku Mode is staffed by people who are experts in every genre, so we put our heads together to come up with a list that will definitely have something you'll enjoy! Please check them out.
Some Tokyo Otaku Mode staff put together this list of anime for people who just want to laugh! These run the gamut from pervy to black humor, romcom to even nonsensical gibberish, but all of them will make you laugh!
Contents
1. Squid Girl
2. Mr. Osomatsu
3. Nichijou
4. Lucky Star
5. Grand Blue
6. Kakushigoto: My Dad's Secret Ambition
Official website: http://www.ika-musume.com/
Synopsis
Squid Girl came out of the sea to attack the people on land as punishment for marine pollution. However, she couldn't even take control of the Lemon Beach Shack, her first target, and instead she ends up having to work there in order to pay off the damage she made to a wall. Will Squid Girl ever get to achieve her goal of terrorizing humanity? This is a slapstick comedy revolving around Squid Girl and the idiosyncratic people around her.


Introduction


It's a comedy anime in which a fantasy character enters real life. While the main character has a grand goal of terrorizing humanity, there isn't actually an overarching story. Each episode is split into 3 short episodes for a nice pace.
Squid Girl is super cute and the characters around her are full of personality, so it's really fun. The art is fairly detailed, making this a high-quality series that can be enjoyed by people of all ages.


Comments by TOM Staff
・Shimizu
This is an era where there's a lot on people's minds, so this is a great series to help you just forget about everything for a while! It's a really pleasant show to watch, since it feels like nothing ever really changes. The theme song, "Shinryaku! Ika-musume," is also an earworm, so make sure to watch the opening!
・hara
The theme song is really impressive and cheerful. It's also addicting and you'll want to listen to it again and again! The ending theme is wonderful in its own way, too. Overall, the series is paced nicely and is really funny!
Synopsis
The Matsuno sexutuplets - Osomatsu, Karamatsu, Choromatsu, Ichimatsu, Jyushimatsu, and Todomatsu - are still unemployed and leeching off their parents despite being past the age of 20. They're all idiosyncratic, but none of them have any chances with employment or relationships. They live under the same roof and spend their days enjoying their personal hobbies, while messing with each other sometimes. They get caught up in kerfuffles along with other characters like the shady Iyami; the oden stand owner, Chibita; their beloved idol, Totoko; Dekapan, a man who's always wearing just his underwear; Dayon, a middle-aged man with a huge mouth; and the innocent boy, Hatabou.
Introduction
Based on the manga Osomatsu-kun by Fujio Akatsuka, this reboot ages the Matsuno sextuplets up to their mid-20s. Familiar faces like Totoko, Iyami, Chibita, Hatabou, Dayon, and Dekapan appear, too. Each episode is made up of a few short stories, like an omnibus. The stories often have black humor or dirty jokes, but there are some serious or emotional episodes, too. It occasionally has some experimental episodes as well. This is one comedy anime that will impress you.


Comments by TOM Staff
・hara
The sextuplets all have very different personalities, so even though they have the same face, they're unique. The voice actors for the sextuplets are all super popular male voice actors, and you can sense their talent. Maybe it's worth watching this anime just to hear their voices!
・Tetsu
The pathetic, adorable characters often end up being vulgar, but they're also easy to love. The story is full of playfulness, the music is a little stylish, and the series was made with top-class lineart and storyboarding. It'll make your heart flutter, excite you, make you cry, make you laugh, and make you feel like you're not alone. I looked forward to the new episode every week.
Official website: http://www.kyotoanimation.co.jp/nichijou/
Synopsis
Yukko, a high school girl who has wild daydreams, is always surrounded by mysterious things like robots or deer. "Nichijou" means "everyday," and Yukko's "nichijou" is full of mysterious and slightly surreal scenes like salmon and kokeshi dolls flying through the air. These scenes happen mostly around her high school. Meanwhile, at the Shinonome Lab where Hakase, Nano, and the talking cat Sakamoto-san live, they enjoy a warm and relaxed daily life.
Introduction
This series is based off a gag manga by Keiichi Arawi and was produced by Kyoto Animation. It's a 100% slice-of-life anime. The ordinary life that we experience is beautifully combined with unordinary experiences that will make you laugh in surprise for a fresh kind of humor. The characters are extremely quirky and cheery. Because of the voice actors' passionate performances and Kyoani's level of commitment to high-caliber art, the overall series has an impressive level of quality that you wouldn't expect from a slice-of-life show. If you want to giggle a lot, check this one out.


Comments by TOM Staff
・gake
Do you like slice-of-life anime? They don't have any impressive action sequences, battles that make you tense up, or exciting dramatic scenes. Slice-of-life is often considered to be a boring genre that simply looks indifferently on a boring Japanese person's life. If that's what you think, please check out Nichijou and you'll be laughing at the amazing action scenes, unintelligible battles, and unstoppable drama that occurs in the ordinary lives of these characters. You can enjoy a slice-of-life series that allows you to empty out your head while thoroughly enjoying the creativity of Kyoto Animation, a studio that can be called one of the world's treasures. But please don't think that all Japanese people live lives like this. There isn't anyone with keys on their backs, or any 8-year-old geniuses. There also aren't any smart talking cats, people who ride goats to school, or girls who bring heavy artillery to school. Probably.
・Tetsu
It's a comedy anime, but it'll make you cry. I looked at lists of older anime, but I don't think there's been any gag comedy as high quality as this one before. It isn't one that simply makes you laugh. It'll tug at your heartstrings and will stay with you. It's charming and adorable without putting on airs. Being able to talk about it like that without feeling like you're holding it in disdain may be one of the privileges of comedy anime.
Synopsis
Konata Izumi is a small high school girl and otaku who loves anime and video games. She's friends with the easygoing Tsukasa Hiiragi and her twin sister, Kagami, who is reliable and the straight man of the group. Their friend group also includes Miyuki Takara, who is beautiful and well-read despite being slightly ditzy. This series follows their relaxed everyday lives.
Introduction
This is a Kyoto Animation series revolving around the ordinary lives of four high school girls. You could even say that this is the series that established the slice-of-life genre in anime. The characters are hard to hate and the story is a soft and fluffy school comedy that includes niche otaku jokes and even some emotional (?) scenes. It's interesting enough that you won't be able to stop watching. One of the settings of the series, Washinomiya Shrine, is a real shrine, and tens of thousands of Lucky Star fans visited it after watching the show.


Comments by TOM Staff
・U
It's a Kyoto Animation series, so the quality is super high! The series often refers to stuff otaku will get, like anime, games, and comic market events. The main character, Konata Izumi, is someone who uses words and behaviors that only true otaku will completely understand, so I think otaku will feel a deep connection to her.
The other characters are also very charming despite being really comedic. This is an anime that you can enjoy just by listening to it. (Kagami, the tsundere, is my favorite!)
By the way, the opening theme is super addicting. I highly recommend it! Hee hee!
・hara
This is the anime series that got me into anime in the first place. It's a series full of gentle conversation and great humor. All of the characters' POVs are interesting. I want a sequel. (I'm serious.)
Official website: https://grandblue-anime.com/
Synopsis
Upon entering a university near the ocean, Iori Kitahara becomes a freeloader at Grand Blue, a diving shop owned by his uncle. There, he meets incredibly beautiful women and strong men who love liquor, SCUBA diving, and being naked. Iori, who was always dumb, insensitive, and thickheaded, ends up getting involved in their rampages.
Introduction
This is a 12-episode gag comedy about youth and is based around a college diving club in Izu where college students drink liquor and go wild. The main character enrolls in college and joins the club to learn the ins-and-outs of diving, but the story instead follows the absurd daily lives of the eccentric club members. There's no real plot, but each episode is a full story. However, there are also a lot of dirty jokes, so while this may not be for everyone, it's a great series for people looking for something fun.


Comments by TOM Staff
・Yamane
This series glorifies college students in a diving club drinking and going wild. There are a lot of funny moments in a college student's life, so I definitely recommend this series if you want to laugh and be entertained. It's definitely a chaotic, free-wheeling, wonderful show.
・Tetsu
This show is so funny it actually ruined me for other comedy anime. I suggest watching this after watching all the other comedies you want to see (lol). It's technically a diving anime, but that's also kind of a lie. 90% of it is about drinking and nudity. Make sure to keep that in mind before you watch (lol).
6. Kakushigoto: My Dad's Secret Ambition