Back in February of 2017 developer Kurechii, who had already developed quite a fan following with games like Tiny Guardians and King's League: Odyssey, released their newest title called Postknight. It straddled the line between idle game and… not-so-idle game by offering all the character progression, item collection, weapon upgrading, and plenty of other fun tropes of a full-blown RPG but stripped down into a way more passive experience built for mobile play. But not TOO passive, mind you. We loved the original Postknight and picked it as our Game of the Week back then.
Anyway, Postknight 2 being in development is no secret, as Kurechii has been teasing bits of it for a while now and we even posted about its closed alpha test in September of last year. Well that early testing phase has been going strong basically ever since, to the point that we're finally staring a release date for Postknight 2 right in the face: The game is set to launch on December 2nd. Of course it wouldn't be an upcoming free to play mobile game without a pre-registration period where you can earn rewards based on how many people pre-register, and that's precisely what we have here.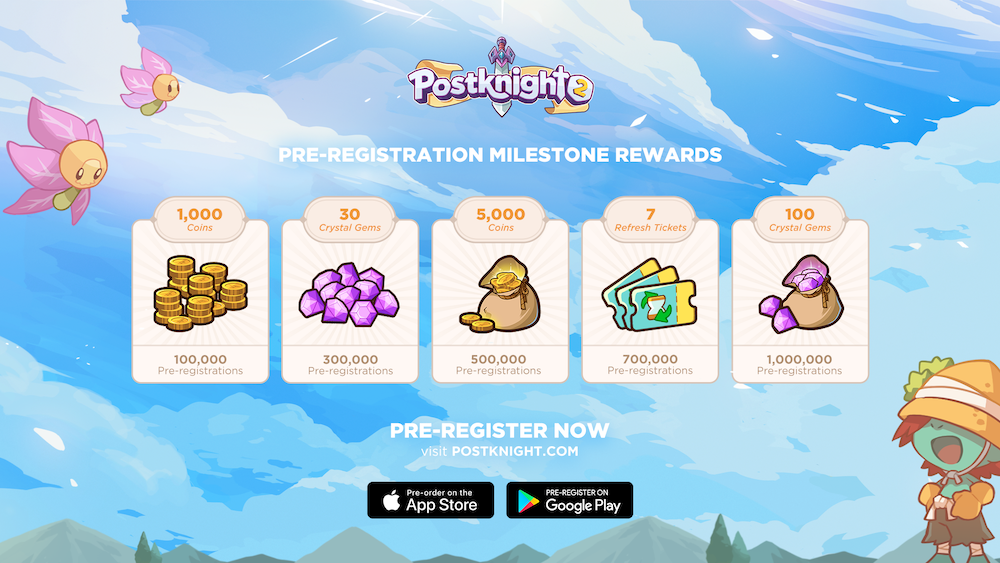 You can see above what types of rewards are available during this pre-registration phase, and if you want to help contribute to that number you can pre-order Postknights 2 on the iOS App Store here or on the Google Play Store here. A new trailer is set to premiere just about 11 hours from the time of this post too, so that would be 7am Eastern Time on November 3rd for those in the US. I'll go ahead and embed it below just in case you're reading this after that time so you can also check out this new trailer and be sure to mark your calendar for Postknight 2 on December 2nd.