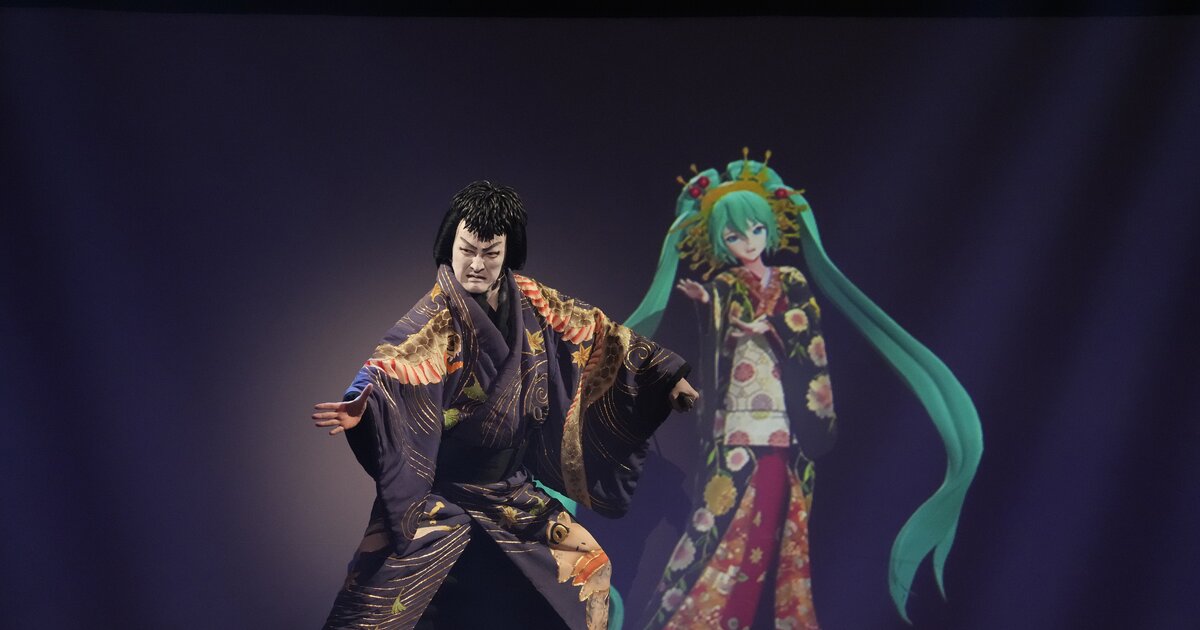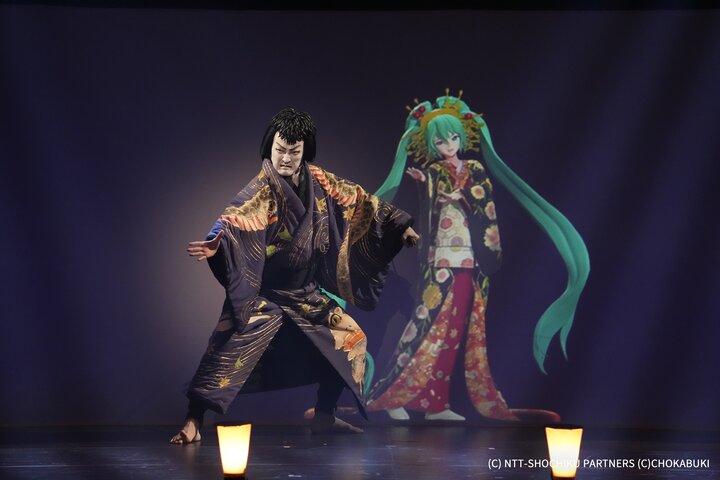 As one of the world's most versatile performers, virtual diva Hatsune Miku seems to have done anything and everything, from opening for Lady Gaga to inspiring a planned Mikuverse. It's no wonder that she's the perfect "person" to bring the past and the future together with Cho Kabuki, an exciting event that stars Miku performing the traditional Japanese art of kabuki!
This year, Miku will take to the stage at Kyoto's historic Minamiza Theatre. Fans from all around the world are also invited to experience the show (with English subtitles!) on September 20-26 via event platform Zaiko.
But hang on – what's kabuki? And what's different about Cho Kabuki? Boasting a history of over 400 years, kabuki tells stories of love and war, comedy and tragedy through striking costumes, movements, staging, and more.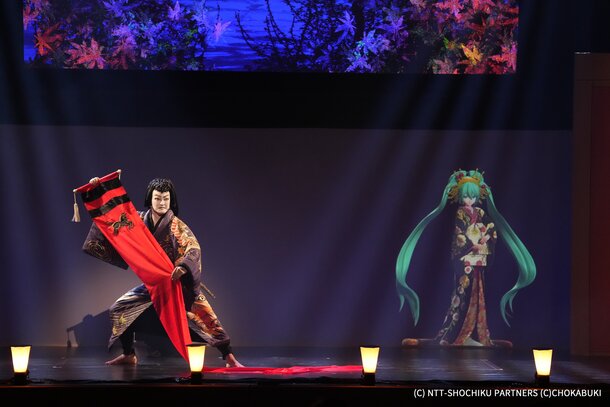 Meanwhile, Cho Kabuki incorporates cutting-edge technology to literally bring Miku to the stage with renowned kabuki star Nakamura Shido, making it a must-see for fans of Miku, Vocaloid, and Japan's rich culture!
For a taste of what to expect and a special comment from Cho Kabuki's stars, check out the video below.
This year, Cho Kabuki will feature the following items:
1. The Appeal of "Cho Kabuki", a collection of past footage demonstrating the magic of Cho Kabuki
2. Miyakozome Kabuki no Irodori, a never-before-seen dance production
3. Otogizōshi Koi no Sugatae, a tale of a samurai who must face love, loss, and the forces of evil
For each part, Miku co-stars with Nakamura Shido, who has collaborated with her at every Cho Kabuki since the event's debut in 2016. Anime fans may even recognize him as the voice of the apple-loving Shinigami Ryuk in hit anime Death Note. Shido is also joined by fellow kabuki actors Nakamura Choshi and Sawamura Kuniya.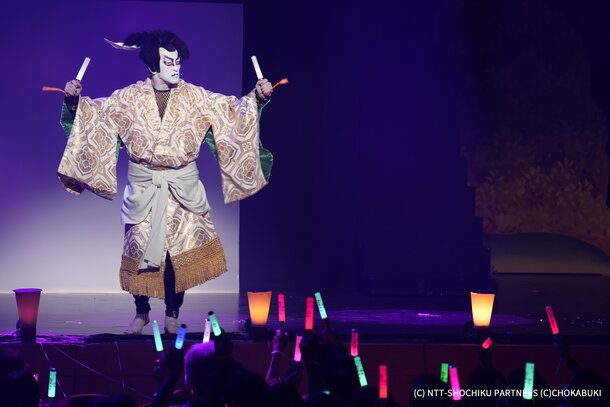 The show will include English subtitles, but regardless of language, there's plenty to take in. We all know and love Miku for being a virtual singer, but this time she gets to show off spoken lines and kabuki-style singing, resulting in a unique melody that can only be heard at Cho Kabuki.
Her formidable portrayal of one of Otogizōshi Koi no Sugatae's villains is also complemented perfectly by show-stopping effects. We won't give everything away, but you might even witness a special appearance by a certain pair of Vocaloids…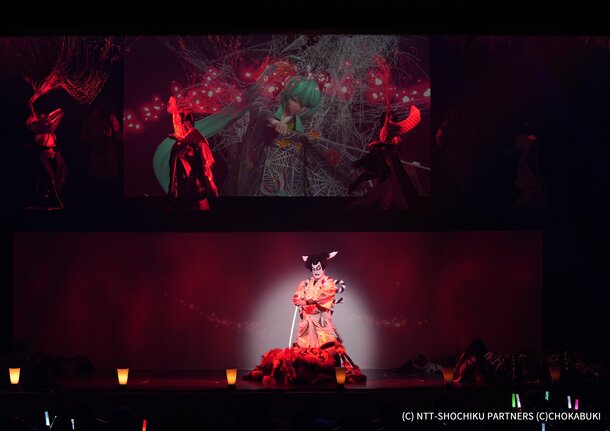 Sometimes it can be a little difficult to follow the story in kabuki (yes, even for Japanese people!), so here are some hints for the show. Specially created for this year's event, Miyakozome Kabuki no Irodori kicks off the live performances with dances under Kyoto's delicate cherry blossoms and the love story between a geisha and the chief of a fire brigade. Also, be sure to look out for some dynamic mane-shaking action from Miku and Nakamura Shido as two lion spirits!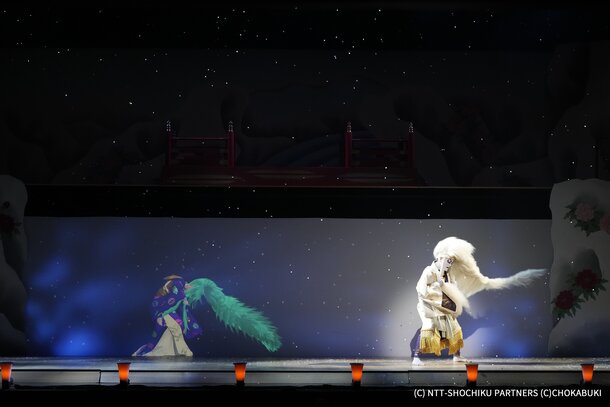 Meanwhile, Otogizōshi Koi no Sugatae takes us into the realm of Japanese legends. In order to wreak evil on Japan, a mountain witch attempts to revive an enormous silk spider killed by Hirai Yasumasa, the vassal of samurai commander Minamoto no Yorimitsu. As well as this nefarious plot, trouble is waiting for Yorimitsu in his attraction to Nanaaya, a strikingly beautiful courtesan who may love him, but isn't quite who she seems. Meanwhile, a thief named Hakamadare Yasusuke has gotten his hands on a scroll containing certain secret techniques…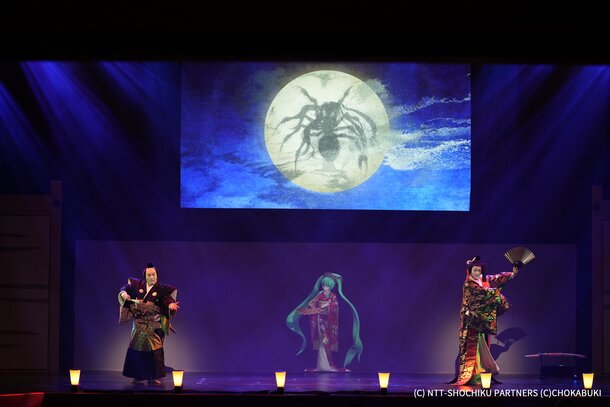 To watch Cho Kabuki, buy tickets now at Zaiko for 3,000 JPY. Be sure to get your ticket by 8:00 pm on September 25.
The show can be viewed any time from 12:00 pm on September 20 until 11:59 pm on September 26. Please note that all times are in Japan Standard Time.
If you happen to live in Japan, you can purchase tickets for both streaming (available at dTV/Niconico until 8:00 pm on September 18) and in-person performances at Minamiza Theatre. Find more info at Cho Kabuki's official website!
(C)NTT-SHOCHIKU PARTNERS / (C)CHOKABUKI