Hello gentle readers, and welcome to the SwitchArcade Round-Up for June 20th, 2022. In today's article, we've got full reviews of two big recent releases. First up, it's Dotemu and Tribute Games' sublime Teenage Mutant Ninja Turtles: Shredder's Revenge. After that we head to the pitch for a few matches of Mario Strikers: Battle League. We've got some new releases to check out, though they are mainly stragglers from Friday that I missed. Finally, we've got some sales for you to consider. Let's get moving!
Reviews & Mini-Views
Teenage Mutant Ninja Turtles: Shredder's Revenge ($24.99)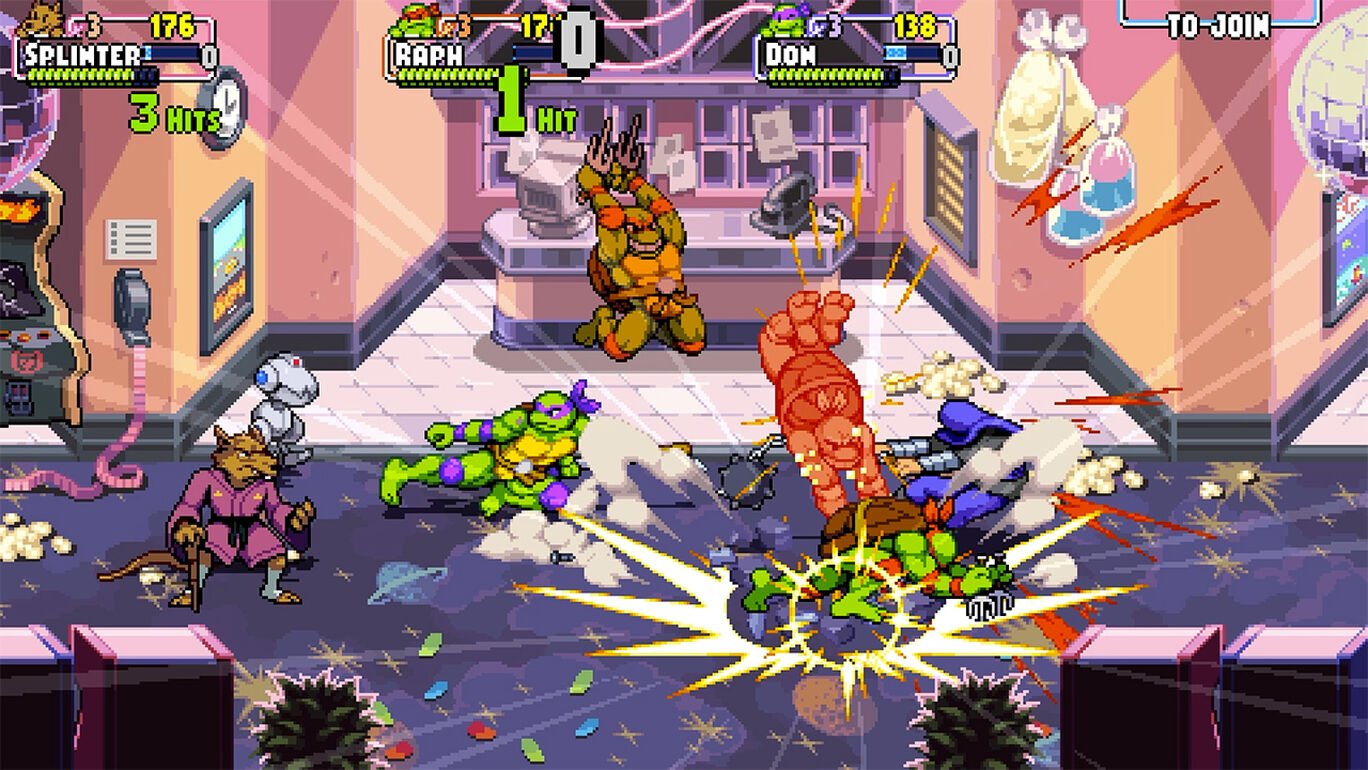 I'm always a bit skeptical when a developer aims to make a decades-later spiritual follow-up to an all-time classic game, especially when that developer has no connection to the team behind the original game. When it comes to the Teenage Mutant Ninja Turtles beat-em-ups by Konami, even Konami itself had trouble recapturing that old magic when it briefly got the license back in the TMNT 2003 era. So even though I know Tribute Games has chops and Dotemu has recently proven itself at this very thing with Streets of Rage 4, I went into Shredder's Revenge with my guard up.
Thirty minutes later, I sauntered over to Amazon Japan to preorder a physical copy to go with my digital copy. It starts twanging away on the nostalgia strings immediately with an amazing intro movie, and as soon as the first stage starts, fans of the 1987 animated series will be in love. Then the actual gameplay begins, and it's completely in line with the fast-paced, over-the-top crowd control that Konami's brawlers were generally known for. It expands on that gameplay in smart ways, giving you more attack options without losing the core TMNT brawler essence.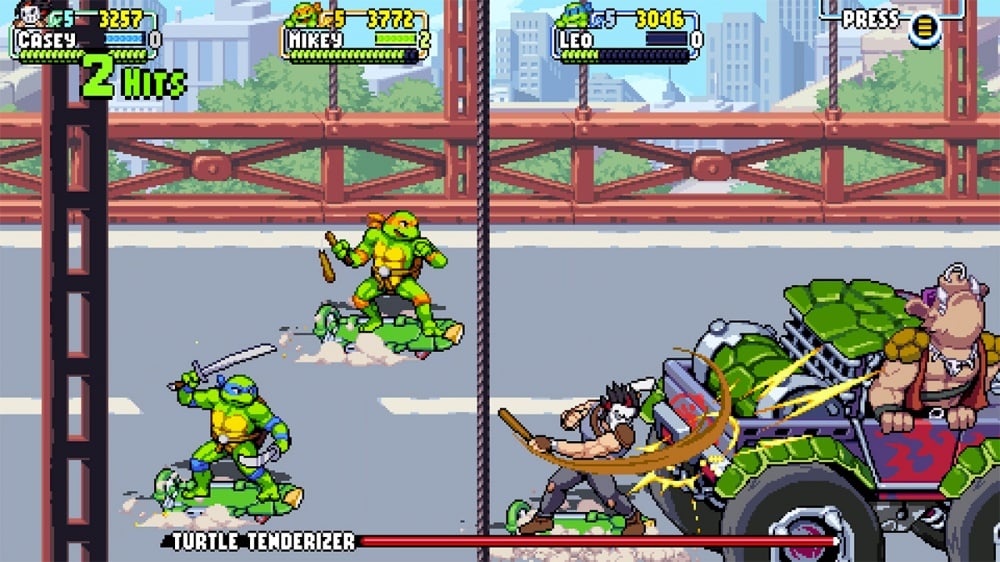 As I played more and more of the game, my opinion moved past the thought that this was just worthy to hang with the classic arcade games. I think this is better than those games, and I'm someone who paid $70 for a Turtles in Time cartridge when I picked up my Super Famicom after coming to Japan. The combat system has more to chew on, the different characters are actually mechanically distinct from each other in interesting ways, and the sheer amount of detail-packed content is dazzling. Add in a six-player mode and an absolutely killer soundtrack and you've got all the thrills of the TMNT arcade games but cranked up to eleven. This is the best Teenage Mutant Ninja Turtles game ever, and I don't feel even slightly uncertain about that.
That's not to say that there aren't any flaws to be found here. There are some technical issues, particularly in multiplayer. The framerate drops when things get too busy, and there's some odd hitching going on sometimes when the screen scrolls. Sometimes weird glitches occur when playing online, too. It's not very challenging on any mode but the hardest one, and even there it's breezy compared to the classics. The arcade mode, which sees you playing through all the stages back to back with limited lives/continues and no way to save, feels somewhat ill-conceived since a run-through takes a couple of hours vs the breezier forty minutes or so of the older games. I'd also love to have more save slots in the story mode as only having one just isn't enough.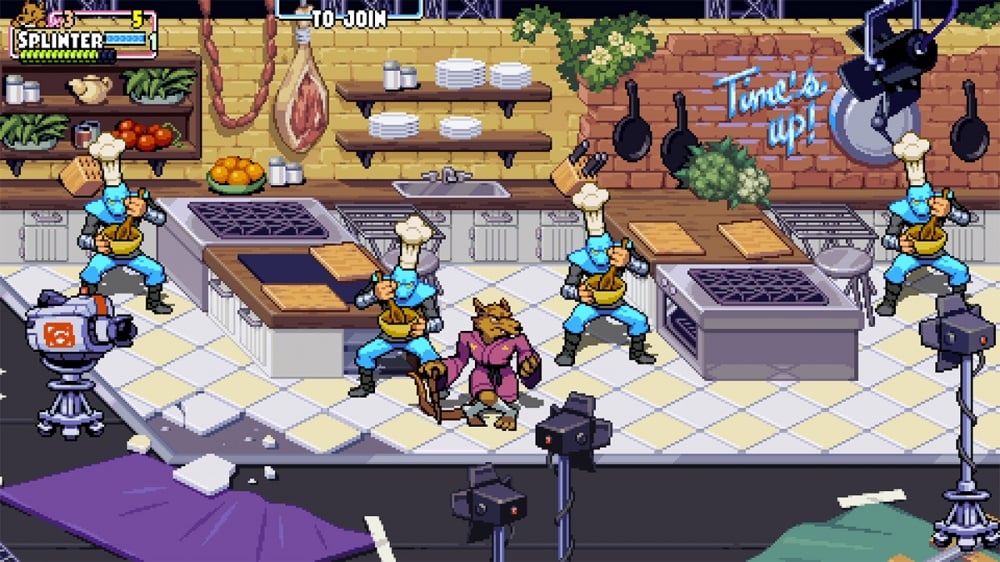 The thing about those little quibbles, though? I can't say I care much about any of them. I couldn't stop playing Shredder's Revenge until I finished it, and the minute I did, I played through it again. And then I played through it one more time. And then I pulled my family in and we played through it once more. I keep firing it up to play my favorite stages when I've got a bit of free time. It's an outstanding TMNT game, a jaw-dropping take on the Konami-style beat-em-up, and more pure goofy fun than I could ever have anticipated it to be.
SwitchArcade Score: 5/5
Mario Strikers: Battle League ($59.99)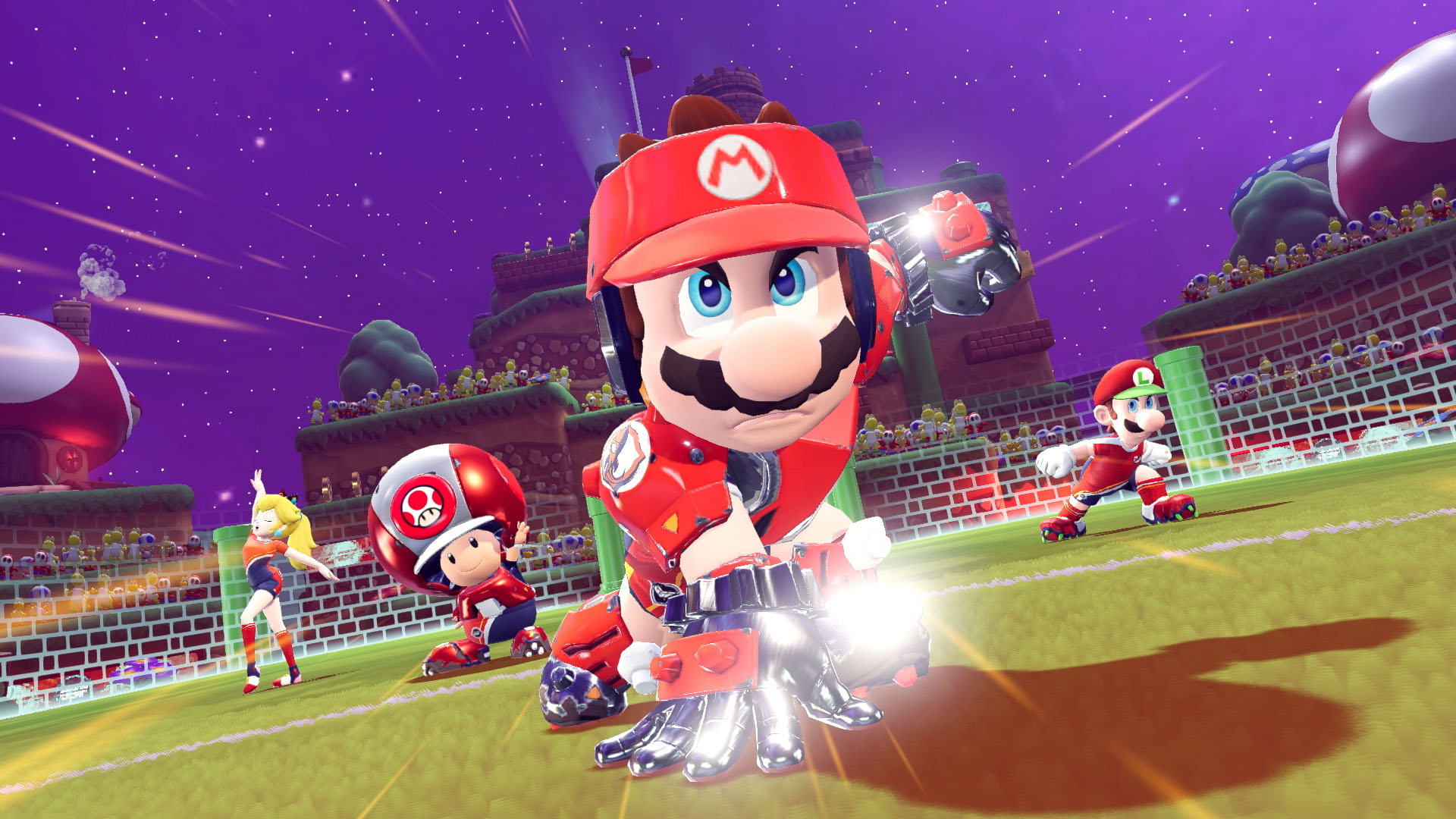 There's a bit of a pattern forming with Nintendo's sports games this generation, and I can't say it's a great one. There's absolutely nothing wrong with the fundamental gameplay in most of these, and indeed they are often as good in that regard as any arcade-style sports game could be. Fire them up with some friends and you'll have a great time. But these games have had a tendency to come in feeling a little under baked, especially at launch, and Mario Strikers: Battle League is no different in that respect.
The Mario Strikers series has had some time off, so in case you aren't familiar with it, let's quickly go over the concept. Basically, this is an over-the-top arcade-style soccer game featuring the Mario characters. Each side fields four characters plus a goalkeeper on a compact pitch, making for a much faster-paced affair than the real thing. Tackle to your heart's content, pick up and use items to mess with the other team, and grab a special orb that appears now and then to pull off stylish Hyper Strikes for extra goals. As with other sports games that take this approach, it doesn't particularly matter if you know much about the sport in question or even like it. It really just serves as a loose framework to build an exciting, casual-friendly competitive game around.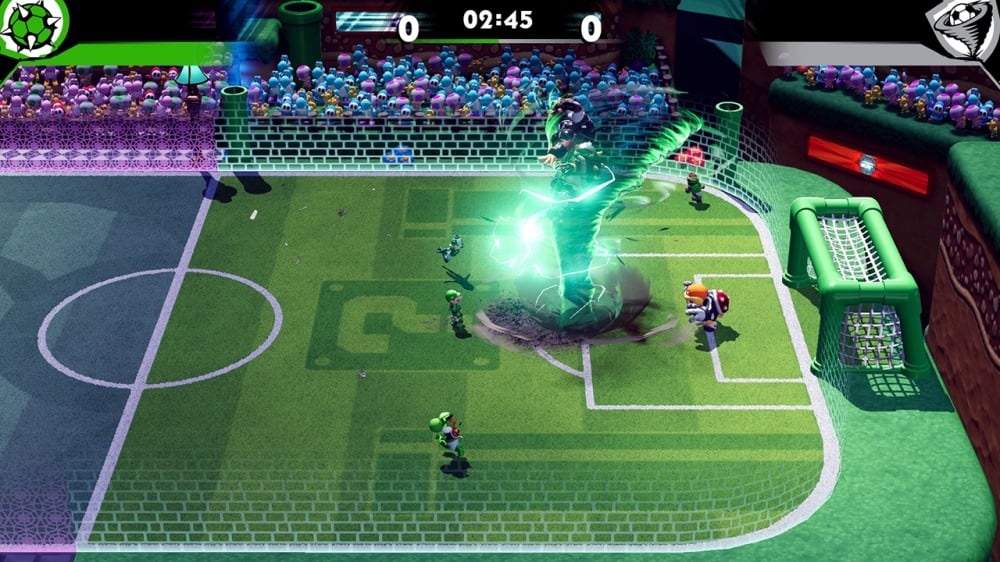 And yeah, as mentioned, the gameplay itself is a lot of fun. It's not all that different from the previous games in the series, but I suppose after this much time it's fine to stay inside the lines a bit. Up to eight players can join in locally, via local wi-fi, or over the internet, so the boxes are all checked off there. It's a little complicated initially for newcomers, but even those sticking to the basics should have a decent time against other players. The online options are fairly full-featured, and the game really runs well from a technical standpoint.
That said, Mario Strikers: Battle League is extremely thin on content, and that's going to become obvious very quickly in single-player. You have fewer characters to choose from when compared to previous games, and there just isn't much to do for the solo player. There are six Cup Battles, where you compete in a short double-elimination tournament against a series of foes. You can also do quick matches against the CPU, if that's your thing. After you've earned gold trophies in the Cup Battles, you're mostly just going to be grinding out coins to buy Gear. Gear can be equipped to modify a character's appearance and stats, giving you additional customization options. At any rate, if you're not planning to play in multiplayer you're going to run out of things to do relatively soon.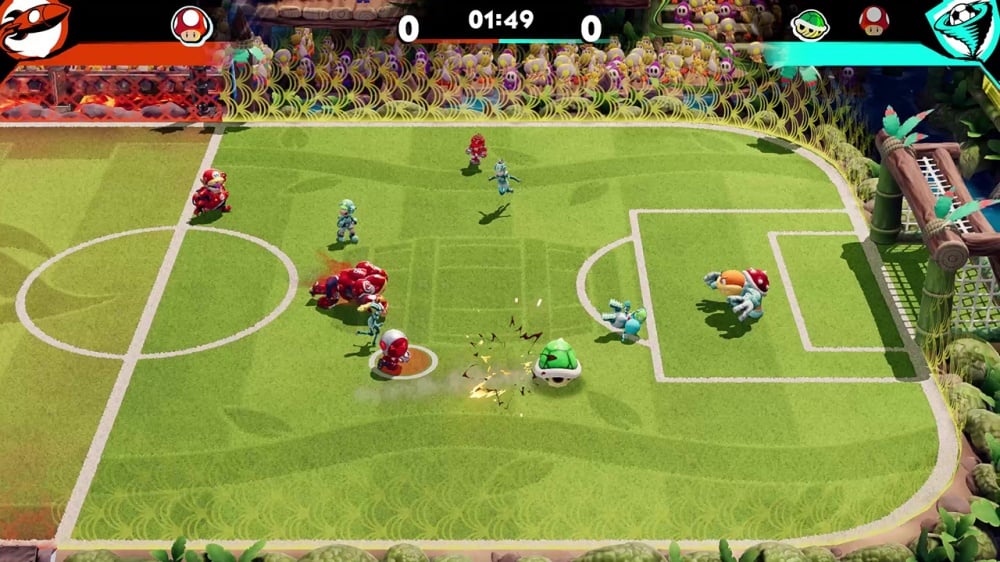 I suppose that's not that unusual for an arcade-style sports game, historically speaking, but it's worth keeping in mind. Those with more multiplayer-focused intentions will find Mario Strikers: Battle League to be a lot more enjoyable. Aside from the light roster, there isn't much missing here in terms of what you would want from this kind of game. The online Strikers Club in particular promises to keep the good times going for a while, with a fun season-based approach. Playing in multiplayer also spares you from the CPU's wildly fluctuating skill and makes it easier to create a more level playing field.
If you're interested in Mario Strikers: Battle League for multiplayer, you'll likely be happy with what you get here. The core gameplay is fast and highly enjoyable, and the game has just about any kind of multiplayer set-up you'd want covered. Those looking to play alone will unfortunately find the game lacking in things to do, with its main solo content easily completed within an hour or two. Pair that with a light roster and very little in the way of interesting things to unlock, and you end up with a solid game that feels like it could have been so much more.
SwitchArcade Score: 4/5
New Releases
OMORI ($29.99)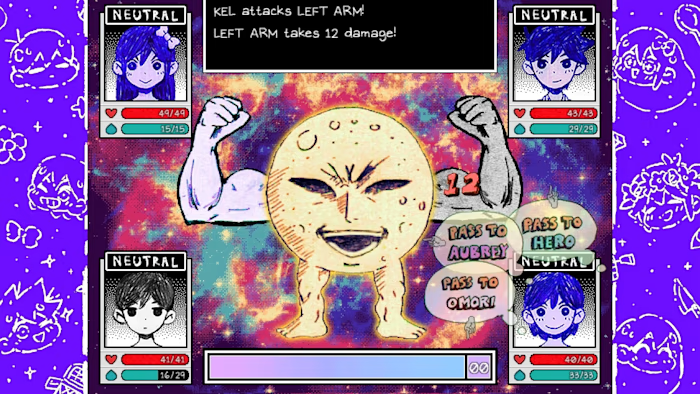 SwitchArcade Highlight!
An indie RPG dealing with topics of loneliness, depression, anxiety, and catharsis, OMORI sees you exploring a bizarre world filled with unusual characters. As you play through the game, you'll reveal bits and pieces of the past and slowly come to understand the full picture. It's a gut-wrenching story, so be prepared for some heavy content. That's about as much as I'll say about it, as it is best to experience the story as it is told. It's been wildly acclaimed by both critics and players on other platforms, with the bulk of the praise going towards the narrative elements. I imagine the Switch version will find equal success.
Car Dealer Driver ($9.99)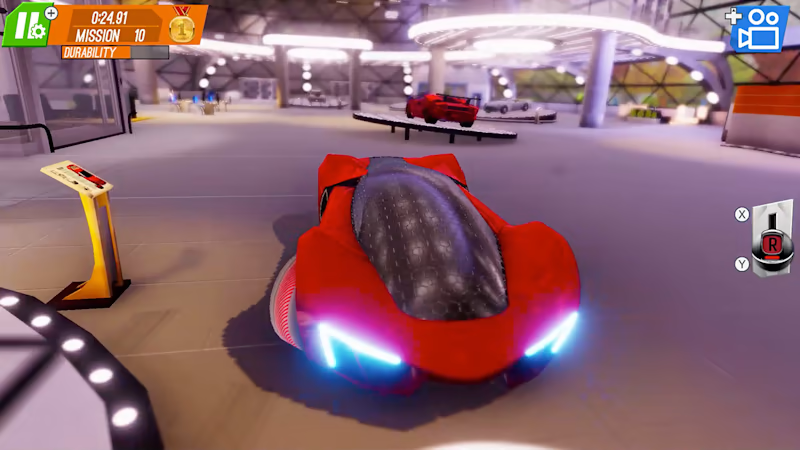 BoomHits is back with another of their assembly-line driving games. The theme for this one is that all of the cars are fresh from the factory and completely new. There are ten different vehicles, more than fifty missions to complete, and the usual decent-sized open areas to drive around in. Certain to be available at a deep discount within a month or so.
Demon's Residence ($4.99)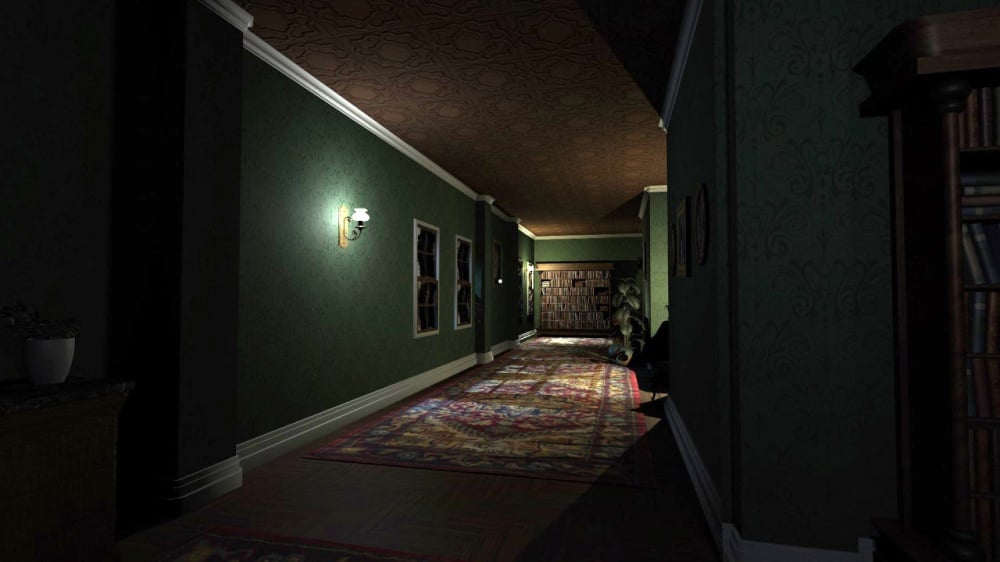 Ah, another first-person horror game where you are exploring a spooky old house and solving puzzles while avoiding things that go bump in the night. Clearly a lot of people enjoy these games or else they wouldn't keep pumping them out, but I can't say they're my kind of thing at all. If you're more interested in this genre, I can at least say that you only stand to lose a fiver on the game if it turns out to be bad.
Husky's Adventures ($4.99)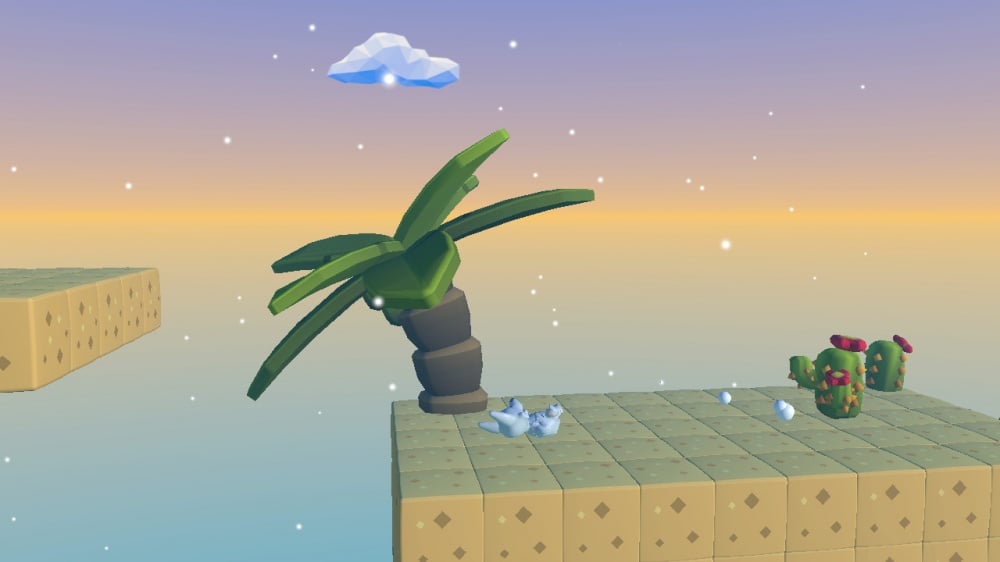 This is pretty much the most generic side-scrolling platformer I've seen in a hot minute. The 3D graphics are so rudimentary that even though the worlds have different themes, it all kind of collapses into a repetitive mush. The price is reasonable, but I feel like you'd have to be pretty hard-up for a mindless, clunky platformer for this one to have much appeal.
Family Chess ($19.99)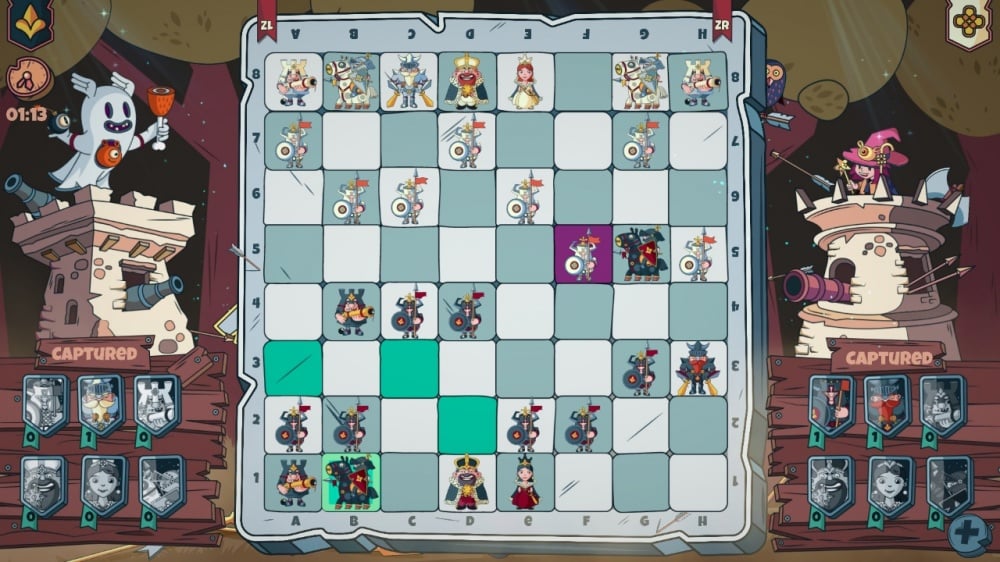 You know a game is a good-faith effort when the publisher sets a 90% off discount at launch. It's a simple chess game with some cartoon-ish flourishes that you can play alone against five different levels of CPU opponents or with another human via local multiplayer. I feel like I've seen this game before under another title, but I don't feel like sifting through the countless chess games on the eShop to try to find it.
Sales
(North American eShop, US Prices)
Not much exciting or new in today's list of new sales, but I suppose it's been a while since the Saboteur games had their last sales. They're an odd taste best left to people with memories of pressing up to jump in platformers, but I think they're neat. West of Loathing is awesome and I think that's its lowest price yet, so that's worth grabbing if you haven't already. Not a lot in the outbox either, but enough that I'm going to recommend you check those lists carefully.
Select New Games on Sale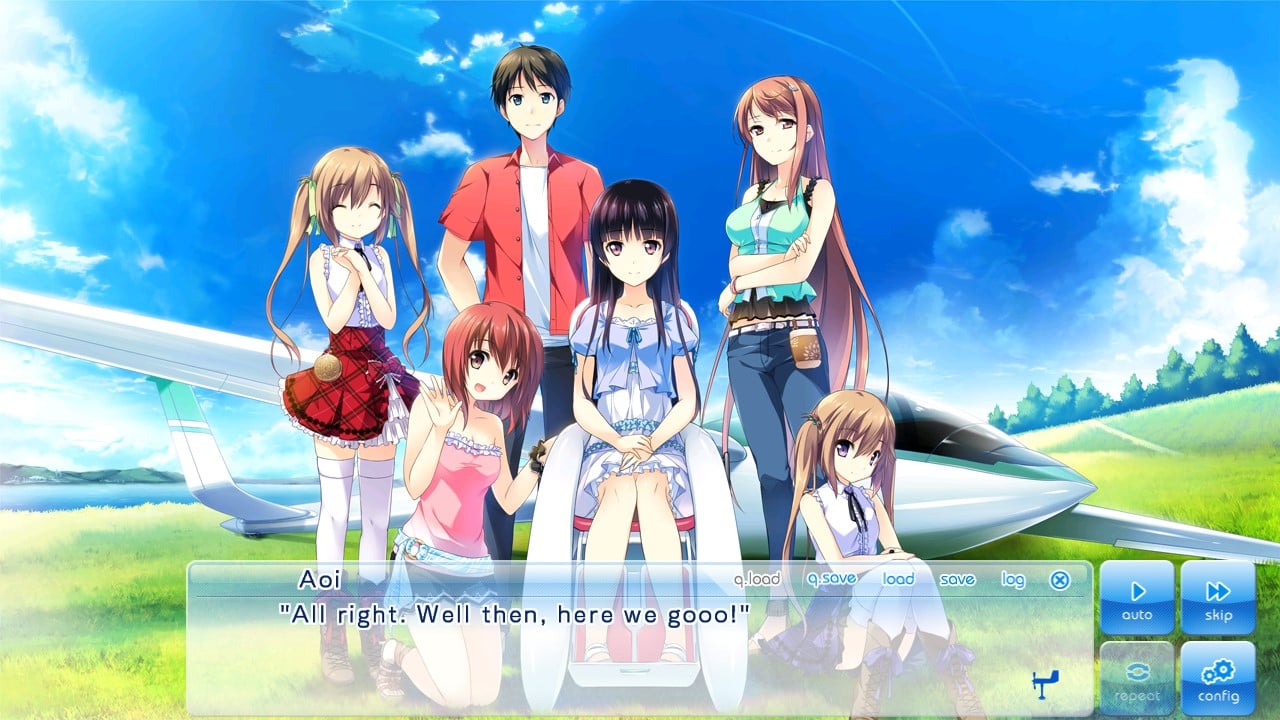 If My Heart Had Wings ($9.99 from $19.99 until 7/1)
Lovekami -Divinity Stage- ($9.74 from $14.99 until 7/1)
Lovekami -Useless Goddess- ($10.49 from $14.99 until 7/1)
Lovekami -Healing Harem- ($11.24 from $14.99 until 7/1)
Big-Bobby-Car: The Big Race ($4.99 from $29.99 until 7/1)
Ooops! 2 ($4.99 from $19.99 until 7/1)
Moon Raider ($2.99 from $9.99 until 7/5)
Around the World ($6.99 from $9.99 until 7/8)
Lust for Darkness: Dawn Edition ($8.99 from $14.99 until 7/8)
Saboteur SiO ($6.59 from $10.99 until 7/8)
Saboteur! ($4.80 from $8.00 until 7/8)
Saboteur II: Avenging Angel ($4.80 from $8.00 until 7/8)
Farm Mechanic Simulator ($17.69 from $29.49 until 7/8)
Truck Mechanic Simulator ($17.69 from $29.49 until 7/8)
Tropico 6 ($24.99 from $49.99 until 7/8)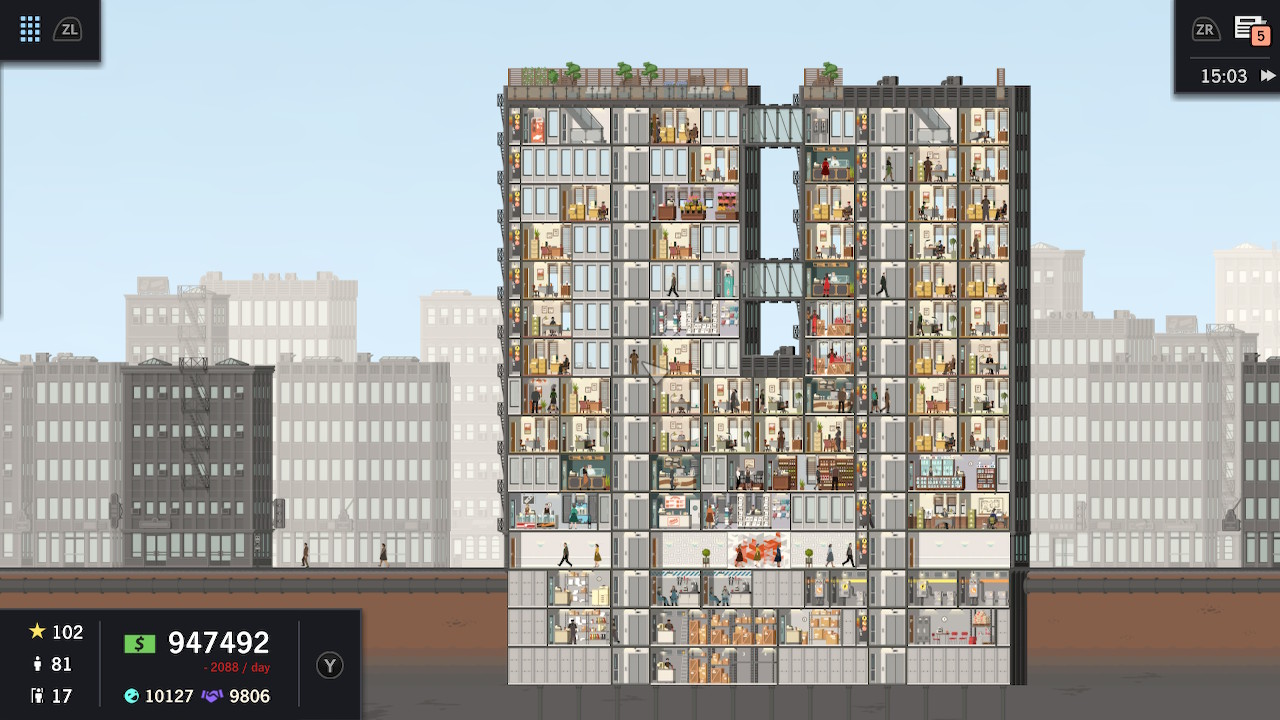 Project Highrise ($7.99 from $39.99 until 7/8)
West of Loathing ($5.83 from $11.00 until 7/8)
High Noon Revolver ($1.99 from $2.99 until 7/8)
Driving World: Italian Job ($5.19 from $12.99 until 7/8)
City Traffic Driver ($5.59 from $13.99 until 7/8)
Retro Game Pack ($1.99 from $4.99 until 7/8)
Overlanders ($1.99 from $24.99 until 7/8)
World War: Tank Battle ($10.49 from $14.99 until 7/8)
Zombie is Planting ($6.04 from $10.99 until 7/8)
Demong Hunter ($3.19 from $7.99 until 7/8)
Haunted Dawn: Zombie Apocalypse ($5.99 from $14.99 until 7/8)
Redden: 100denarii ($5.59 from $7.99 until 7/8)
Counter Recon: The First Mission ($5.99 from $14.99 until 7/8)
Counter Delta: The Bullet Rain ($10.49 from $14.99 until 7/8)
Dungeon Limbus ($5.99 from $14.99 until 7/8)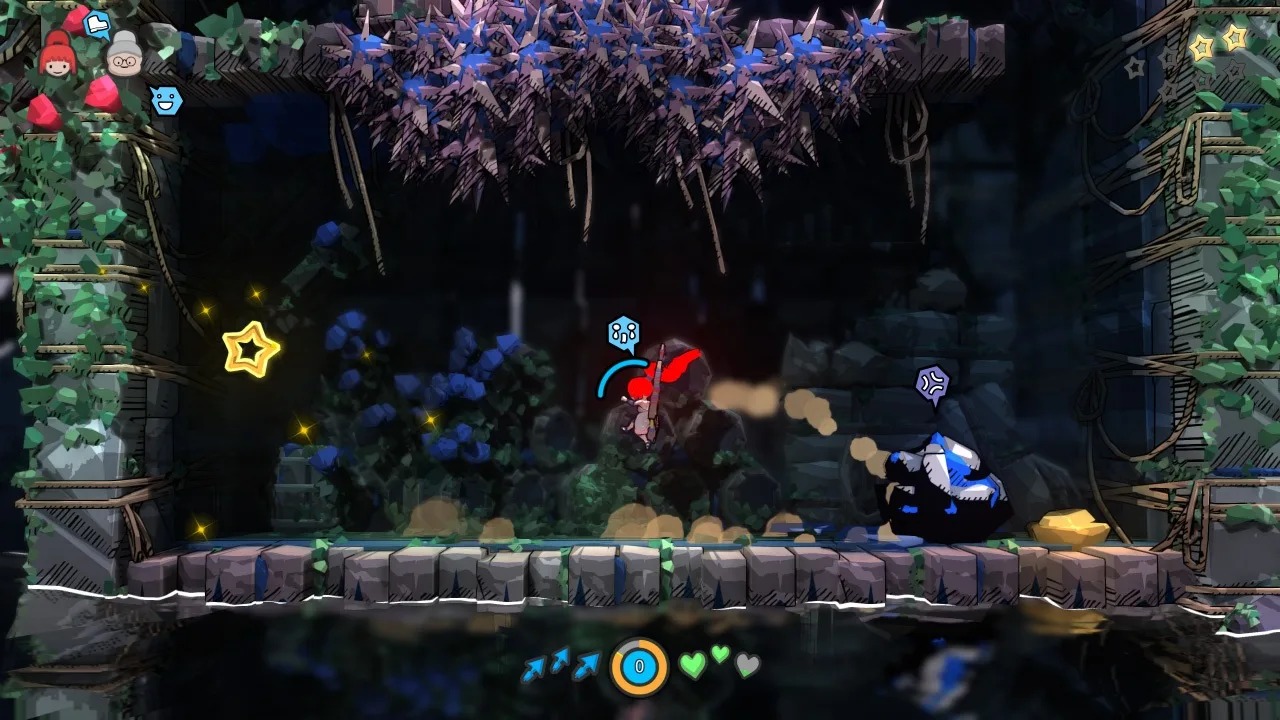 Dark Water: Slime Invader ($5.99 from $14.99 until 7/8)
Space Genesis ($10.49 from $14.99 until 7/8)
Last 4 Alive EfZ ($6.04 from $10.99 until 7/8)
Bullet Battle: Evolution ($5.09 from $14.99 until 7/8)
ANIMUS ($2.71 from $7.99 until 7/8)
ANIMUS: Harbinger ($2.71 from $7.99 until 7/8)
ANIMUS: Revenant ($9.19 from $22.99 until 7/8)
Girls Tank Battle ($4.39 from $10.99 until 7/8)
Space Stella: The Unknown Planet ($8.24 from $14.99 until 7/8)
Sales Ending Tomorrow, Tuesday, June 21st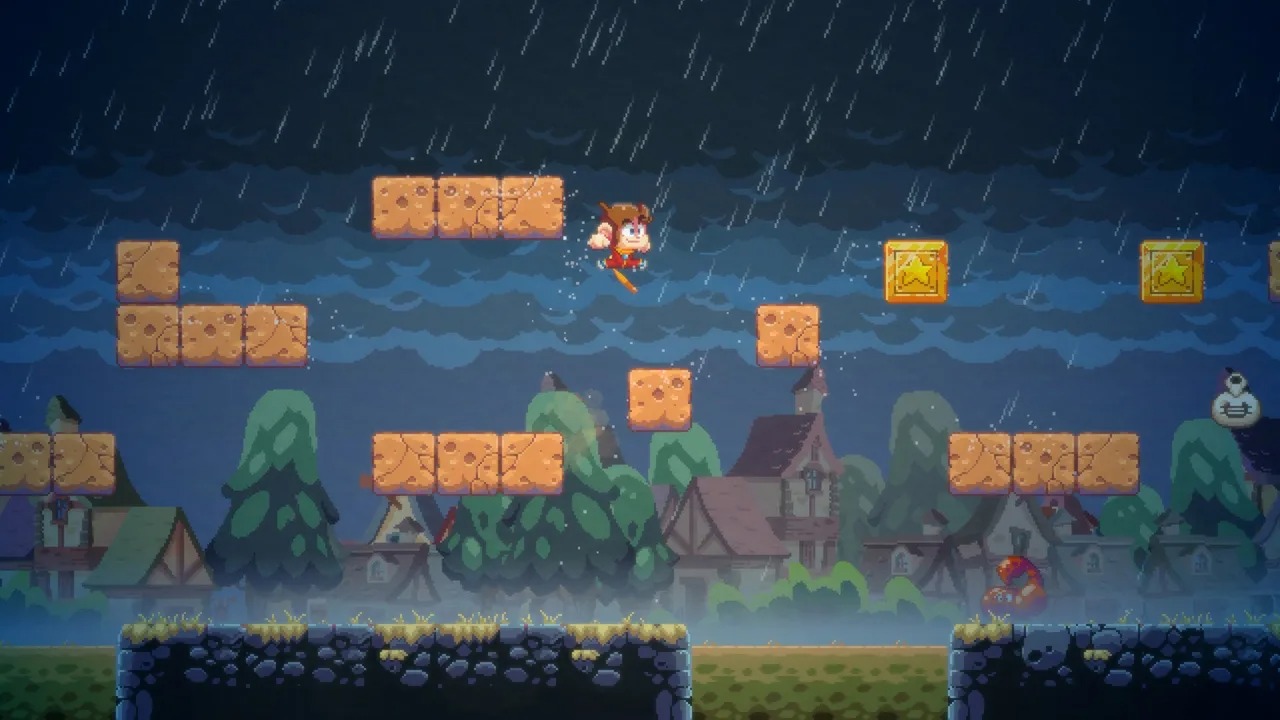 Alex Kidd in Miracle World DX ($7.99 from $19.99 until 6/21)
Aragami: Shadow Edition ($8.99 from $29.99 until 6/21)
Celeste ($4.99 from $19.99 until 6/21)
Clutter IX: Clutter IXtreme ($6.99 from $9.99 until 6/21)
Faircroft's Antiques: TFC CE ($5.99 from $9.99 until 6/21)
Formula Retro Racing ($6.99 from $14.99 until 6/21)
Frogs vs. Storks ($1.99 from $9.99 until 6/21)
Gem Wizards Tactics ($1.99 from $12.99 until 6/21)
Little Bug ($1.99 from $12.99 until 6/21)
Mainlining ($2.99 from $14.99 until 6/21)
Monster Harvest ($7.99 from $19.99 until 6/21)
Negative Nancy ($7.49 from $14.99 until 6/21)
Nirvana Pilot Yume ($1.99 from $4.99 until 6/21)
One Gun Guy ($1.99 from $4.99 until 6/21)
RIOT: Civil Unrest ($3.99 from $19.99 until 6/21)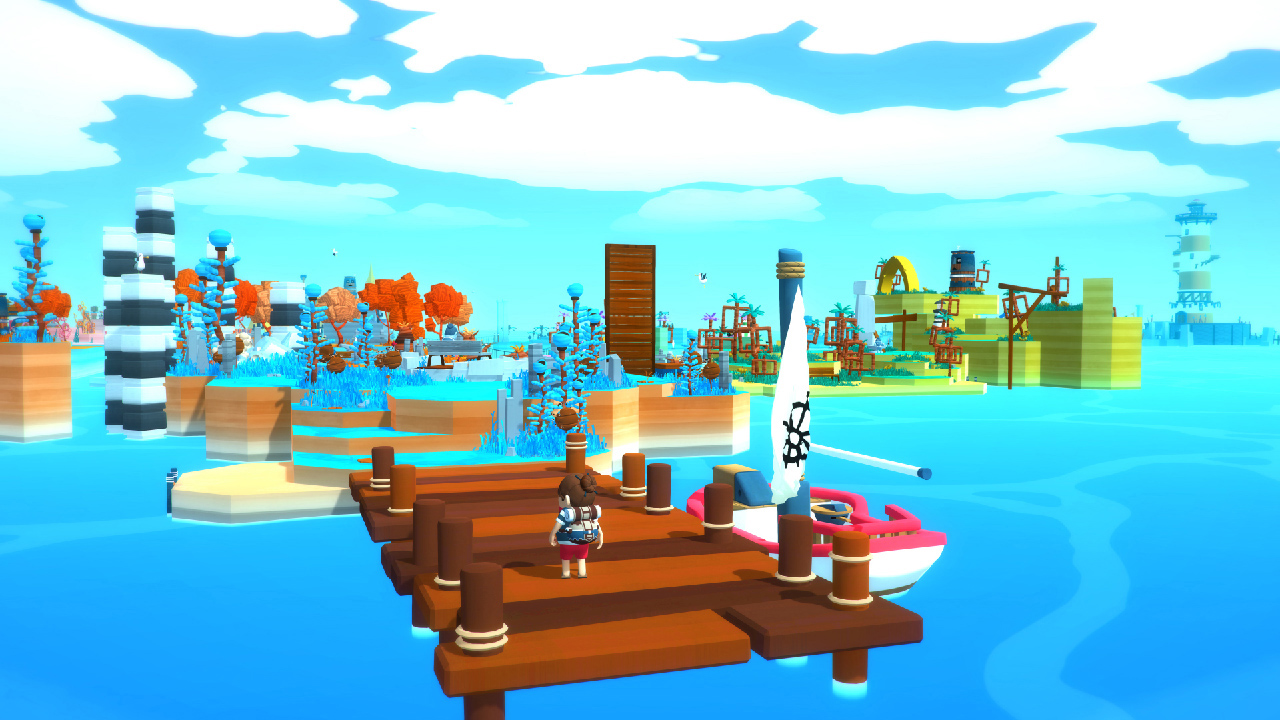 Solo: Islands of the Heart ($3.99 from $19.99 until 6/21)
Sparklite ($6.24 from $24.99 until 6/21)
SpelunKing The Mine Match ($5.99 from $9.99 until 6/21)
Super Cyborg ($3.98 from $6.99 until 6/21)
Super Sports Blast ($7.49 from $24.99 until 6/21)
The Jackbox Party Pack 2 ($9.99 from $24.99 until 6/21)
The Lightbringer ($7.49 from $14.99 until 6/21)
Threaded ($6.99 from $9.99 until 6/21)
TowerFall ($4.99 from $19.99 until 6/21)
Unbox: Newbie's Adventure ($5.99 from $29.99 until 6/21)
Vaporum ($7.49 from $24.99 until 6/21)
That's all for today, friends. We'll be back tomorrow with at least one more review, plus some new releases and sales. Maybe some news? We'll see. This week is going to be an absolutely wild one for new releases, so I hope you all saved a bit of money. I know I didn't! I wish you all a magnificent Monday, and as always, thanks for reading!