Sometimes all it takes is a fresh perspective to liven up a well-worn design template. It's easy enough to take some guesses at which games inspired Dungeons of Dreadrock (Free). It is, after all, a dungeon crawler filled with tricky puzzles and real-time combat. Take your pick: Dungeon Master, Eye of the Beholder, Legend of Grimrock ($4.99), or any other grand old romp through musty chambers full of monsters and traps. Dreadrock eschews most of the RPG elements in favor of an emphasis on puzzles and trap evasion, and it works out splendidly.
Your brother has been selected to be a sacrifice, and that's not something that sits right with you. In you go after him, without so much as a weapon by your side. Probably not your best plan. Well, at least the dungeon is only… 100 levels deep. And these aren't like the floors of your local dying shopping mall, either. Each one has at least one way to kill you, and most have a few. Sometimes you'll be quickly dodging around fireball traps activated by pressure plates. Other times you'll be doing the combat dance with some goblins. Most monsters can kill you in a single swipe, so you'll have to be light on your feet. Luckily there are a few traps you can use to your own advantage if you play things right.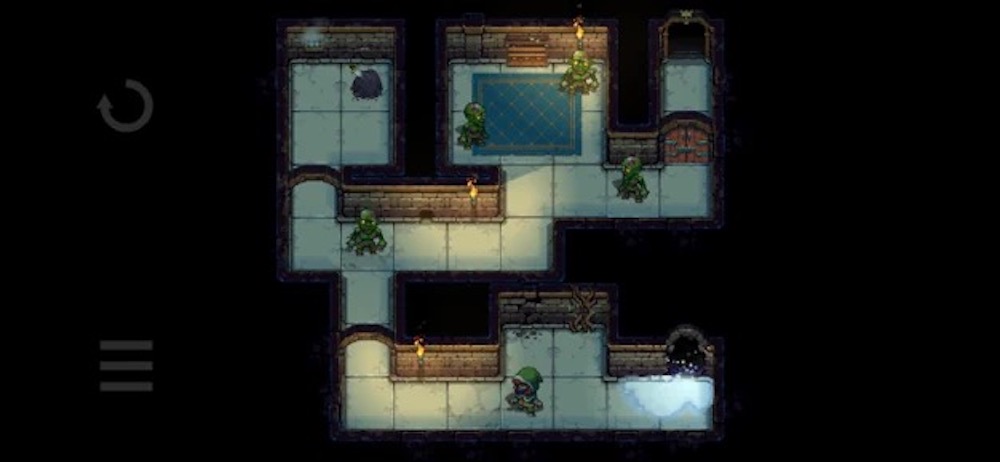 Everything is done, in the classic style, by simply moving around. Swipe to hop in any of the four cardinal directions to head that way. Swipe in the direction of an enemy to take a swing at it, once you've found a weapon. You'll find it early, don't worry. Anyway, that's how it works. Nudge a switch and you'll flip it. Nudge a door and you'll either open it if you have a key or start bashing it down if you don't. As simple as it gets. It's a bit finicky depending on your swiping technique, and you'll sometimes find yourself moving in a different direction than you may have intended. I would love to tell you that won't cause issues, but that would only be true fairly early in the game.
For as simple as Dungeons of Dreadrock starts, it gets absolutely devious before too long. It's never unfair about it. There are just enough hints and clues to put together what you need to do, at least the first time you come across a particular type of trap or monster. Knowing what to do is only half of the battle, though. Once you've sorted out what you need to do, you'll have to pull it off. That's where the sometimes fussy controls can be a pain, but at the very least death has few consequences. You'll have to start the floor again, but respawns are swift. Each stage is also brief enough that any setbacks are temporary annoyances at worst.
You also get little story bits here and there, and while it's not the stuff of great literature or anything, the little biscuits of narrative help break up the action. What will the consequences of our young heroine's rash behavior be? Will she be able to rescue her brother? You might find out if you're able to kite this freaking orc into the path of those fireballs. The stage designs are the real star of the show, with increasingly vexing demands that somehow always feel within reach. Like a hundred handfuls of buttered dungeon-crawler popcorn, it's hard to stop until your hand is at the bottom of the bucket.
Dungeons of Dreadrock is free to play with ad support, or you can pay for a one-time $1.99 IAP to remove those ads forever. That means you don't have to take my word for it at all, because you can just try it yourself. Geez, and I wrote all those words too. Well, if it means some of you give this game a shot, I suppose it was worth it. And that's just what you should do. It's a quality game with a very affordable ad removal fee, and we're not so swimming in dungeon-plunging riches that we should pass that kind of thing up just because of some slightly wonky controls.