Hello everyone, and welcome to the week! It's time once again for our look back at the noteworthy updates of the last seven days. You never know what will show up in the list of updates as the end of the year approaches, so there are some interesting rarely-seen faces in this week's batch of games. I hope you can find something to warm you up, if you're in the Northern Hemisphere, or something to cool you down, if you're in the Southern Hemisphere. Words: they control temperature itself. What mad power I wield. Of course, you can keep an eye out for updates yourself by participating in the TouchArcade forums. This weekly summary is just here to fill you in on the things you might have missed. Let's go for it!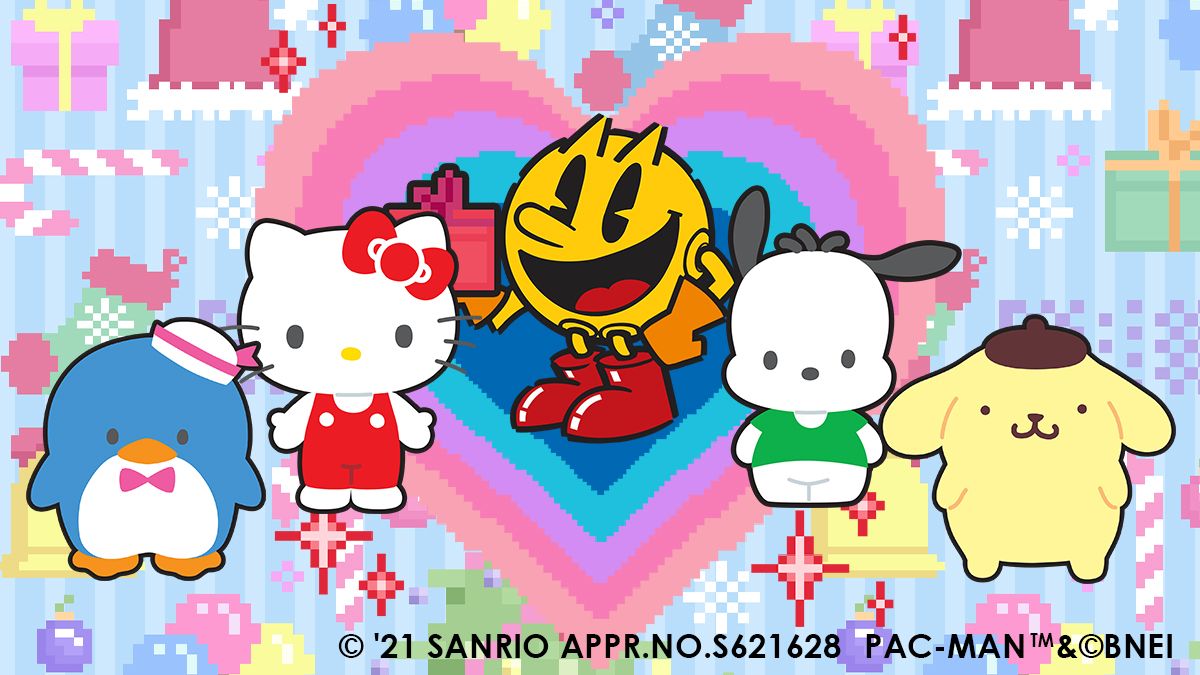 PAC-MAN, Free The latest event in the mobile version of Pac-Man features the characters of Sanrio. You know the ones. Hello Kitty. My Melody. Pom Pom Purin. TuxedoSam. Pocchaco. There are some custom mazes for the event, and you can pick up collectible cards and a new custom skin. There is also a bunch of new content for the Story Mode, with thirty new mazes to munch your way through. There's also a new Arcade Machine you can unlock and collect. Not sure what is up with that, but I could imagine it being a few different things. Toss in some bug fixes and performance enhancements, and we're off to the races.
Jetpack Joyride, Free Oh hey, the Bling event is back. Well, that's not the most exciting thing that could happen in the world of Jetpack Joyride, but it is the current thing that is happening in the world of Jetpack Joyride, so here we are. Golden Tophat, Golden S.A.M., the usual works. Do your best to get those coveted items for your collection, and if you can't get rich at least try to enjoy the attempt.
Mini Motorways, Head on down to the new Challenge City in this latest version of the excellent Apple Arcade title Mini Motorways. The Challenge Mode has you take on an assortment of handcrafted challenges that will force you to approach your old favorite maps in fresh new ways. To go along with Challenge Mode, there are some new achievements to earn and leaderboards to compete on. The leaderboards have also been given a fresh lick of paint, and they look better than ever. Naturally there is a bevy of bug fixes as well, to make your Mini Motorways experience smoother.
Temple Run: Puzzle Adventure, Well, this is an Apple Arcade game, so it's not technically free. But I am putting it in the obligatory free-to-play matching puzzle game slot for this week. I make the rules, I can break them. Tyranny! While all of you prepare your flyers for your coup, you can enjoy sixty new puzzles in this latest update. Also new in this version is a Daily Reward system, which I am very sure I do not have to explain. Get your free goodies by popping in each day. Bug fixes and overall improvements are the cherry on top of this one. Now if you'll excuse me, I need to head to my secure compound.
Arena of Valor, Free Don't worry, the secure compound has wi-fi. You know, we almost never check in on Arena of Valor. Let's do that this week, okay? The latest Hero Skin is none other than Harley Quinn, arguably one of the more successful cross-media DC characters in recent years. Complete tasks in the Cupid of Mayhem and you'll get some rewards that may or may not be nice. There's also the season-appropriate Winterfest, where you can engage in snowball fights, ice up your enemies, and smash up snowmen on a holiday-themed map. Tis the season to get violent? To go with the Winterfest, there are new skins for Ryoma, Wisp, and Rouie that will get you in the festive mood.
Hearthstone, Free The latest expansion is now available. Fractured in Alterac Valley features 135 new cards, with a new keyword and the return of Hero cards in tow. There are also four new Mercenaries, and you can get Vanessa VanCleef for free on the new Rewards Track. Finally, Duels have been updated with fifteen new Treasures in the Treasure Pool. Please note that the Treasure Pool is not for swimming. Especially not for skinny dipping. I've already had to tell Jared four times, and I am quite sure there will be a fifth. Don't add to my work.
Zen Pinball Party, Garfield is just everywhere lately. And now he is here. The latest addition to the Apple Arcade pinball app from Zen Studios is a table based on the orange lasagna-loving feline. That brings the total number of tables to a rather nice fifteen. It seems like the new tables are largely leaning into kid-friendly fare, but that's fine. It's ultimately to the benefit of pinball if more kids learn its charms, after all. And on Zen's end, they can make a decent table from just about any idea. Garfield is no sweat for them.
Kingdom Rush Vengeance TD, $4.99 Nice to see Kingdom Rush Vengeance still getting new content after so much time. It's about what you would expect from a new version of the game. You get some new stages to battle your way through, some new enemies to tackle, a new hero to make use of, and a new tower to fend off your foes with. Can you help Vez'nan defeat an ancient powerful being that threatens to wreak havoc on the land? Sounds like good times to me. I suppose I'll give this the UMMSotW award for this week, simply because I feel like going back to this game right now.
The Elder Scrolls: Blades, Free Tis the season to give an Ogre a whipping, apparently. A rather powerful Ogre and his helpers are here to spread the opposite of Christmas cheer in The Longest Night, starting on Christmas Day. To go along with it, some special winter scenery will be showing up in your town during this season. You can also find some special holiday bundles and free decorations in the store later this week. Aside from the holiday stuff, some Event Quests have gotten a balancing pass to make them more enjoyable for players. Hey, that's a fun way to celebrate the festive season.
League of Legends: Wild Rift, Free And here's the latest update for League of Legends Wild Rift, meant to carry us through December and January. You get two new champs, the fallen angel Morgana and the righteous fighter Kayle. Dr. Mundo has gotten a major reworking to boost him, too. There's a new event called Path of Justice, four new items to make use of, and a brand new game mode to try out. Additional rewards have been added to the ranked mode, giving you more goodies for gracefully gliding up the boards. Not all of this content is available right now, but you'll be seeing all of it soon enough.
That about wraps it up for last week's significant updates. I'm sure I've missed some, though, so please feel free to comment below and let everyone know if you think something should be mentioned. As usual, major updates will likely get their own news stories throughout this week, and I'll be back next Monday to summarize and fill in the blanks. Have a great week!